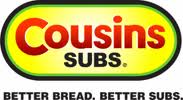 Cousins Subs'® Make it Better Foundation has awarded King Advisory, Inc. a $1,000 grant to help purchase school supplies for Milwaukee County youth as part of the annual Dr. Martin Luther King Jr. Back to School Festival.
The Dr. Martin Luther King Back to School Festival will take place this year on Saturday, August 10th at King Park, behind the Dr. Martin Luther King Jr. Community Center, 1531 W. Vliet Street in Milwaukee. The event will run from 11AM – 6PM. Approximately 20,000 people are expected to attend.
"The Dr. Martin Luther King Jr. Back to School Festival has provided over 16,000 book bags filled with school supplies to Milwaukee's children over the past 18 years," said Christine Specht-Palmert, president and COO at Cousins Subs and president of the Make It Better Foundation. "Youth education is one of our foundation's major focus areas. We are excited to help fulfill King Advisory's mission in helping Milwaukee County's youth by providing low-income and disadvantaged youth with the school supplies they need to start their school year off right."
The Make it Better Foundation has established three areas of interest it believes are vital to any community: health and wellness, hunger and youth education.
"We couldn't execute a successful event without our generous sponsors and volunteers," explained Toni Momon, president of King Advisory, Inc. "With the $1,000 grant from the Make It Better Foundation we will be able to purchase around 1,000 backpacks for students."
In 2012, 5,000 book bags were given to children. Due to the country's economic situation, the goal for 2013 has increased to 6,000 book bags.
Nonprofit and community organizations interested in more information on how to apply for a grant can visit cousinssubs.com/foundation.
Cousins Subs® and its franchisees operate more than 140 sub sandwich shops in six states, with bold expansion plans. The first Cousins Subs was established in Milwaukee in 1972 by Bill Specht and his cousin. Their dream was to bring East Coast-style sub sandwiches to Milwaukee – with their own handcrafted touch. They started with their bread, developing a secret recipe with the perfect taste and crunch. That bread is the cornerstone of the Cousins Subs slogan, "Better Bread. Better Subs. Better Day." The original recipe is still closely followed at every Cousins Subs store, where each sandwich is made to order using freshly sliced deli meats, cheeses, and vegetables – and the bread is baked fresh each day. Forty-one years later and still family owned, Cousins Subs employees and franchisees are driven by their mission to "Make it a Better Day" in all they do. In 2013, the brand proudly announced the establishment of the Make it Better Foundation, dedicated to funding causes that address health and wellness, hunger and youth education in the communities that Cousins Subs serves. For more information, visitwww.cousinssubs.com. You can also find Cousins Subs on Facebookand Twitter.