Peter Reaske, CEO of Myx Beverage LLC, has announced that Michael Sylvester, a beer and spirits industry veteran, will join the company in the position of Vice President, National Sales Manager.
Sylvester, who was most recently Vice President of Sales – East Division for Warsteiner Importers Agency, Inc. , will oversee the national roll-out of Myx Fusions, a moscato-based beverage that brings an innovative new taste, look and style to the casual drinks marketplace. The new brand is poised for success with a partnership with superstar Nicki Minaj, appealing packaging and delicious flavors based on the fastest-growing wine varietal in the U.S.
"I am delighted to welcome Mike Sylvester to Myx Beverage LLC," said Reaske. "We are an innovative company that is breaking new ground in the beverage industry. Mike's experience makes him the perfect person to help us achieve our goals. He is not only a respected industry professional but he's also a former colleague and a good friend."
Mike brings extensive experience in beer, wine and spirits sales to his new position. At Warsteiner Importers Agency, Inc., his tenure saw considerable sales increases and a boost in profitability for the Warsteiner and Konig Ludwig brands. Before joining Warsteiner, he held sales positions at The Gambrinus Company, Brown-Forman Beverages Worldwide, Molson Breweries, USA and Universal Brands. Known as a skilled sales professional, Sylvester prides himself on his track record in the industry and his reputation as a motivator and a leader in his former companies.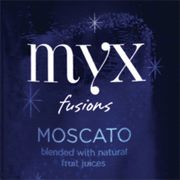 At Myx Beverage, his first responsibility will be the continuing roll-out of Myx Fusions, the fruit-infused, single serve moscato wine beverage that is blurring the lines between beverage categories. An "anytime wine" with an easy to open, twist off cap, it combines the casual occasionality of beer with the elegance of wine. All natural and refreshingly carbonated, Myx Fusions comes in three flavors – coconut, peach and original moscato. The sleek, perfectly sized 6.3-oz signature cobalt blue bottle fits right into any retailer's cooler, right next to the beer.
"I believe that Myx Beverage is the future of beverage marketing," said Mike. "and I am thrilled at the opportunity it presents to bring cutting-edge new drinks to the marketplace. Myx Fusions takes America's fastest-growing wine varietal and turns it into a great profit-maker for non-traditional wine retailers. I look forward to joining the team that's changing the way we enjoy wine."
Sylvester will be based in South Florida and can be reached at msylvester@myxfusions.com or 954-290-8779.