Yojisan Sushi in Beverly Hills Wins a Southern California Development Forum Award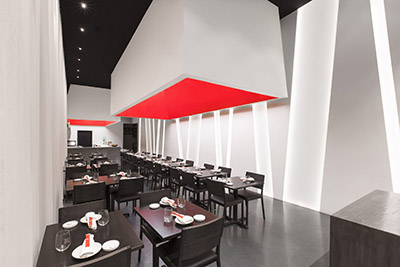 Dan Brunn Architecture won a design award from the Southern California Development Forum (SCDF) for its design of Yojisan Sushi, a 1,657-square-foot, 45-seat restaurant located on the upscale North Beverly Drive in Beverly Hills. Judges found the restaurant successfully balances "exuberant artfulness and simplicity."
The SCDF was established to provide community real estate leaders with opportunities to learn about development trends, issues and challenges, and chances to meet informally with their peers to share ideas and open doors to new opportunities in the marketplace. The annual awards recognize contributions to the Southern California business environment.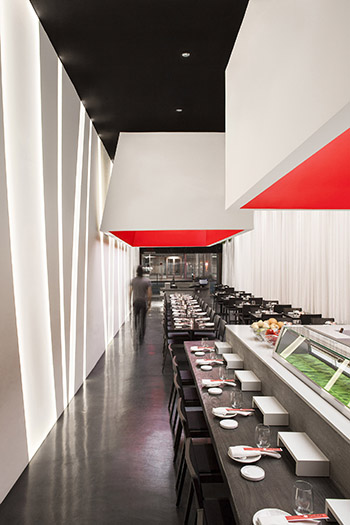 Since opening in 2012, the restaurant has won an Interior Design "Best of the Year" Project Award, been a Jury Nominee for an AIA/LA Restaurant Design Award, and competed for the Contract Interiors Award. DanBrunn's evocative take on the Japanese restaurant is thorough and immediate. Yojisan Sushi's floating leafy plants hanging near the entrance ceiling combine with a strip of river rocks on the ground to represent a forest landscape. Farther back, reclaimed oak and board-formed concrete ground the space while two suspended, inverted red bento-box light volumes glow softly onto diners below. Forest whimsy remains along a side wall, where angled, floor-to-ceiling light coves evoke dynamic bamboo shoots. For contrast, the opposing brick wall is partially hidden by a curtain.
By combining fantasy with refinement, Dan Brunn modernizes Japanese restaurant traditions with abstract representations of bamboo, rock garden, and bento. This spatial arrangement illustrates the "delicate harmony between the strong and silent elements of Japanese cuisine," judges said.
Los Angeles-based Dan Brunn Architecture, founded in 2005 by Dan Brunn, develops commercial and residential projects worldwide, utilizing provocative spatial choreography to harmonize light with volume. Brunn's portfolio includes furniture design that addresses the needs of living room, bedroom and bath, through highly functional pieces providing modern, sophisticated, and streamlined solutions.
About Dan Brunn Architecture
Dan Brunn, AIA, has developed commercial and residential projects worldwide since establishing his firm, Dan Brunn Architecture, in 2005. He believes an architect's role is to craft spaces that respect the site, provoke sensuous interaction, and heighten the user's connection with the space. As a very young child, Dan was drawn to Legos as a means to explore building structures and continues to play with the balance of complexity and minimalism in his work. For more information please visit Dan Brunn Architecture online.