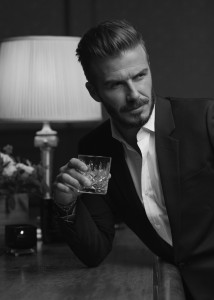 Last night in West Hollywood,
David Beckham and Simon Fuller
officially welcomed the new single grain Scotch whisky, Haig Club, to the US. Just off the heels of an Asian tour, during a small private cocktail party Beckham treated guests to a narrative of his journey from footballer to whisky entrepreneur.
"I always wanted to know more about whisky. When I came to the end of my football career, I took the time to explore the category more."

"I was looking to do something different. Haig Club is a new brand, but it's made by the oldest grain whisky distillery in Scotland. It marries heritage with innovation."

"I am involved in every step. I didnt just say 'go take my name.'" said Beckham. And involved he has been. From working on the flavor profiles with the Master Distiller to selecting the breakout bottle design. (The blue bottle is a nod to the whisky nosing glasses blenders use to assess a whisky on its nose and flavor, versus the color.)

"I love the versatility of the liquid. It stands as tall in a cocktail as it does neat or on the rocks." Haig Club already has a roster of incredible bartenders around the world mixing up cocktails playing off the unique flavors.

"Responsible drinking is at the core of everything we do as a brand. It's as important to me as any other aspect of this launch."

When asked how Beckham enjoyed his Haig Club, his answer came out with the same confidence that he brings to everything he does. "Neat."
The pair then hosted a three course dinner overlooking the LA cityscape. Each course was paired with a cocktail from America's best bartenders from across the country, including NYC, Miami and Los Angeles.* The evening ended with a toast to friends and the journey ahead.
Haig Clubman

1 oz. Sparkling Apple Soda
Build over hand-cracked ice in either a highball or tumbler, garnished with a long slice of root ginger.
Created by New York City Bartender, Joaquín Simó
.33 oz. Honey Syrup [2 parts honey : 1 part water]
Combine ingredients in a cocktail shaker. Add ice and shake vigorously. Strain contents into a rocks glass filled with fresh ice, garnish with a lemon wedge.
Created by Miami Bartender, Robert Ferrera
.5 oz. Giffard Banane du Brésil
.5 oz. Giffard Orgeat Syrup
Combine ingredients into a cocktail shaker. Add ice and shake vigorously for 20 seconds. Strain contents into a highball glass. Top with crushed ice, garnish with a mint bouquet.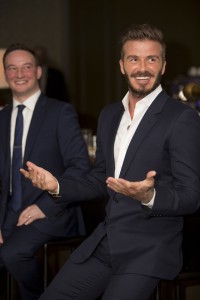 Coco Fashioned
Created by Los Angeles Bartender, Jason Bran
Build ingredients into a rocks glass and stir gently, garnish with a grapefruit zest.
Welcome to Haig Club. Enjoy Responsibly.
Photo Credit: Tom Bunning