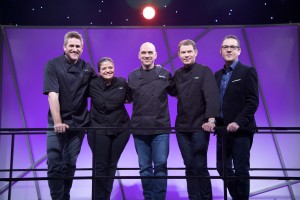 Ten talented and successful home cooks from around the country compete in intense culinary challenges as they are mentored by some of Food Network's most popular chefs, while competing for a $50,000 grand prize in All-Star Academy, premiering Sunday, March 1st at 9pm ET/PT. Hosted by Ted Allen, each competitor, with the guidance of their mentor, must compete over eight episodes in challenges that would propose difficulties for even professional chefs, while elevating their culinary skills to make it to the finish line. With the support of superstar chefs Bobby Flay, Alex Guarnaschelli, Curtis Stone and Michael Symon, each home cook not only has to impress their world-class chef mentor but the special guest judges as well, who help determine who will make the cut in the dreaded elimination round. One-by-one, the challengers are eliminated, leaving one final contender standing with a $50,000 grand prize. Special guest judges include Donatella Arpaia, Elizabeth Falkner, Amanda Freitag, Robert Irvine, Chef John Li, Simon Majumdar, and Geoffrey Zakarian.
"Having world-class chefs like Bobby, Curtis, Alex and Michael as mentors is what will take these ten cooks from great to extraordinary," said Bob Tuschman, General Manager and Senior Vice President Programming, Food Network. "It's the dream of a lifetime for a home cook."
In the premiere, ten home cooks are about to embark on the greatest culinary adventure of their lives. But first, they will need to compete for a spot on a mentor's team. Four of the biggest, most skilled chefs – Bobby Flay, Alex Guarnaschelli, Curtis Stone and Michael Symon – will each select two cooks to guide through the competition. But only one mentor and competitor will emerge victorious in the end. Special guest judge Simon Majumdar helps decide who will have a chance to move on to fight another day. Don't miss all the culinary action throughout the season, including Food Network's Robert Irvine, as he challenges each cook to create a dish using only canned meats, with the mentors then conducting a blind taste test to determine which competitor goes home. And a first ever mentor showdown between Bobby Flay and Michael Symon! Each challenger must raise the bar in every facet of their cooking style to impress their mentors and judges to become an All-Star and have their lives changed forever!
Visit FoodNetwork.com/AllStarAcademy for exclusive interviews with the mentors, videos, photos and much more.
All-Star Academy is produced by Relativity Lifestyle Television, a division of Relativity Television.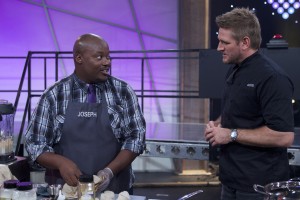 FOOD NETWORK (www.foodnetwork.com) is a unique lifestyle network, website and magazine that connects viewers to the power and joy of food. The network strives to be viewers' best friend in food and is committed to leading by teaching, inspiring, empowering and entertaining through its talent and expertise. Food Network is distributed to more than 100 million U.S. households and up to 35 million unique web users monthly. Since launching in 2009, Food Network Magazine's rate base has grown tenfold and is now the second largest monthly magazine on the newsstand, with over 11.6 million readers. Headquartered in New York, Food Network has a growing international presence with programming in more than 150 countries, including 24-hour networks in the United Kingdom, Asia, and the Europe, Middle East and Africa (EMEA) region. Scripps Networks Interactive (NYSE: SNI), which also owns and operates Cooking Channel (www.cookingchanneltv.com), HGTV (www.hgtv.com), DIY Network (www.diynetwork.com), Travel Channel (www.travelchannel.com) and Great American Country (www.gactv.com), is the manager and general partner.