Experience is Influential for U.S. Diners, According to Acosta and Technomic's The Why? Behind The Dine™
U.S. Diners Report Spending $25 More Per Month on Food Prepared Outside the Home Versus Two Years Prior

Since 2011, consumer spending in the foodservice channel has seen significant growth, with U.S. diners now spending, on average, $144 per month on food prepared outside the home — $25 more than two years prior — according to new research published in the third edition of The Why? Behind The Dine™. This annual report released by Acosta, a leading provider of integrated sales and marketing solutions for major food and non-food manufacturers, distributors and operators across all away-from-home meal channels, and Technomic, a fact-based research and consulting firm in the food industry, reveals this spend represents 35 percent of U.S. diners' total monthly food budget, a jump of five percentage points from last year.
"Along with an increase in spending on food prepared outside the home, the market is also seeing a surge in the variety of dining options available, from different types of cuisine to new ways to eat off-premise, such as ordering delivery from sit-down restaurants," said Colin Stewart, Senior Vice President at Acosta. "More than anything, our research makes it clear that dining out is more than just a meal. It's an experience for diners — and a growth opportunity for foodservice operators."
"The rate of consumers dining at restaurants over the last year has leveled off, but look beyond face value and you will see diners' dollars are now being spread across various out-of-home channels, not only concentrated at dine-in establishments," said Jennifer Passmore, Regional Vice President at Technomic. "In fact, many diners anticipate spending even more on food prepared outside the home in the coming year, and they will have a full menu of dining options to choose from regularly."
In addition to this growth in spending on food prepared outside the home, Acosta and Technomic's The Why? Behind The Dine™ also unveiled the following foodservice trends: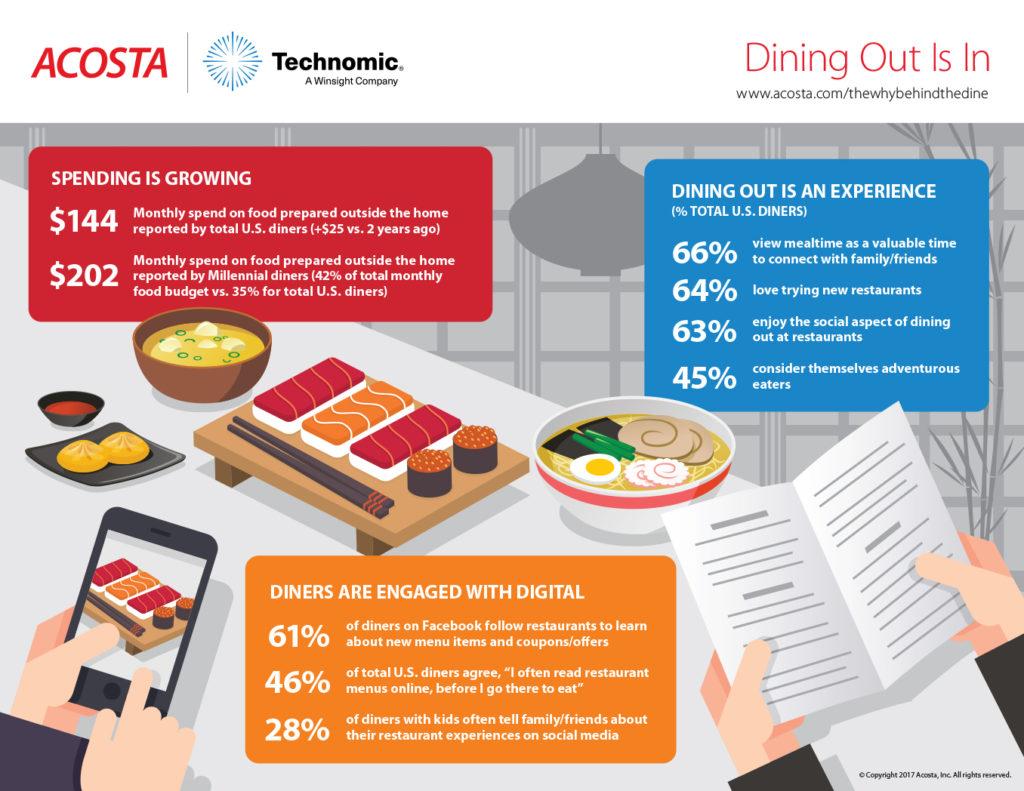 More Than a Meal
Total U.S. diners surveyed agreed that time spent dining out is both valuable and enjoyable, even more so than the year prior, illustrating how experiential factors frequently drive dining decisions.
Sixty-six percent of diners agree they view mealtime as a valuable time to connect with family or friends.
Sixty-four percent of diners say they love trying new restaurants.
Sixty-three percent of diners agree that visiting restaurants is a form of entertainment for them.
Forty-five percent of diners consider themselves adventurous eaters.
Today's Diner
Spending on food prepared outside the home varies greatly across generations, with Millennial and Gen X diners taking the lead.
Forty-two percent of Millennials' monthly food budget is spent on food prepared outside the home, more than any other generation. This is seven percentage points above the percent of the monthly food budget spent by total U.S. diners on food prepared outside the home.
Thirty-five percent of GenXers' monthly food budget is spent on food prepared outside the home.
Over the next year, 53 percent of Millennial diners plan to eat more meals outside the home.
Options Abound
Dining at restaurants remains the most popular format for eating out, but compared to the year prior, more diners report using carryout, delivery and drive-thru options, with convenience being a primary motivator.
The rate of U.S. diners who ate-in at a restaurant's dining area in the past three months has remained steady year-over-year at 82 percent.
Seventy percent of diners ordered carryout from a restaurant over the past three months, while 67 percent ordered from a drive-thru, and 50 percent ordered delivery food in that same time period.
Fifty-six percent of Millennial and Gen X foodservice dollars are being spent "off-premise" (such as through carryout or delivery).
Social Influencers
The digital world serves as a catalyst for dining decisions, as U.S. diners research options online, and continue the conversation on social media by posting reviews of their experiences.
Forty-nine percent of diners look for coupons/offers online for restaurants.
Forty-six percent of diners often read restaurant menus online before going there to eat.
Sixty-one percent of diners on Facebook follow restaurants to learn about new menu items and for coupons/offers.
Twenty-eight percent of diners with kids indicate they often tell family and friends about their restaurant experiences on social media, with many including photos of their meals.
"There's no question that dining out is in," added Stewart. "However, restaurant owners and foodservice operators need to consider what they can offer diners beyond good food. This can include focusing on factors that create a unique dining experience by differentiating elements such as the atmosphere, convenience and ways to connect with others."
The third edition of The Why? Behind The Dine™ study was fielded in December 2016 in partnership with Technomic Inc., using a random sample of 1,500 U.S. diners. To access the full report, visit www.acosta.com/thewhybehindthedine.
About Acosta
Acosta is the sales and marketing powerhouse behind most of the trusted brands seen in stores every day. The company provides a range of outsourced sales, marketing and retail merchandising services throughout the U.S. and Canada. For 90 years, Acosta has led the industry in helping consumer packaged goods companies move products off shelves and into shoppers' baskets. For more information, please visitwww.acosta.com.
About Technomic Inc.
Only Technomic, a Winsight Company, delivers a 360° view of the food industry. We drive growth and profitability for our clients by providing the most reliable, consumer-grounded, channel-relevant data, with forward-looking, strategic insights. Our services range from major research studies and management consulting solutions to online databases and fact-finding assignments. Our clients include food manufacturers and distributors, restaurants and retailers, other foodservice organizations, and various institutions aligned with the food industry. For more information, visit us at www.technomic.com.