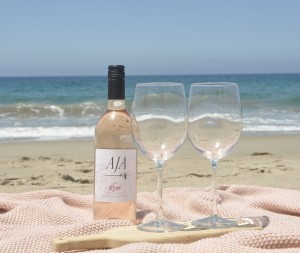 AJA Vineyards
Certified Sommelier and Wine Proprietor Amanda Greenbaum shares her favorite new addition to the AJA Vineyards wine collection. Her 2021 Wildflower Rosé is a tribute to her mother, Heather whom they call the Wildflower. This rosé is made mainly of Grenache Gris from Briarwood Vineyard in Paso Robles with a splash of their Estate grown Cabernet Sauvignon from the Miracle Vineyard in the Malibu Coast. "This wine is the essence of the California coast with notes of yellow cherry, peach, lychee, citrus and hints of salinity." At AJA Vineyards, they strive to produce wines that share the story of Malibu culture and community. Amanda utilizes her knowledge of the world's finest wines to express both the terroir of the Malibu Coast while nodding to the classic French styles in AJA wines. Her wines are available for direct to consumer purchase on their website www.ajavineyards.com . Limited quantities available.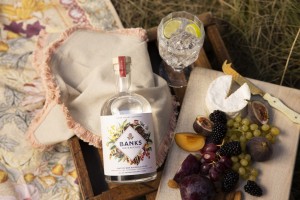 BANKS BOTANICALS – for the Free spirited
Banks Botanicals is a premium batch distilled non-alcoholic spirit that is organic, sugar and gluten-free and vegan friendly. This innovative mixer is a blend of five botanicals.
And the world agrees. Winning awards in New York, London and Hong Kong as well as locally.
With over a decade of marketing experience in the drinks industry and born in South Africa, Founder Yolanda Uys embraces the philosophy of ubuntu – "I am because we are". Growing up I understood the importance of inclusivity. When I think about the changes in drinking culture in Australia, we can see Banks Botanicals playing a part – whether you choose to drink or not you're still included, still part of the social moment."
Banks Botanicals also pledges 10 cents from every product sold to Bush Heritage Australia, a not-for-profit conservation program "This speaks to our Ubuntu – and the full circle of community and giving back "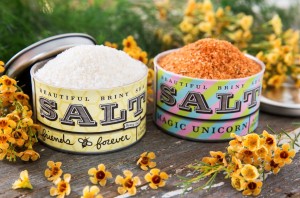 Beautiful Briny Sea
Beautiful Briny Sea is an Atlanta artisan dry-goods company founded by Suzi Sheffield. Its products are 100% handmade using locally grown herbs, foraged mushrooms and organic spices sourced from growers and purveyors guided by methods of sustainability. Named one of Southern Living's "Best Southern Made Foods," Beautiful Briny Sea's salt blends, sugar blends and gift sets can be found from coast to coast in gourmet groceries, mom and pop stores, galleries and pop-up shops as well as local restaurants and farmers markets. They also offer a variety of signature mixes for select retailers, including Williams Sonoma and Fishs Eddy. From the locally grown herbs to the foraged mushrooms, every ingredient is sourced and gathered with integrity, resulting in honest, simple and downright uncommon hand-crafted goods. With culinary skill and an unabashed knack for whimsy, Suzi has crafted a roster of hand-blended salt batches, sugar blends, and other gourmet sundries.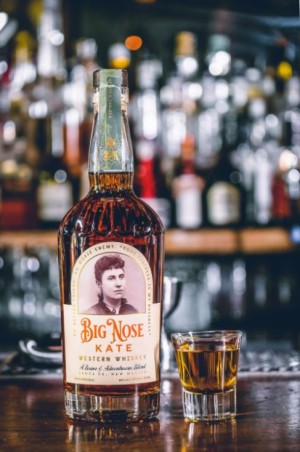 Big Nose Kate
Big Nose Kate® Western Whiskey is a brave and adventurous blended whiskey crafted by industry veteran and Master Blender Melissa (Mel) Heim. A first-of-its-kind expression of straight rye and American Single Malt, it's considered Western because it's wild. Batch blended in Santa Fe, New Mexico, one of the many frontier towns where Kate left her mark, this whiskey brings to life one of history's greatest untold stories with incomparable complexity and nuance; just like its protagonist. For too long, the legends of cowboys and rangers have been the subject of many whiskey labels to grace the back bar. It's past time for a new story to be told. A story whose time has come. So, pull up a chair and get to know the indomitable, untamable, boundless spirit of the West's baddest bird. Bold. Daring. Unrivaled. It's Big Nose Kate.
Dona
Brewed in Brooklyn and sourced from farms around the world, Dona's female-founded line of teas, concentrates, and spices put sustainability and sourcing first.
Made from the best single-origin and direct trade ingredients, Dona's products have complex flavors because the better the spice, the bigger the flavor. Dona's small batch teas are carefully crafted using high quality ingredients – real spices, herbs and citrus – ethically sourced from farms around the world for their natural sweetness, variety and quality. In addition to loose leaf teas and tea concentrates, Dona offers Zero Waste Spice Dust made from upcycled byproducts of Dona's concentrates and will be introducing new products later this year. Dona is shifting the tea industry through thoughtful and sustainable tea products that positively impact our world.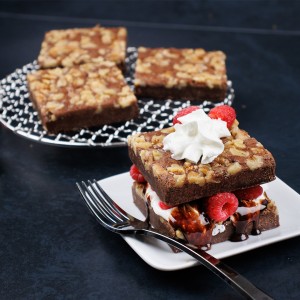 Fairytale Brownies, Inc.
Eileen Spitalny is co-founder and president of Fairytale Brownies, Inc., created in 1992 with childhood friend, David Kravetz. Eileen is Sales and PR Team Leader, overseeing corporate sales, wholesale and public relations.
Eileen is former President of Les Dames D' Escoffier in San Francisco and Phoenix and a former Advisory Board member at the ASU Art Museum. Just as she was mentored herself she continues to do so with other females in the bakery/ecommerce space In 2002, she was named the USC Alumni Entrepreneur of the Year. In 2006, she was named Arizona Small Business Administration's Small Businessperson of the Year. Eileen was featured in a cookbook, Cooking with Les Dames d'Escoffier: Women Who Shape the Way We Eat and Drink, a homage to entrepreneurship entitled "Guts – Imagination – Vision, Conversations with Innovators-Changemakers, and The Sleeping Giant.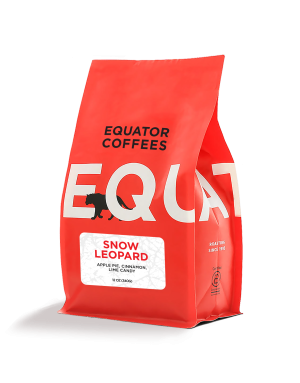 Equator Coffees
Equator Coffees, the women and LGBTQ+ founded B Corp, was started on the belief that coffee can be roasted better, brewed better, and, most importantly, it can be sourced in a way that makes lives better. In response to the fundamental threat to women's rights in 2022, Equator is kicking off the new year by doubling down on its commitment to supporting women around the globe, and to investing in their supply line from source to sip.
Equator partnered with Las Rosas, a group of women coffee farmers in Colombia, to source a component of its Snow Leopard seasonal blend, and 5% of all sales go directly to their microcredit loan program that empowers members of the group to take on leadership positions and gain financial independence through quality coffee production.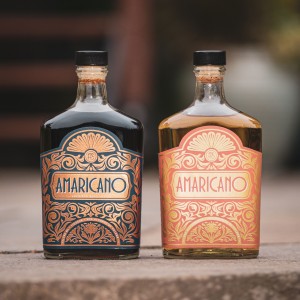 Fast Penny Spirits
Fast Penny Spirits is a woman-owned and operated amaro distillery and Certified B Corp™. Based in Seattle and inspired by the founder's Italian heritage, the company is committed to stirring up change. Blended with a combination of the highest-quality, wild-crafted, organic, and consciously sourced botanicals, Fast Penny's spirits are rich, herbaceous, and captivating. Luxurious and refined, their Italian-style amari – Amaricano and Amaricano Bianca – are beautifully complex to sip on their own or swirl into a cocktail. With a constant eye on environmental impact and a 3% Pretty Penny give-back program, Fast Penny Spirits is dedicated to supporting and empowering women, local communities, and the hospitality industry.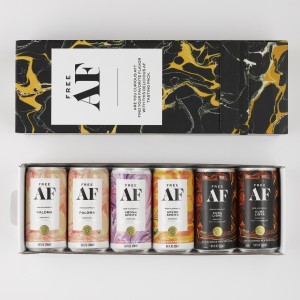 The sober-curious movement just got more exciting with the launch of Free AF in the United States, signaling the start of a new era in the alcohol-free category. Free AF is based on the flavors of the world's most popular classic cocktails, including the Aperol Spritz, Paloma, Cuba Libre and Vodka Spritz.
Free AF drinks are powered by a 100% natural botanical extract called Afterglow, which mimics the alcohol sensation, making these alcohol-free beverages taste even better than the real thing and can help elevate both your guests' experience and morning after. AF was created in 2020 by Lisa King—most well known as founder of New Zealand social enterprise Eat My Lunch.
Founded by female entrepreneur Lisa King, Free AF is already the number 1 alcohol-free brand in New Zealand, where it was founded, and available as the first ever alcohol-free brand on the national airline, Air New Zealand.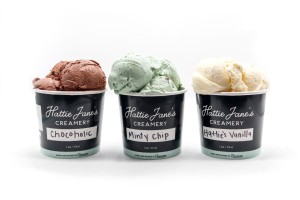 Hattie Jane's Creamery
Hattie Jane's Creamery is a woman-founded, women-led creamery and scoop shop with three Tennessee locations in Columbia, Murfreesboro and Nashville, as well as nationwide shipping, serving small-batch craft ice cream, parfaits and baked goods since 2016. It started with the name: Shortly after giving birth to her eldest daughter Hattie Jane, founder & CEO Claire Crowell's entrepreneurial father joked that Hattie Jane was a great name for an ice cream shop. The first Hattie Jane's Creamery opened in Columbia three years later to the day. Made with a proprietary base using milk and cream sourced from a multi-generational Tennessee dairy farm, Hattie Jane's is popular for scooping Southern inspired, seasonally driven flavors made with local ingredients like Sweet Corn & Blackberry Jam, Goo Goo & Jack and Lemon Sherbert, as well as several permanent fixtures and plant-based flavors, which are free of dairy, soy, gluten and corn.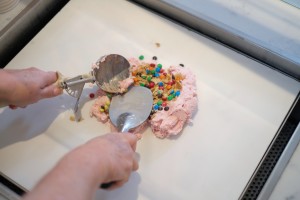 Herrell's
Herrell's Ice Cream & Bakery, in Northampton MA is owned and operated by Judith Herrell and is in the beautiful Pioneer Valley. During 43 years of operations Herrell's has gained national recognition for its award-winning ice cream, No-Moo® dairy free frozen dessert, award winning hot fudge sauces and Herrell's exceptional quality. Herrell's creates a smooth, creamy, dense ice cream containing little air (overrun) and boasts over 400 kosher flavors of unique artisan delectables. Like our ice cream, Herrell's regular and No-Moo® baked goods are made using the highest quality ingredients as our standard! Herrell's prides itself on its commitment to supporting sustainable farming practices and provides its customers with the freshest ice cream and baked goods available. Who doesn't love a freshly baked brownie topped with ice cream, vegan or dairy. Celebrating the 50th year anniversary of the invention of the Mix-In by founder Steve Herrell (Smoosh-in® at Herrell's). www.herrells.com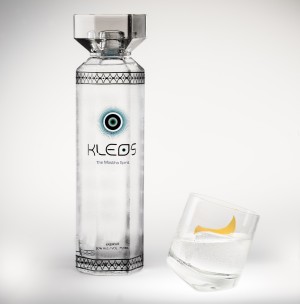 KLEOS Mastiha Spirit: YOUR GREEK VACATION IN A GLASS expands to 16 states
KLEOS Mastiha is in line with all the trends : "better for you", low cal, low sugar, low abv, and more importantly absolutely delicious and fabulous in cocktails. Tastes like cucumber, mint, sweet tea, can be consumed on the rocks and offers unparalleled versatility mixing 1:1 with every base spirit on your bar!
Mastiha is a PDO (Protected Designation of Origin) ingredient, a sap from the skinos tree that grows ONLY in the Greek island Chios. It is an ancient superfood with myriad health benefits. We'll drink to that!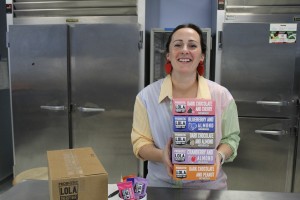 LOLA SNACKS
Mary Molina started LOLA SNACKS when her family of 6 at the time was receiving food assistance as a way to help feed and nourish her family because her children have food allergies and they needed something healthy to take to school, practice and everything else in between. LOLA SNACKS are game changing energy bars packed with enhanced functional ingredients like probiotics and prebiotics to help rebalance your gut for a better you.
What began in her kitchen to help her husbands own gut health issues, has relaunched post pandemic and everything about what Mary does has your health and the best results for your gut in mind; giving you the most innovative, conveniently healthy, gut supportive snacks for you and your family.
Mary is on a mission to improve gut health and boost immunity for the 60 to 70 million people affected by a digestive disease. She knows it's hard to eat clean – sugar, fried foods, alcohol – all of this changes your gut microbiome, killing your good gut bacteria, that's why she created LOLA SNACKS, to replenish and encourage probiotics back into your gut helping you rebalance your gut to keep you healthy and on the go because when it comes to being your best, there should be no obstacles – least of all an unhappy gut.
Mary also shares her bars with local anti-hunger programs and mentor's inner city youth in sustainable marketing and entrepreneurship to help make a difference in her community.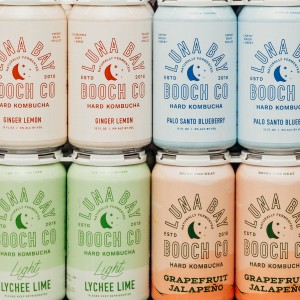 Luna Bay Booch
Co-founded in 2019 by two native Chicagoans, entrepreneur Bridget Connelly and kombucha brewer Claire Ridge, Luna Bay Booch, which touts itself as "kombucha with a boozy bite" has recently made waves in hot hard kombucha space as one of the leading lower-calorie, lower-sugar, gluten-free alternatives to beer and cider. Made with Yerba Mate tea and
fresh fruits and herbs, the women-founded company has found its niche as an ethically sourced, socially conscious beverage brand, donating 1% of total sales to environmental nonprofits.
Luna Bay was born out of a desire to make a change in the alcohol beverage industry—to brew something good for body, mind, and planet. All Luna Bay hard kombuchas are gluten-free, vegan, low-sugar and naturally fermented to 6% ABV for a boozy bite. Luna Bay is proudly woman-owned, -led and -brewed. Learn more about Luna Bay: www.lunabaybooch.com Join the Luna Bay community on Instagram at @lunabaybooch.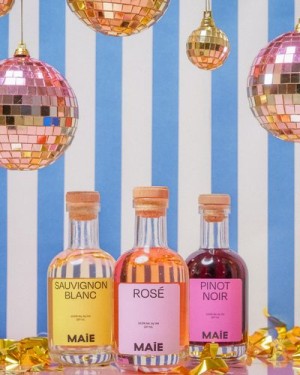 Maie Wines
Long time work wives and wine enthusiasts, Jaclyn & Neha, have spent plenty of time together inside and outside the office including their weekly wine happy hour.
The problem? Neha is a red wine drinker and Jaclyn enjoys white wine, everytime they would get together two beautiful bottles of wine (half drank) went to waste, often banished to the kitchen for cooking or getting stale in the back of their fridge.
They knew there had to be a better way to get all the taste of their favorite varietals without the waste. Why couldn't moderation be made easier? And from this moment, Maie was born! Female led and built to bring a beautiful glass of wine to you, by the bottle!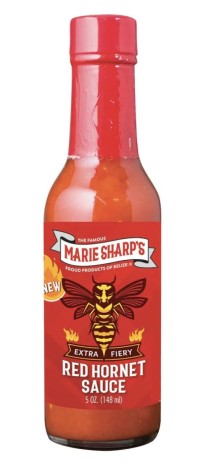 Marie Sharp's
Marie Sharp's heirloom habanero's have been stunning culinary aficionados, like yourself, since 1981. It takes many years to produce a new pepper cultivar like the Red Hornet, a cross between a Moruga scorpion pepper and a ghost pepper.
After more than seven generations of planting, and selective breeding, Marie announced to us personally, "I have a new sauce, from my new pepper, and it packs a sting boy!"
The delivery of heat is quite unique, as the habanero settles in with its familiar fruit forward heat, the hornet pepper kicks in hard in the finish.
This is 4 times hotter than Marie's previous hottest sauce. Enjoy!
Hand selected, fresh Hornet pepper, red Belizean habanero pepper, natural vinegar, hand harvested sea salt, hand chopped white onions, fresh garlic.
Mindfully Made in Belize, Central America.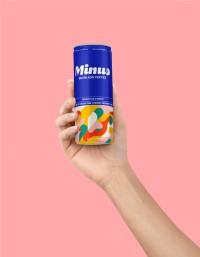 Minus
Founded by Marciel Saenz, a Costa Rican biotech entrepreneur, Minus is on a mission to inspire change for people obsessed with food and the planet by transforming low-value inputs into high-value, sustainable, delicious products via fermentation. Launching commercially later this year, Minus' first product will be cold brew, which tastes and caffeinates exactly like your favorite coffee, but with less water, less environmental damage, and shorter supply chains. Backed by a suite of impressive investors like Lowercarbon Capital who believe that Minus can change the broad future of food, change is caffeinated here.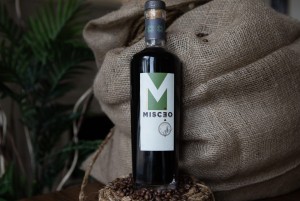 Misceo
Women-owned and operated, Misceo was founded by "Gitty" Halberstam, a special education teacher and mother of five. What began simply as a hobby is now the only super-premium, Kosher-certified coffee liqueur brand on the market and is quickly becoming recognized as a favorite in the category.
Made from Colombian coffee, fresh cane sugar, and 5x distilled vodka, Gitty began developing Misceo in her kitchen a few short years ago. After perfecting her recipe, deciding on a name (Misceo means 'to brew' in Latin), and navigating the confusing waters of the spirits industry, Gitty was pleasantly surprised at how rapidly the brand was being adopted not just by those seeking quality kosher spirits options but also by the wider coffee and spirits communities.
Misceo is now available in Total Wine stores across the U.S. and at www.misceoliqueurs.com/. Follow @MisceoLiqueurs to see what's brewing.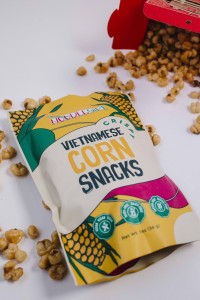 Noodle Girl
Noodle Girl Crispy Corn Snacks were a new launch in January 2023 by 2019 James Beard Award nominee, Chef Hang Truong. The recipe developed by Chef Hang Truong's mother during the Vietnam War. The crispy corn snack includes a blend of spices that is savory, sweet, and spicy; making the versatile and authentic snack perfect for everyone. Sold through Chef Hang's restaurant, Noodle Girl, in San Francisco; the snacks are available for nationwide distributors.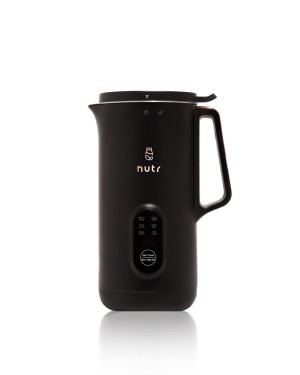 Nutr
Nutr is a lifestyle and wellness brand that allows users to easily make fresh plant-based milks. The company promotes sustainability by reducing carbon emissions and eliminating milk carton waste while supporting environmental causes by planting a tree for every machine sold. With increasing demand for plant-based milks, Nutr is poised to disrupt the dairy industry with its at-home milk making solutions.
Alicia Long, Co-founder and CEO of Nutr, is changing the way we milk with her patent-pending Nutr Machine, which allows people to make fresh plant-based milks at home with the push of a button, reducing waste and enjoying a more healthy and sustainable lifestyle. Alicia encourages sustainable consumption with a single-serving machine, making it easy for people to ditch the emissions-heavy dairy industry and the cartons and additives from store-bought milks. She is a Chinese immigrant who grew up on homemade nut milks made by her mother.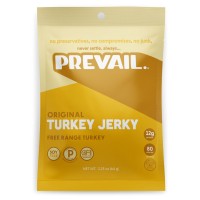 PREVAIL
Ashley tried every kind of jerky her diet allowed (there were only 2), but they tasted so… healthy. Eating clean shouldn't mean ditching the flavor! She craved real food for herself and her kids, not those "natural" products filled with fake ingredients.

Luckily, her husband Glen is a meat master extraordinaire. He went to work and crafted the most delicious, tender, allergen-free jerky. They realized there was no other jerky out there like theirs… high protein, low sodium, low sugar, allergen free, unique flavor profiles, and seriously tender texture. So they decided to PREVAIL.

85 million people in the US suffer from food allergies and auto immune disease. Life is hard, but having a tasty, top 8 allergen-free protein snack should be easy.
PREVAIL's Original Free Range Turkey Jerky is smoky & savory, with just a hint of coconut sugar- a match made in heaven. It's a mouthwatering flavor combo that'll have you reaching for another bag.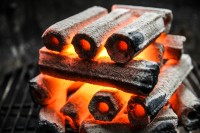 Prime 6
Riki Franco is the founder and CEO of Prime 6. Her company manufactures high performing, clean and sustainable fuel products like charcoal, wood logs and starters all made with repurposed sawdust.
Prime 6 represents the next generation of bio fuels that powers kitchens across America. In only three years, Prime 6 is already in high demand and provides chefs and operators with a heat source they can rely on.
The company is committed to planting trees and have been doing so since day one.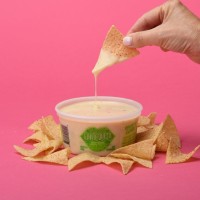 Queso Mama
Queso Mama is the premium, clean-label, ready-to-eat queso for families, friends & foodies. It stays thick and liquidy when heated, bringing instant warmth and delight to any table. The perfect recipe for Queso Mama? Anything. Queso Mama is best when you do it your way.
Queso Mama was founded by the queso mama herself, Leigh Vickery. Leigh learned early on that sharing a table unites people: it's a level playing field for everyone. She treats the kitchen as her playground, creating dishes that cultivate togetherness, joy and love. And her queso, more than any recipe, shares that love.
Now, Queso Mama is bringing her beloved queso to everyone—so you can share the love with your friends and family. There's a comfort in eating queso that's not only free of gluten, artificial additives, added sugars and preservatives, but also keto-approved, vegetarian-friendly and safe for those with tree nut or peanut allergies.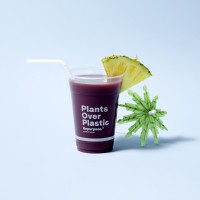 Repurpose
Repurpose is the leader in plant-based compostable tableware. From plates, cups, and cutlery to garbage bags and paper towels, the brand's 100% plastic-free items are perfect for when you need a night off from washing the dishes. The products are all made from plants using upcycled materials such as eucalyptus, sugarcane pulp, and wood and are backyard compostable.

Repurpose Founder and CEO, Lauren Gropper, has been at the forefront of creating green alternatives to disposable plastic since 2010. Last year she was recognized as one of 100 Women of Influence by Entrepreneur Magazine. Her company is revolutionizing the disposable home goods industry with its compostable products which are now sold in over 15,000 stores across the U.S. Repurpose is a female-led business with 83% of its leadership roles filled by women.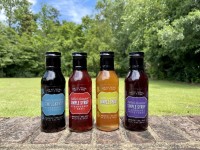 Sallie's Greatest
Born from her award-winning Herbal Fruit Jams, Sallie's Greatest Simple Syrup is hand made with farm fresh all natural fresh and herbs. Absolutely no added water, artificial flavorings, colorings, or preservatives. Simple syrup, sophisticated flavor!
Create the perfect martini, margarita, mojito, mocktail, and more. Sallie's Greatest Simple Syrup is also a foodie staple for sauces, dressings, and desserts.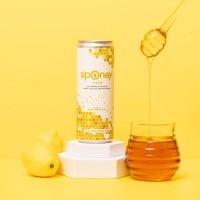 Siponey Spritz Co.
New York's own Amanda Victoria is the Founder & CEO of Siponey Spritz Co.™ — she founded the company with her partner in life and business, Joey Mintz. Siponey Spritz Co.™ is proudly Latina, Afro-Latina, and Jewish-owned by a team born and raised in NYC. Siponey Spritz Co.™'s ownership represents the fresh new face of the spirits CEO and what it means to be transformative in this industry.
Siponey makes award-winning fizzy and refreshing spirits-based cocktails and is the first-ever B Corp certified canned cocktail. Their products are made with the highest quality ingredients. Outside of their delicious cocktails, they commit 2% of revenues annually to non-profit environmental organizations around the world and are dedicated to saving honeybees, one can at a time.
Siponey Spritz Co.™ demonstrates their dedication to champion sustainability, quality, and diversity daily.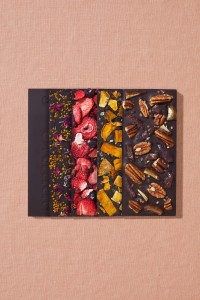 Spring & Mulberry
Kathryn is a true industry disrupter, leader, and ultimately a dedicated and talented woman who has used the obstacles thrown her way as steps towards exciting change in the food industry. Spring & Mulberry is a modern food brand exploring a world of sweet beyond sugar. After a cancer diagnosis in her early thirties, Kathryn committed to removing inflammatory refined sugars from her diet and began exploring the healing properties of food. In an effort to satisfy her sweet tooth, she started experimenting with the flavors of dates, nuts, and cacao and created the Spring & Mulberry's first-of-its-kind date-sweetened chocolate bar. The brand's aim is to transform America's relationship with sugar, inviting new possibilities in both flavor and function by using naturally sweet and delicious globally-sourced ingredients such as jammy dates, floral pollens, rich cacaos, and tangy spices.
Kathryn previously worked as the Vice President of Global Marketing at Pantone and Brand Manager for Veuve Clicquot Champagne, LVMH. She holds an MBA from Harvard University and a BA in Economics from the University of Michigan. She lives in Raleigh with her husband and daughter.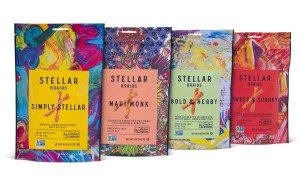 Stellar Snacks
Stellar Snacks is a passion-filled, mother-daughter run business based in Carson City, NV. They are the only Pretzel Manufacturer in the Western USA and the only Woman-Owned Pretzel Manufacturer at that! They bake all of their pretzels in house daily, living our their motto: It's not just a pretzel, it's a labor of love.
Their latest product launch, Stellar Pretzel Braids, are Vegan, Non-GMO, Kosher, Peanut Free, made with sustainable, natural ingredients and truly, lots of love. The Stellar team puts care into what ingredients go into the pretzels, and what they leave out… no corn syrup, MSG, artificial flavors/colors, cholesterol, saturated/trans fat.
Stellar's founders truly believe something as small as a pretzel can have a purpose. They take that very literally, and give emerging artists a platform via pretzels, by commissioning their original artwork and showcasing it on the brand's packaging. With your retailers nationwide, and airline partnerships, Stellar is bringing an art gallery and artisanal pretzels to millions of customers nationwide.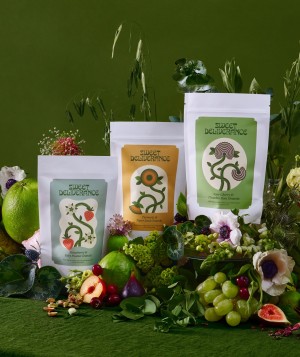 Sweet Deliverance
Sweet Deliverance is a modern female-founded food company crafting nourishing and nutrient-rich granola with thoughtfully-sourced ingredients right in the heart of New York's Hudson Valley. Sweet Deliverance aims to teach through practice that granola can be so much more than just sugar and oats: more wholesome, delicious, and craveable than ever imagined.
Founder Kelly Geary spent decades working in the food industry as a chef; combined with her experience as a postpartum doula, she originally developed a meal preparation business and nutritional consulting for expectant mothers. When a client with gestational diabetes was looking for a low-sugar, high-protein way to kickstart her day and support her lactation, Kelly began experimenting with granola–nuts, seeds, and grains sweetened only with maple syrup and coconut sugar carefully selected for their nourishing qualities. The granola was a hit with her clients, but Kelly really knew she had created something special when her clients' partners, husbands, neighbors, and friends started reaching for the sweet and savory mix. Kelly lives in New York's Hudson Valley with her family.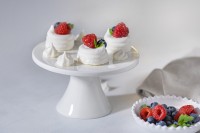 InnovoPro
Taly is a serial entrepreneur with over 20 years of experience in building new companies, launching innovative products to global markets and successfully managing numerous mergers and acquisitions, while excelling in various management roles.
Taly brings strong leadership and strategic skills to her role as CEO of InnovoPro, a leading FoodTech startup, in the field of chickpea protein.
In her current role, Taly leverages the extensive and diverse experience she gained while working in multinational corporations across the food, communication, and renewable energy sectors, throughout her career.
In addition, Taly serves as a mentor at "McKinsey's Circle of Women Founders" which supports the success of women entrepreneurs in the Israeli start-up ecosystem, and as a judge at "Mass Challenge", the largest and most diverse zero-equity accelerator.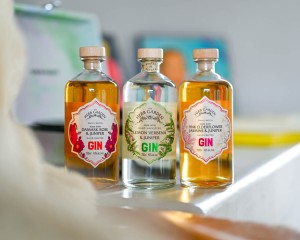 The Secret Garden Distillery
The Secret Garden Distillery is the only distillery in the UK to have a fully functional botanical garden with over 600 naturally grown and tended varieties of herbs and flowers.
The distillery is owned by a mother and daughters' team who share the same passion of celebrating nature and creating a truly unique product. Their hope is to expand the range of home-grown botanicals, elevate the distillery, and launch new products; while maintaining the focus on nature and quality for which the distillery has always been known.
The Secret Garden Distillery is most renowned for their highly acclaimed collection of The Herb Garden Gins: premium, 100% natural, handcrafted floral and herbal Gins first released in 2017.
The Herb Garden Gins are created with imagination resulting in gins with a complexity of aroma and taste, pushing the boundaries of expectation.
ImpEx Beverages is proud to import these into the US.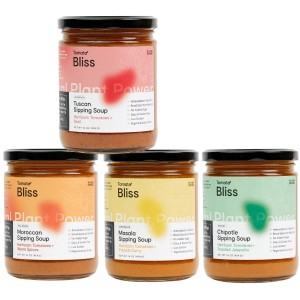 Tomato Bliss
Aiming to make a real difference, Tomato Bliss crafts heirloom tomato soups from a rainbow medley of nutrient-dense, regeneratively grown heirloom tomatoes. Better farming really does deliver better flavor, higher nutrient density, and a truly climate-positive solution.
Our award-winning soups are low in sodium, dairy-free, gluten-free, preservative-free, and have 0g added sugar. Plus, thanks to the attention to soil health and biodiversity, they're packed with antioxidants.
We bridge the gap between the freshness of the farmer's market with the convenience of a ready-to-eat soup. Certified Woman Owned. Made in Michigan.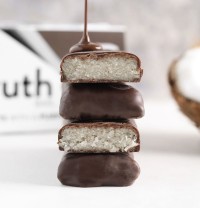 Truth Bar
Truth Bar is a gut-health nutrition bar that combines both prebiotics and probiotics. A single Truth Bar easily (and deliciously!) provides your daily recommended probiotics as well as the prebiotics, fiber, Omega-3's and antioxidants you need to establish a flourishing gut microbiome! Truth Bar addresses a myriad of health issues related to gut health by creating a delicious and accessible alternative to pill supplements with an easy, grab and go snack bar.
Truth Bar was created by Diana Stobo, who found that people were tired of taking pills and tired of nutrition and taste not being synonymous. After experiencing several health issues of her own, she spent years studying food as a healing modality eventually healing her body through the food she ate. Diana was inspired to create Truth Bar to help people make the small change in their lives that could make a huge difference in their overall health.