From July 2-6, The "5 Days of Freebies" Will Introduce The Brand's Menu To The Community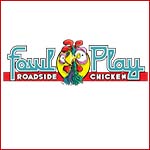 The long-awaited fast-casual chicken concept, Fowl Play, has officially set up coop at 3850 El Camino Real in Palo Alto, CA. To celebrate the debut, Fowl Play will be hosting a Grand Opening Week from Monday, July 2 through Friday, July 6, where each day the concept will be handing out limited quantities of varied menu items for FREE as part of its 5 Days of Freebies:
Monday, July 2 — The Ultimate Sammie & Fries

Tuesday, July 3 — Asian Chicken Salad

Wednesday, July 4 — The Dipper Waffle Cone, featuring a festive 4th of July pom-pom

Thursday, July 5 — Tenders & Mac 'N Cheese

Friday, July 6 — 1/4 Rotisserie Chicken & Elote
The hand-crafted menu draws influence and inspiration from the Fowl Play team and their collective love for being in the kitchen. At the core of the menu is the chicken: tangerine and sage-roasted rotisserie chicken, and crispy, buttermilk-fried, all-white chicken. Both varieties are showcased in Fowl Play's lineup of "Sammies," like The Ultimate (fried chicken, cheese, lettuce, pickles, tomato, mayo on a corn-dusted bun), The Crunch (rotisserie roasted chicken salad with cranberries and pecans, lettuce, pickles), The Hot Mess (fried chicken tossed in buffalo sauce, topped with beer-battered onion rings, Roquefort cheese and dressing, lettuce, tomato) and more. Fowl Play also offers signature salad bowls, half or whole rotisserie chickens, fried chicken combos, a family-sized Squawk Box, and a selection of hearty sides ranging from Loaded Tots and Cordon Bleu Mac 'N Cheese, to roasted fingerling potatoes, cornbread, and elote topped with mayo, parmesan cheese, Tajín, and Valentina.
"The community of Palo Alto has been so patient with us as we've been working to perfect the Fowl Play brand, mission, and menu," said Fowl Play owner, Andrea Leslie. "Our entire staff has poured their heart into developing the brand, and we are so pleased to finally be able to let the chicken out of the coop! We have full confidence that our hearty and healthy options will satisfy Palo Alto's craving for fresh, quality chicken sammies, rotisserie, sides and more."
There's more to Fowl Play than just chicken. The 'homegrown' concept was built on the mission of sharing knowledge from top-down, in order to see growth from the bottom-up. Every part of Fowl Play was developed from scratch collectively by its team of employees – from the mission, to the brand philosophy, to the eats. The employees also developed a charitable initiative, Fowl Play Bucks, to help those in need pay for their meal. In lieu of tips, all donations made at Fowl Play are converted into Fowl Play Bucks, which can be used in-store like cash, to directly support those in the community who need help paying for the meal. To redeem, guests will simply take what they need from the Fowl Play Bucks wall in-store and use them to purchase their meal.
Fowl Play employs from the community they love, from high school students to veterans and everyone in between. The concept offers flexible schedules and provides opportunities to gain restaurant experience and personal growth. For more information, employment opportunities, and live updates on what's happening at Fowl Play, visit www.fowlplayeats.com and follow the brand @FowlPlayEats on Facebook, Instagram, and Twitter.
About Fowl Play:
Fowl Play is a fast casual chicken concept, specializing in fresh, high-quality buttermilk fried and rotisserie-roasted chicken. The concept's menu features signature chicken sandwiches, whole and half rotisseries, fried chicken combos, salad bowls, hearty sides, and more. Built on the mission of creating a welcoming workplace, Fowl Play believes that knowledge must be shared from the top-down in order to foster growth from the bottom-up. Every aspect of the brand and its philosophy was developed by the entire team at Fowl Play, and even the menu was hand-crafted and inspired by the staff and their shared passion for food. Fowl Play is located at 3850 El Camino Real in Palo Alto, California. For more information, please visit www.fowlplayeats.com.