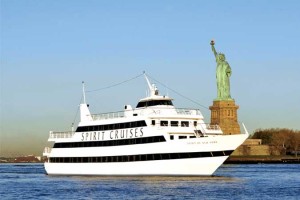 Whether you're a tourist seeking adventure in the Big Apple or are a long-standing resident of New York City celebrating a special occasion—or just looking for a fabulous night out, the Spirit of New York dinner cruise along the New York Harbor offers a truly memorable experience afloat.
The frivolity starts the moment you arrive at Chelsea Pier and step on board the vessel—a three-deck, climate-controlled party yacht that can accommodate up to 600 guests year-round. Although spring and summer cruises are always popular, the specialty holiday season cruises like the "Holiday Lights Dinner Cruise" that I recently experienced and the "New Year's Eve Fireworks Dinner" are particularly festive and lovely. Throughout these and all other Sprit of New York dinner cruises, guests are treated to spectacular glittering views of the Manhattan skyline, the Brooklyn Bridge and an incredible up-close-and-personal view of the illuminated Statue of Liberty for a photo opp like none other. From the boat's vantage point, even those who have spent much time in New York are sure to fall in love with the city all over again.
While the privileged vistas alone are worth the price of admission, the Spirit of New York also boasts diverse menus to best assure each journey has edibles everyone will enjoy. Fresh seasonal ingredients are used to create elegant, all-you-can-eat buffet-style meals that can include roast salmon, twice cooked beef, mashed potatoes, specialty salads and more—all punctuated by a decadent dessert table replete with various selections to satiate that sweet tooth.
For the holiday cruises and other specialized excursions, customized and tailored menus are created to add even more appeal. For example, holiday cruises feature the Hickory Smoked Ham that is a personal favorite of Paul Owen, Director of Sales for Entertainment Cruises, who says, "Our chefs add their own creative flair to the recipe, which elevates one of the holiday's most classic dishes to a whole new level." Owen goes on underscore multiple benefits of the excursion, noting, "As most of our guests consider a dinner cruise to be a celebration, our menus are decadent and indulgent yet refined, accompanied by attentive tableside service, wine pairings and other dining enhancement options. Our cruise has something special to offer to everyone, and we want to make sure guests are receiving the highest level of service possible."
Speaking of wine pairings, for those who like to enjoy a fine cocktail with their dining experience the yacht does also have a well-stocked bar for which drink tickets may be purchased if not already included with your chosen package. For example, the "First Class" service option does include a "welcome aboard" glass of champagne and "Platinum Open Bar." Additional cruise add-on options include full bottles of wine or champagne, a keepsake champagne flute, boarding photo package, chocolate covered strawberries and a dozen roses. For couples, with this outing the romance is sure to ensue.
Even beyond the unbelievable views and tasty victuals, the Spirit of New York experience also includes entertainment like an energetic onboard DJ who is quite adept at getting the crowd up out of their seats and boogying the night away on the disco light-laden dance floor. Some cruises also include karaoke to the amusement of all.
I would be remiss not to also mention that, in addition to dinner experiences, lunchtime Spirit of New York cruises are also scheduled every day of the week, while brunch is served on Sundays.
Whether for lunch or for dinner, these cruises allow guests to admire the city from a whole new perspective while enjoying upscale and attentive service one would expect from any high-end, landlocked restaurant. In all, the Spirit of New York offers an elegant experience perfect for any occasion—a romantic outing for two, a fun-filled family venture with the kids, or a group party or special event that'll have everyone merrymaking in so in many ways.
~~~
The Luxe List" Executive Editor Merilee Kern scours the luxury marketplace for exemplary travel experiences, extraordinary events, and notable products and services. Submissions are accepted at www.TheLuxeList.com. Follow her on Twitter here: www.Twitter.com/LuxeListEditor and Facebook here: www.Facebook.com/TheLuxeList.
Some or all of the accommodations(s), experience(s), item(s) and/or service(s) detailed above were provided at no cost to accommodate this review, but all opinions expressed are entirely those of Merilee Kern and have not been influenced in any way.