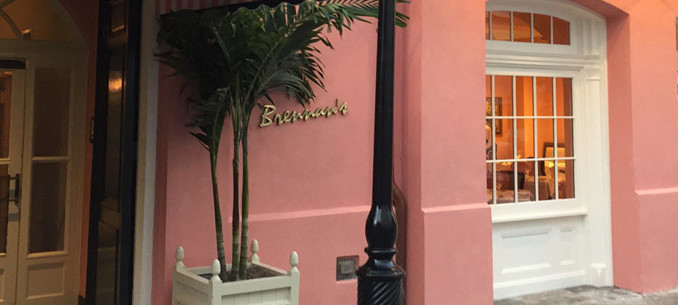 Brennan's celebrates it seventieth anniversary with a year of vintage dishes and cocktails
An invitation not to be missed! Terry White and third-generation restaurateur Ralph Brennan, co-proprietors of the venerable French Quarter establishment known as Brennan's, are poised to celebrate its70th anniversary in 2016 — with prized specials coming from its bar and kitchen to us!
All year long, Brennan's executive chef Slade Rushing will trot out his refined renditions of favorite dishes from the initial menus, one each month, and an old-school original cocktail, too, to be featured as specials on the Breakfast at Brennan's menu.
The party gets started in January with Frog Legs Bathurst [Crispy Fried Frog Legs, Garlic, Lemon Butter Sauce], teamed up with the classic Red Rooster from The Roost, Brennan's aptly named bar. February brings Crabmeat Lundi Gras [Green Asparagus, Jumbo Lump Crabmeat, Cherry Tomato, Radish, French Dressing] and a revival of the "Ojen" Frappé, made with "the absinthe preference of the Spanish aristocracy," according to Brennan's original menu.
The rotation of vintage favorites continues in March with Veal 417 [Panéed Veal Cutlet, Crabmeat, Hollandaise, Fresh Parsley], a nod to Brennan's Royal Street address, and the Brennan's Shamrock, honoring the Irish roots of the renowned restaurant clan. April showers bring Heart of Palms Vinaigrette[Sous vide Heart of Palms, Fava Bean and Truffle Emulsion, Radish Sprouts] and the Mr. Funk cocktail [Cranberry Juice, Peach Schnapps, Sparkling Wine] named after the former cellar master of Brennan's.
Subsequent months will present even more delicacies from the treasure trove that is Brennan's culinary archive: stay tuned for treats like Vichyssoise Vieux Carré [May], Buster Crab Bearnaise [June], Veal Kottwitz [August], and Steak Tartare à la Maison [October.] And can you possibly resist what the original menu has to say about Baba Brûlot, a festive dessert right in tune with December's holidays? —
"These little cakes are happily marinated in rum and served over ice cream; your waiter will flame them at your table in a pleasant ceremony which imparts their distinctive flavor."
So be sure to mind the calendar in 2016: with this monthly parade of Brennan's oldies-but-goodies, you won't want to miss a single opportunity for gourmet time-travel, and the chance to say "Happy Birthday to Brennan's!"