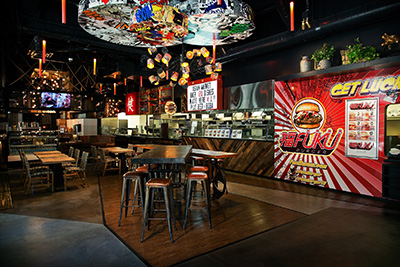 FAME – Food∙Art∙Music∙Entertainment is now open at Caesars Entertainment's, The LINQ, and has introduced a new concept blending a high-energy Chinatown Food Market serving authentic street fare combined with live entertainment.
The Market recreates a culinary bazaar, combining the great street foods of Japan, Taiwan, Thailand, Korea, China and Vietnam on a menu serving dim sum, stir-fry, ramen and barbecue. Putting a twist on the popular Boba drink, a Boba bar offers several flavors made with fresh fruit, including watermelon, lychee, mango, taro and strawberry. A vast selection of microbrews from an array of Asian countries are available on tap. A stationary "food truck" offers Japanese fusion burgers with the first featured food truck being the wildly popular local Las Vegas favorite, Fukuburger.
Live entertainment, such as tiger and dragon dances and Taiko drum performances, along with Gangnam-style beats to keep the market festive. A retail area offers novelty items inspired by Asian culture, such as miniature drums and other souvenirs.
The Asian market seats up to 200 guests inside, with seating for 50 or more on the outdoor patio. The Asian market is open daily from 11 a.m. until late.
About FAME
FAME – Food∙Art∙Music∙Entertainment is located at The LINQ, Caesars Entertainment's shopping dining and entertainment district. The 12,000-square-foot venue includes an Asian marketplace, several casual dining options and a formal restaurant upstairs, Fōchun, all offering authentic Asian cuisine including Japanese, Chinese, Thai and Vietnamese. For more information, guests may e-mail info@fame-lv.com, visit the website at www.fame-lv.com or follow FAME on Facebook at http://facebook.com/FAMEVegas, Twitter at http://twitter.com/FAMEVegas and Instagram @FAMEVegas.
About The LINQ
Caesars Entertainment is redefining the iconic Las Vegas skyline with The LINQ, an open-air retail, dining and entertainment district, anchored by the world's tallest observation wheel, known as the High Roller. Located at the heart of the world-famous Las Vegas Strip, The LINQ features more than 30 unique shopping, dining and entertainment venues and will host special events, festivals and more. Topping out at 550 feet, the Las Vegas High Roller observation wheel is the focal point of the unique urban entertainment district. The wheel's 28 glass-enclosed cabins features an interactive experience including video and music that fades away to unveil spectacular views of the famed resort city in the 30 minutes it takes to complete one full revolution. Each cabin will accommodate up to 40 people and will be available for individual or group experiences. For more information, visit thelinq.com.
About HIG Management
HIG Management has more than 30 years in the dining industry during which it has developed, managed and executed multiple original and exciting concepts including Rice & Company at Luxor Hotel and Casino. For more information, please visit http://higmgt.com/hig-management.html.