CHEF EDDIE TANCREDI
Location: Cleveland, OH

Restaurant:Adega – Modern Mediterranean

Position: Executive Chef & Managing Partner

Notable Awards: 2013 ACF Chef of the Year, competed in 2012 Culinary Olympics in Germany, competed in 2010 Culinary World Cup in Luxemburg, 2006 ACF Gold Medal Best of Show, Academie-Brillat-Savarin Medal through Chaine Des Rotisseurs.
What sparked your interest in food and how did it go from being a hobby to a profession?
When I was twelve, I knew I wanted my own restaurant and for what reason I have no clue… it's like it was in my DNA. It does not run in my family but I always had an interest in cooking and food in general. So, I started cooking when I was 15 years old at local shop Dave's Cosmic Subs and that is when my culinary adventure started.
Only a select few receive the Chaine Des Rotisseurs Academie Brillat-Savarin medal. Tell us how it felt to receive it.
I was very honored and humbled when I received this award. I did not know at the time, but my two culinary instructors Chef Panzera and Chef Insinga who were also my Coaches on the Culinary Youth School team recommended me along with Chef Hunt (who was the dean of my school) for this prestigious award. I believe I received the award because of all the hard work I put in day in and day out. I also received salutatorian of my class so I had the second highest grades in my graduating class. I did my best to maintain my straight A's, become a member of the Culinary Youth School team, worked full time as a cook, and was vice president of student council. So you could say my schedule was pretty full. I received a medal medallion and a $5,000 Scholarship towards my degree.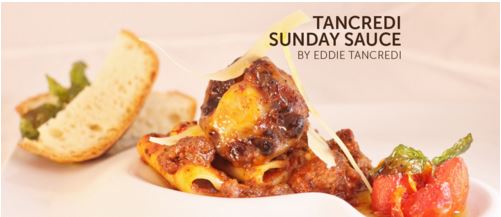 Having traveled to different culinary destinations around the world, what brings you back to your hometown of Cleveland, OH?
A lot of people ask me, "Why Cleveland?". Well, this is my hometown where it all started and I wanted my city to see what I can bring to the table for them to enjoy every day in my restaurant. I have always envisioned myself having restaurants in Cleveland. We'll see where it goes from there.
How would you describe the food scene in Cleveland in comparison to…let's say New York City, Chicago, and San Francisco?
Our Cleveland dining scene is no joke. The competition continues to grow with what seems like new restaurants opening everyday with all different sorts of concepts and cuisine. This shows us how diverse Cleveland really is. I'd compare it to major cities like New York and Chicago but scaled down due to our population not being quite as big. The quality and variety of food here in Cleveland is certain.
What encouraged you to pursue competitive cooking?
I love cooking and competing so I combined them. I never liked to lose. It does not matter what it is, cooking or simply playing a board game with family… I am always in it to win it.
Granted, all culinary competitions each have their own demands, but what was the most notable and challenging one for you?
My most challenging and notable accomplishment was graduating Greenbrier's intensive three year apprenticeship program. I treated this program like a competition everyday. Out of all my medals I have ever received, I keep this one with the highest regard. It is my foundation. Without the structure and discipline of this program, none of the things I have achieved or done would have been possible. I am a firm believer of surrounding yourself around success to be successful so I try to do that every day.
What does the American Culinary Federation mean to you? When and what influenced you to join the organization?
I joined the American Culinary Federation (ACF) when I was on the culinary cooking team for Scholl and Le Cordon Bleu. Throughout the years, the ACF has provided me with great networking opportunities and resources in the culinary industry, not to mention the support they have personally give me while competing for the Global Chef title when I was on the National Culinary Olympic team.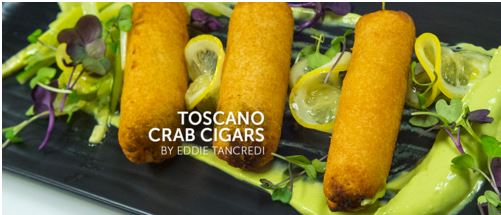 What excites you the most working at ADEGA?
What excites me the most is seeing my team grow into better culinarians and service staff. To see people who I have trained and worked with to move up in the company or elsewhere in their career. I also enjoy all the products I get that not many chefs can get their hands on.
When's the next culinary competition you have planned?
I will be representing USA in the Global Chef Challenge in Greece next year in September. It has been a process to get here – beginning in 2013 when I won Chef of the year, then having recently competed in Ecuador to earn a spot in Greece. I am still in search of a sous chef but I have a good idea who that will be.
What do you do in your spare time?
My spare time is spent with my very supportive wife, Ashley Palen Tancredi. We enjoy being outside with our two boxer dogs, Barley and Mazey. We also enjoy watching movies and just hanging out together since we both work a lot. I also enjoy working out it. It helps me keep a clear mind, reflect on the past, and see what is in store for the future.
Learn more about Chef Eddie Tancredi on his Chef's Roll profile here.

Thanks to our valued partnership, American Culinary Federation members receive FREE premium Chef's Roll memberships. Join today using www.chefsroll.com/acf and share your culinary story.