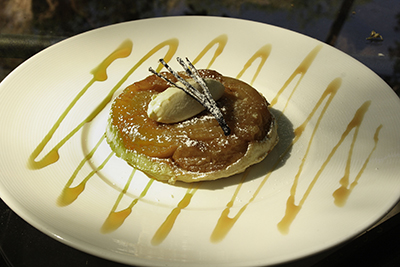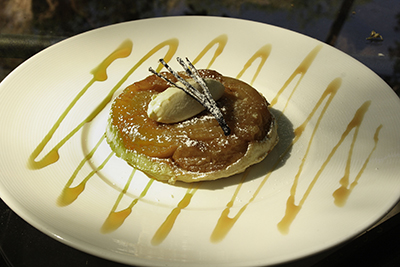 Figue Mediterranean is the perfect place to celebrate Easter with family and friends. The popular new Figs etCoachella Valley restaurant which was recently rated as the area's best new restaurant by Palm Springs Life, is offering a festive three course brunch menu with seatings from 11 a.m. to 3 p.m. on Sunday, April 20 priced at $49 per person. Children age 12 and under are $18 per person for smaller portions. Figue also will be serving Easter dinner from its regular menu beginning at 5 p.m.
Crab Cake etExecutive Chef François de Mélogue has designed a beautiful brunch menu for all to enjoy. Brunch begins with a selection from Figue's small plates menu, including Baked California Figs-wrapped with prosciutto shredded filo, house made yogurt cheese, drizzled with French lavender honey and topped with Sicilian green pistachios; Kibbe-Lebanese lamb & bulgur wheat meatballs, cucumber salad house made tahini hummus; Crispy Calamari & Shrimp fritto misto with lemon aioli; Burrata Caprese Salad-slow cooked tomatoes, artisan Burrata, basil pesto; or Dungeness Crab Cake-with coleslaw and remoulade sauce.
The main course selections for brunch, served until 3 p.m., include choice of Lemon Ricotta Pancakes-with fresh berries, whipped cream, maple syrup and Millionaires' bacon; Basque Eggs Benedict-with Serrano ham, poached eggs, Piperade, hollandaise sauce, and brioche; Eggs Meurette-with red wine poached eggs, fingerling potatoes, mushrooms, bacon, and brioche.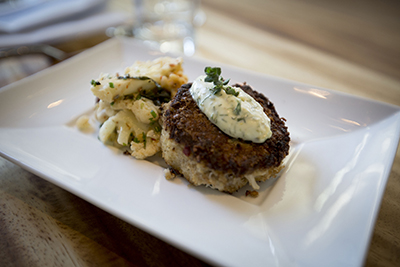 Brunch items being served from Figue's dinner menu include Grilled Wild Alaskan King Salmon-with mashed potatoes and ginger greens with rice wine sauce; Crispy Organic Chicken Paillard-with frisée salad, slow cooked tomatoes, and roast potatoes with thyme roasted garlic jus; Balsamic Glazed Almond Wood Spit Roast Snake River Rack of Kurobuta Pork-with roasted corn polenta, and broccoli rabe with balsamic honey glaze; Oak Wood Grilled Grass Fed Beef Hangar Steak-with French fries and basil stuffed tomato and Bearnaise sauce; and Elysian Fields Farms Organic and Holistically Braised Lamb Shank-with Provencal couscous and ratatouille with basil jus.
Apple Tart etNo meal would be complete without dessert and that's certainly true at Figue. Chef de Mélogue has prepared a selection from which it will be hard to choose. Dessert offerings include a choice of freshly Baked Warm Apple Tart with house-made caramel ice cream; Warm Chocolate Lava Cake with house-made chocolate gelato; Vanilla Panna Cotta with roses and raspberries; and assorted sorbets and ice creams, sugar cookies, and fresh berries. All desserts are made in-house.
The Bar at Figue opens at 4 p.m. with savings on small plate specials, artisan pizzas from our almond wood fired oven, craft cocktails and artisan beers. Dinner service begins at 5 p.m. Figue's sommelier, Joe Mascari, is featuring seasonal craft cocktails and will help guests to pair their selections with a perfect wine from Figue's superb wine list.
Cocktail hour begins at 4 p.m. and runs until closing at 10 p.m.; complete dinner service featuring Figue's full menu begins at 5 p.m.
Figue Easter Brunch 2014
11 a.m. to 3 p.m.
$49 per person
$18 Children 12 and under
Baked California Figs
Prosciutto, shredded Filo, house made Yogurt Cheese,
drizzled with French Lavender Honey and Sicilian green Pistachios
Kibbe
Lebanese Lamb & Bulgur Wheat meatballs, Cucumber salad
house made Tahini Hummus
Crispy Calamari & Shrimp
Fritto Misto, Lemon Aioli
Burrata Caprese Salad
Slow cooked Tomatoes, artisan Burrata, Basil Pesto
Dungeness Crab Cake
Cole Slaw, Remoulade Sauce
Lobster Bisque
Piquillo Peppers, Sweet Corn and Crème Fraîche
Main Courses
Lemon Ricotta Pan Cakes (until 3pm)
fresh Berries, Whipped Cream, Maple Syrup, Millionaires' Bacon
Basque Eggs Benedict (until 3pm)
Serrano Ham, Poached Eggs, Piperade, Hollandaise Sauce, Brioche
Eggs Meurette (until 3pm)
Red Wine poached Eggs, fingerling Potatoes, Mushrooms, Bacon, Brioche
Grilled Wild Alaskan King Salmon
mashed Potatoes, Ginger Greens, Rice Wine Sauce
Crispy Chicken Breast Paillard
Frisée Salad, slow cooked Tomatoes, roast Potatoes, Thyme roasted Garlic Jus
Balsamic Glazed Spit Roast Snake River Pork
roasted Corn Polenta, Broccoli Rabe, Balsamic Honey Glaze
Grilled Hangar Steak
French Fries, Basil stuffed Tomato, Bearnaise
Braised Elysian Fields Farms Lamb Shank
Provencal Couscous, Ratatouille, Basil Jus
Dessert
freshly Baked Warm Apple Tart, Caramel Ice Cream
Warm Chocolate Lava Cake, Chocolate Gelato
Vanilla Panna Cotta, Roses and Raspberries
Assorted Sorbets and Ice Creams, Sugar Cookies, Fresh Berries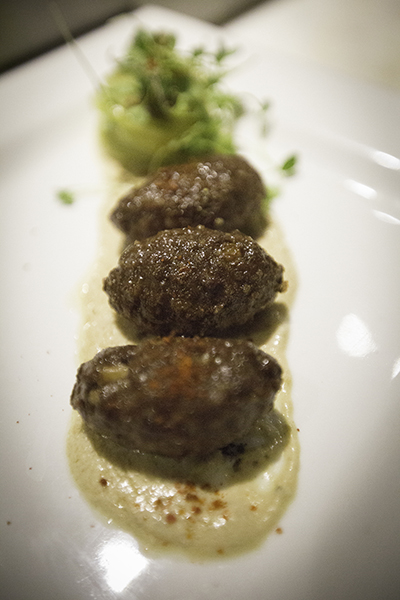 About Figue Mediterranean
Figue Mediterranean is located at 47474 Washington Street in La Quinta, CA 92253 (telephone: 760-698-9040). From the gracious reception welcoming guests through the last, lingering bit of a seductive dessert, "sharing" is the thread that unites the Figue experience. Enjoy Figue's progressive Mediterranean menu embodying the heart and soul of the region's cuisine-a unique melting pot of flavors and cooking preparations from the world's hub of many cultures. With strong influences from the Riviera, France, Italy and Spain, Figue's food is fresh, authentic, bright, clean and simple.
Savor the seductive flavors of the Mediterranean with inspired, delicious culinary creations of Relais & Châteaux honored Executive Chef François de Mélogue while enjoying beverages from the extensive list of wines and premium specialty cocktails with an Old World and New World concept.
Figue Mediterranean is committed to the highest standards of food and product integrity. We procure, produce and serve the highest quality food possible; food that is at its peak of ripeness, freshness and flavor, and therefore at its nutritional peak. We use ingredients that are organic, farm to table, hormone and antibiotic free, wild and sustainable.
The restaurant seats dinner from 5 p.m. to 10 p.m., Sunday through Thursday and from 5 p.m. to 11 p.m. on Friday and Saturday. The Bar at Figue opens at 4 p.m. and remains open until midnight on Thursday, Friday and Saturday night for cocktails and light food. Brunch is served on all major weekend holidays. Figue also is available for private events or celebrations, and for on- and off-site catering.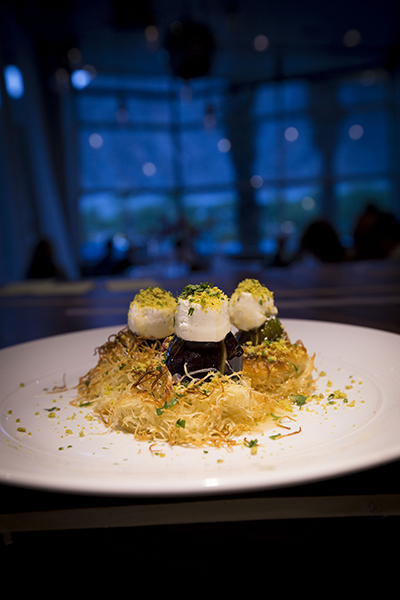 Complimentary valet parking is available. All major cards accepted. For more information or to make reservations, please call Figue at 760-698-9040 or visit their website at EatFigue.com. "Like" Figue on Facebook and follow them on Twitter. Figue is owned by Lee Morcus.
About The Bar at Figue
Guests of The Bar at Figue can enjoy a colorful and delectable collection of artisan Mediterranean foods complemented by the Bar's handcrafted premium specialty cocktails, craft beers and world-class wines. The prices are surprisingly low: well drinks with brand name liquors (Tanqueray, Smirnoff, J&B, and more) are only $5; specialty cocktails are only $7; craft beers are only $5; premium wines by the glass are only $6.
Bar service begins at 4 p.m. and continues until 10 p.m. Sunday through Wednesday and until midnight Thursday through Saturday. There are several comfortable seating options including high top tables, sofas, and community tables, as well as seating at the bar, which is roomy enough to accommodate both eating and drinking.
For more information please visit www.eatfigue.com.