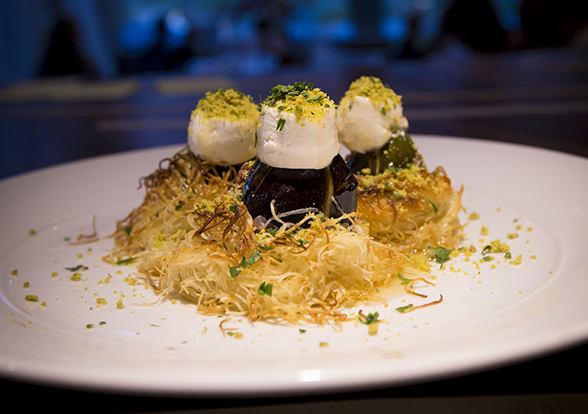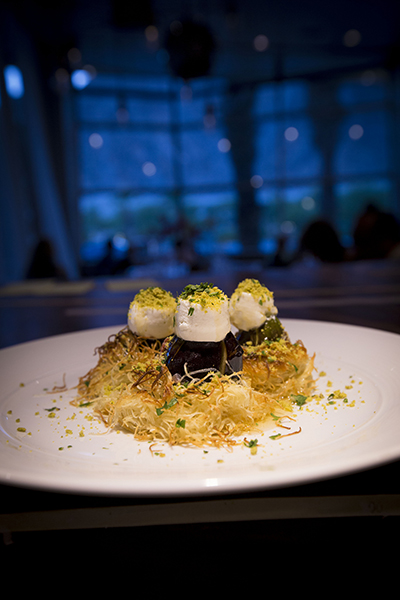 Baked Figs with Speck, Kataifi & Lavender Honey
Chef François de Mélogue, Figue Mediterranean
Ingredients:
8 each fresh Figs
8 slices Speck
½ box Kataifi
1 stick Butter, melted
1 cup Labne
4 tbsp Lavender Honey
¼ cup chopped Pistachios
Directions:
Trim the stems off all the figs.
Cut a cross into the top of each fig using a small paring knife.
Wrap the base of each fig with a slice of speck.
Mix the melted butter with Kataifi and wrap around each figs leaving the top third uncovered.
Bake at 450 degrees for seven minutes, or until golden brown.
Arrange on serving plate and drizzle with melted lavender honey.
Sprinkle with chopped pistachios and serve.
About Figue Mediterranean
Figue Mediterranean is located at 47474 Washington Street in La Quinta, CA 92253 (telephone: 760-698-9040). From the gracious reception welcoming guests through the last, lingering bit of a seductive dessert, "sharing" is the thread that unites the Figue experience. Enjoy Figue's progressive Mediterranean menu embodying the heart and soul of the region's cuisine-a unique melting pot of flavors and cooking preparations from the world's hub of many cultures. With strong influences from the Riviera, France, Italy and Spain, Figue's food is fresh, authentic, bright, clean and simple.
Savor the seductive flavors of the Mediterranean with inspired, delicious culinary creations of Relais & Châteaux honored Executive Chef François de Mélogue while enjoying beverages from the extensive list of wines and premium specialty cocktails with an Old World and New World concept.
Figue Mediterranean is committed to the highest standards of food and product integrity. We procure, produce and serve the highest quality food possible; food that is at its peak of ripeness, freshness and flavor, and therefore at its nutritional peak. We use ingredients that are organic, farm to table, hormone and antibiotic free, wild and sustainable.
The restaurant seats dinner from 5 p.m. to 10 p.m., Sunday through Thursday and from 5 p.m. to 11 p.m. on Friday and Saturday. The Bar at Figue opens at 4 p.m. and remains open until midnight on Thursday, Friday and Saturday night for cocktails and light food. Brunch is served on all major weekend holidays. Figue also is available for private events or celebrations, and for on- and off-site catering.
Complimentary valet parking is available. All major cards accepted. For more information or to make reservations, please call Figue at 760-698-9040 or visit their website at EatFigue.com. "Like" Figue onFacebook and follow them onTwitter. Figue is owned by Lee Morcus.