View Article In F&B Digital Magazine Click Here
A trendsetter in the tabletop industry, Front of The House (FOH) designs and manufactures distinctive dinnerware, solution-based serving pieces, and beautiful buffet building essentials for the hospitality industry; transforming the ordinary into the stylishly unexpected and uniquely trend-forward.
Exploring the intersection of color, unique textures, and bold shapes with an array of sizes, the FOH design team is continuously inventing new concepts for creative mixing and matching designed to stimulate the senses. All FOH products reflect remarkable craftsmanship, durability, and value.
Comprised of more than 2000 items, Front of The House offers something to complement every restaurant's design aesthetic, and every Chef's culinary vision. Their eclectic collections are created from a wide range of materials such as: porcelain, glass, metal & stainless steel, rattan, BPA free polycarbonate, and a variety of natural woods including Palm Wood, Acacia, Bamboo, and Coconut.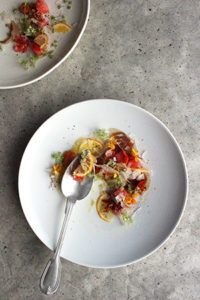 Each season, FOH introduces hundreds of new product designs by studying market and industry trends, and by collaborating with Chefs across the spectrum; from world-renowned culinary stars to food-forward up-and-comers, developing signature lines and customized designs that showcase their originality and savvy style.
In an industry where presentation is everything, FOH customers have access to chic, multi-dimensional tablewares that are expressive of who they are. FOH, manages their business like a family; and building lasting, service driven relationships with their customers is the key to their success and the reason their customer loyalty and brand reputation is unmatched in the industry.