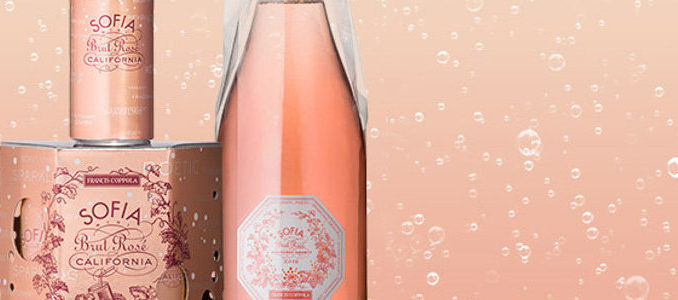 Francis Ford Coppola Winery Unveils New Sofia Brut Rosé And Brut Rosé Minis Just In Time For Summer
The Sofia Brand, Which Revolutionized Wine-in-a-Can, Releases Another Mini in Brut Ros é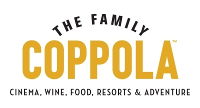 This summer everything will be coming up rosé with the newest addition to Francis Ford Coppola Winery's wildly popular Sofia label. The second sparkling wine in the winery's illustrious collection and crafted in the style of French Crémant, Sofia Brut Rosé's light effervescence and fruity floral notes are a refreshing reminder of rosé's supremacy as a signature of summer.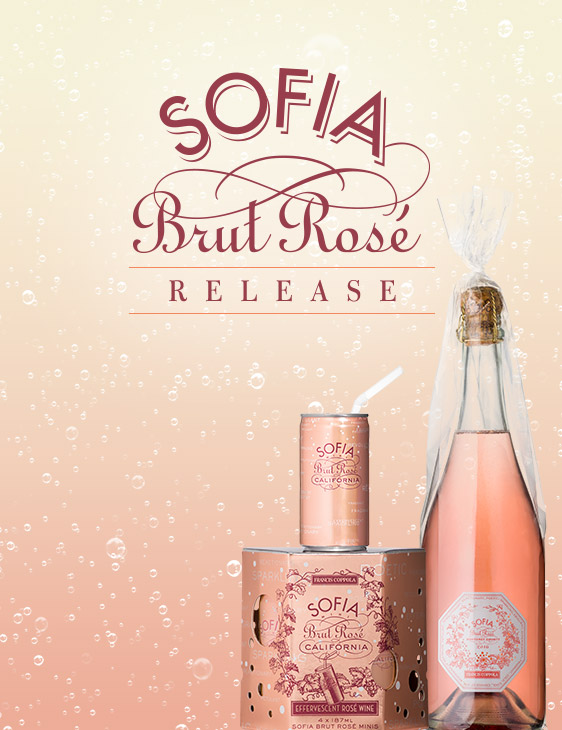 "This 2016 Sofia Brut Rosé is styled after my favorite sparkling Rosés of Loire and Alsace in France," says Sofia Coppola. "I spend a lot of time in France and have always loved sparkling rosé so am happy to add this to the line."
Sofia Brut Rosé's spiced berry accents are laced with tea leaves, a touch of clove, and crisp, refreshing flavors of tart red currants, pomegranate, strawberries, and peaches – exceptionally refreshing on the hottest of summer days. "Unlike Sofia's still Rosé, which is crafted from Rhone varietals, Sofia Brut Rosé is made from a blend of Pinot Noir and Chardonnay, offering alluring aromatic flavors that pair well with assorted cheeses and charcuterie, hors d'oeuvres, shellfish, and spicy Asian cuisine," says President & Director of Winemaking Corey Beck.
Inspired by the brand's personality, the 2016 Sofia Brut Rosé shares similar packaging with its legendary predecessor, the Sofia Blanc de Blancs, which revolutionized wine-in-a-can with its fun pink minis over a decade ago. The Brut Rosé's 750ml bottles will be wrapped in clear cellophane to show off the brilliant color of the wine with its stylish peach 187ml mini cans (including straws) available in single servings or decorative peach four-packs for use on the beach, at the park or by the pool.
The Sofia wine tradition began in 2004 with the sparkling Blanc de Blancs, a gift to Sofia from her filmmaker father Francis Ford Coppola. Over the years, the Sofia collection has expanded to include the Blanc de Blancs Minis, Riesling, a still Rosé, Chardonnay, a limited edition Méthode Champenoise and now, the Sofia Brut Rosé.
The 2016 Sofia Brut Rosé retails for $19 SRP for the 750 mL bottles, and $20 per 4-pack of Minis, and may be purchased at participating restaurants and retailers, at the winery or by visiting www.francisfordcoppolawinery.com/store.
About The Family Coppola
The Family Coppola encompasses all of the things Francis loves most – cinema, wine, food, resorts, and adventure – and embraces quality, authenticity and pleasure as a backbone to each of these vibrant business endeavors. Anchored in Sonoma County, Francis Ford Coppola Winery, known for the superior level of quality and integrity, is, as Francis puts it, "a wine wonderland, a park of pleasure where people of all ages can enjoy all the best things in life: food, wine, music, dancing, games, swimming and performances of all types. A place to celebrate the love of life." Coppola's second foray into Sonoma County came in 2015 with the launch of Virginia Dare Winery, American wines since 1835, ushering in a new era of elevated quality and vineyard-specific wines. The Family Coppola Hideaways are a collection of unique properties where adventure meets serenity. Drawing upon inspiration from his film career and travels around the globe to the far reaching corners of the world, Francis created each resort embracing its off-the-beaten-track location, making it an ideal destination for exploring the natural wonders of the area while relaxing in tranquil surroundings. Additionally, The Family Coppola operates a venerable film production company, American Zoetrope; the award-winning all-literary magazine, Zoetrope: All-Story; Cafe Zoetrope in San Francisco's iconic Sentinel Building in North Beach; and Mammarella Foods, an authentic line of premium organic pastas and sauces. www.TheFamilyCoppola.com.