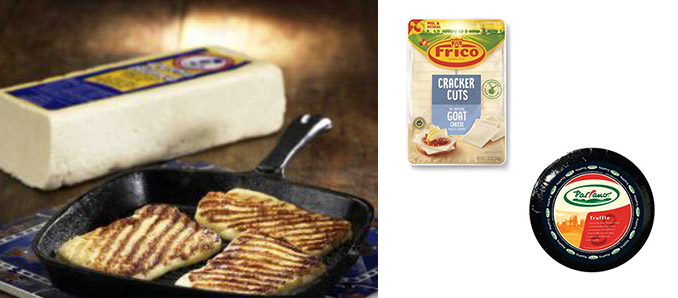 During the SFFS and IDDBA trade shows this past June, global dairy giant Dutch Royal FrieslandCampina N.V., among the largest dairy companies in the world, took center stage to highlight three exciting brands under its collective's umbrella. Frico, Gayo Azul and Parrano stole the show with unique flavors and captivating product offerings.
FrieslandCampina, the world's largest producer of Gouda and Dutch cheeses and one of the largest U.S. importers of specialty cheeses, boasts an expansive portfolio that actually includes over a dozen cheese brands deeply-rooted in Dutch, Caribbean and Latin American culture. They've been selling across the globe for a century and began selling in the U.S. 50 years ago. Since then, they've cultivated a suite of innovative brands delighting consumers throughout America and beyond.
During the recent SFFS and IDDBA trade shows, the company showcased the following three top-selling brands:
1. Frico – this cheese holds natural goodness as its highest order. Since 1898, Frico has been using traditional techniques to create delectable cheeses from the world-famous Frisian cows in northern Holland. With an uncanny ability to create products that suit customers' tastes and lifestyles, Frico packages their cheese in various forms like re-sealable bags and re-closeable trays. For those preferring cheese cut differently, the company's products are now available in these recently-introduced new formats:
• Frico Gouda Snack – Packaged in eight 20 gram portions per re-sealable bag
• Frico Cracker Cuts – Featuring cracker-sized Gouda, Mediterranean Herb and Goat Cheese merchandised in a display-ready case holding eight easy-peel and re-sealable trays
• Frico Cheese Slices – New cheese slices include Gouda Mild, Edam, Emmental and Goat Cheese packaged in easy-peel, re-sealable trays and sold in display-ready cases
2. Gayo Azul –this brand, with its strong Dutch influence and a rich heritage, has been a traditional staple for Caribbean Hispanics for decades and now enjoys a growing international fan base. Their products range from tried-and-true Dutch recipes to Queso Blanco—a white grilling cheeses perfect for the barbeque. Gayo Azul cheese is perfect for entertaining and creating exciting dishes all year long.
During the SFFS and IDDBA trade shows in June, Gayo Azul displayed a wide assortment of delicious cheeses under this brand for sampling. Here are just a few of the company's products:
• Gayo Azul Dutch Gouda – This versatile, classic cheese is great for boards, slicing, shredding and melting in any recipe.
• Gayo Azul Dutch Edam – This cheese has a savory flavor with a firm bite.
• Gayo Azul Queso Blanco – A mild and fresh-tasting white cheese with a crumbly texture. Great for sprinkling on salads, soups and tacos. It melts well while still keeping its shape. This one is fabulous for grilling.
• Gayo Azul Queso Freir – A mild and fresh-tasting cheese with white color and a crumbly texture. It's able to hold its shape while being fried.
Beyond those above, Gayo Azul offers a host of other products for every occasion and recipe. Whether you want a specialty slice of cheese that adds excitement to your burger or a plate of ready-to-serve cubes for your wine tasting, Gayo Azul has you covered.
3. Parrano – this is a versatile and delicious cheese with a unique flavor and texture like no other. It captures the nutty flavor and buttery aroma of a finely aged Parmesan and finishes with the smooth texture of a Dutch Gouda. It's versatile enough to cut, shred and melt.
Perhaps no other company makes such a combination blend so perfectly. While Parrano has grown a cult following for years, many people have never heard of it. According to Tara Kirch, Senior Marketing Manager at FrieslandCampina, "Parrano's approachable flavor and texture is sure to please any palate. And, while it's a great addition to any cheese plate, Parrano's versatility lends itself to pairing with a variety of foods, including being sliced for burgers or shredded onto grilled veggies."
For its part, Parrano's selection of cheeses include:
• Parrano Originale – A one-of-a-kind cheese aged for five months. This allows it to develop its nutty Parmesan flavors while maintaining the firm, smooth texture of a Gouda.
• Parrano Truffle – Parrano Truffle follows the company's original recipe, blending the flavors of a nutty, salty Parmesan and the creamy sweetness of a Gouda. It's set apart by a generous amount of black truffle shavings for a complex flavor like no other.

Luckily, one need not have attended the SFFS and IDDBA trade shows to experience FrieslandCampina's bevy of choice cheeses. Frico, Gayo Azul and Parrano are available at retailers throughout the U.S., along with other cheese products in the company's portfolio. Cheese-loving turophiles and wine-loving oenophiles have never had it so good!
~~~
As the Executive Editor and Producer of "The Luxe List," Merilee Kern, MBA is an internationally-regarded brand analyst, strategist and futurist. As prolific consumer trends, lifestyle and leisure industry voice of authority and tastemaker, Merilee keeps her finger on the pulse of the marketplace in search of new and innovative must-haves and exemplary experiences at all price points, from the affordable to the extreme. The best-of-the-best across all product, service and travel categories—as well as noteworthy marketplace change makers, movers and shakers—are spotlighted in her exclusive cross-media platform that reaches multi-millions each month through several syndication channels: print and online publications as well as broadcast TV and terrestrial radio. Connect with her at www.TheLuxeList.com / Instagram www.Instagram.com/LuxeListReviews / Twitter www.Twitter.com/LuxeListEditor / Facebook www.Facebook.com/TheLuxeList / LinkedIN www.LinkedIn.com/in/MerileeKern.
Some or all of the accommodations(s), experience(s), item(s) and/or service(s) detailed above may have been provided at no cost or sponsored to accommodate this review, but all opinions expressed are entirely those of Merilee Kern and have not been influenced in any way.