GERT KOPERA APPOINTED AS EXECUTIVE VICE PRESIDENT, GLOBAL RESTAURANTS AT HAKKASAN GROUP

Global hospitality company Hakkasan Group has strengthened its executive team with the appointment of Gert F Kopera as Executive Vice President, Global Restaurants. Having worked in the hospitality industry for over 30 years, Kopera brings a wealth of global experience to Hakkasan Group where he will oversee the company's portfolio of restaurants and aggressive global expansion.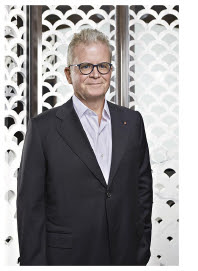 Kopera joins Hakkasan Group from his position as Chief Operating Officer at D.ream. Previously, Kopera has worked in senior positions with some of the world's leading hotel companies including Jumeirah Group and Rosewood Hotels & Resorts where he was Vice President, Food & Beverage for seven years. Described as the 'Chef Hunter" Kopera is renowned for his little black books that includes lists of memorable dishes, innovative ideas for new dining concepts and the contact details of chefs and restaurant managers who have impressed him.
In this role, Kopera will lead the development of restaurants and bars at new venues including forthcoming openings in Hawaii, Mexico, Bali, Jakarta and Saudi Arabia. In addition, he manages the all operating entities around the world through his highly talented team.
Gert Kopera comments, "I am very excited to join Hakkasan Group and to share my drive and passion for innovative and successful restaurants and bars with the team. I have long admired Hakkasan Group and followed its rapid expansion since it opened its first restaurant in London. As we continue to expand our reach and open creative venues around the globe, we drive to strengthen the position of Hakkasan Group as one of the most imaginative and dynamic hospitality companies."
About Hakkasan Group
Hakkasan Group is a worldwide hospitality company with establishments across North America, Europe, Middle East, Asia and Africa. Its namesake is taken from its Michelin star restaurant that set the high-level standard for the group's collection of diverse brands. Its 'brand first' philosophy builds restaurants, nightlife, daylife and soon-to-open hotels, resorts and residences into world-class hospitality brands, all with a focus on service, design, innovation and experience.
Its restaurant portfolio includes Hakkasan, with 11 locations worldwide, Ling Ling, Yauatcha, HKK, Sake no Hana, Herringbone, Searsucker and Ivory on Sunset. Under the nightlife/daylife umbrella of brands are Hakkasan Nightclub, Wet Republic, OMNIA and JEWEL Nightclub.
Hakkasan Group is fully owned by Alliance International Investments LLC, an investment company based out of Abu Dhabi.