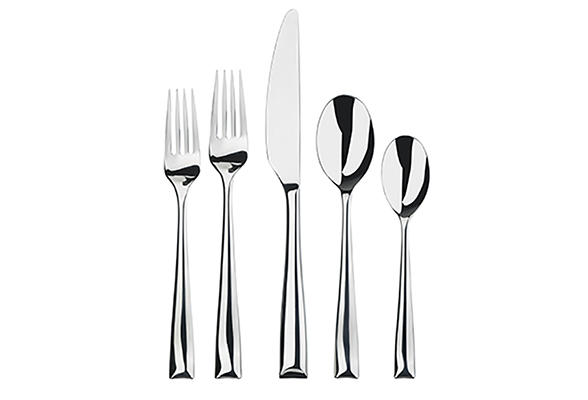 New York, NY – Gourmet Settings, the award-winning manufacturer of fine flatware, is proud to announce its selection by the James Beard Foundation as a JBF House Purveyor. As part of their relationship with the foundation, Gourmet Settings will be their official flatware provider, an honor reserved for companies that create premium ingredients, goods, or services within the culinary industry. "We couldn't be more thrilled to partner with the James Beard Foundation as we strongly admire their passion for providing scholarships and educational opportunities – it matches our passion for providing the best flatware," says Hildy Abrams, President of Gourmet Settings.
The flatware collection the non-profit foundation selected is called Soprano. Originally designed 10 years ago for Gourmet Settings, it is defined by fluid lines and wide assortment of pieces. From a 5 piece flatware set to service ware to the essentials for a cocktail hour, Soprano meets every need for a seamless meal. The design, with a wider tail and tapered neck, was created just as much for function as form, after focused research on the varying ways people hold their utensils during meals. Gourmet Settings is extremely committed to innovation as each of their exclusive patterns is researched, modeled, drawn, prototyped and refined before final production. Additionally, the company is steadfast in producing less waste material through an expert manufacturing process.
The purveyorship between Gourmet Settings and the James Beard Foundation began in June 2013 and will continue into 2014, and potentially beyond. Started in 1986, the James Beard Foundation is a New York based national professional organization named in honor of James Beard that serves to promote the culinary arts by honoring chefs, wine professionals, journalists, and cookbook authors at annual award ceremonies and providing scholarships and educational initiatives to cooking hopefuls.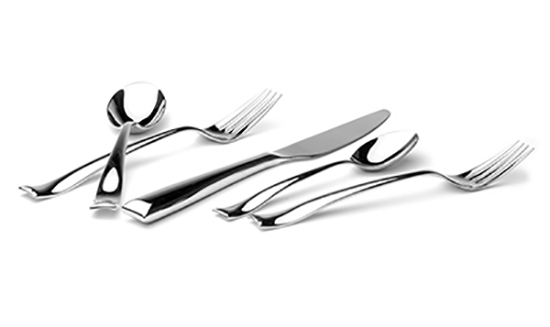 Gourmet Settings creates beautiful, fine flatware that is built to last. Knowing that people use their knives, forks and spoons three times a day, 365 days a year, Gourmet Settings is committed to creating flatware that brings a smile to the user's face every time it is used. Since 1994, the company's passion, original thinking, pursuit of innovative solutions and quest for perfection has made them a trusted leader in the flatware industry. Gourmet Settings, by definition, brings a personal touch and real care to each product, many of which have been featured in prestigious online and print media including The New York Times, Good Housekeeping, Bon Appetit, Modern Bride, and O, The Oprah Magazine. Gourmet Settings' innovative design strategy for Costco also awarded them the gold award at the 2007 International Design Excellence Awards from BusinessWeek. Flatware from Gourmet Settings is available worldwide through retailers such as Target, Crate & Barrel, Williams-Sonoma, Macy's and many more, as well as online at
gourmetsettings.com.