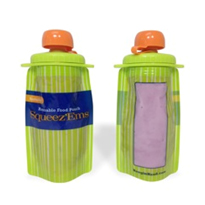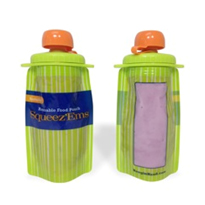 Squeez'Ems are Convenient, Portable and so Easy to Toss into the Diaper Bag!
Squeez'Ems are eco-friendly, reusable food pouches for any pureed or blended food. They are easy to fill, clean and store for on-the-go families! Squeez'Ems reusable food pouches are perfect for parents who make baby food for their babies and toddlers. They are great for yogurt, applesauce and homemade baby food and ensure your baby is eating healthy at daycare, with grandparents or with other caregivers.
Squeez'Ems reusable food pouches can be filled with whatever mom or dad chooses, so they are a great solution for those who prefer DIY baby foods or are concerned over the nutrition content of premade store-bought food pouches. Squeez'Ems are BPA, PVC, and Phthalate free. Squeez'Ems are an earth-friendly choice because they are refillable and reusable, which makes them perfect for families concerned about the environment. Also, Squeez'Ems are a good solution for kids with food allergies. Parents can easily fill the reusable pouches with purées specific to their child's diet. Budget conscious parents will love the affordable price if $7.99 for a duo pack and the ability to buy some of your favorite blended foods and fruits in bulk and pour them into the Squeez'ems pouches.
Squeez'Ems are comprised of just one piece to eliminate the worry over losing parts. It features a new screw top lid that turns clockwise to prevent accidental opening. It guarantees a tighter, 100% leak-proof seal! Also, the pouch has an open window so there's no guessing what's inside.
For more info on Squeez'Ems, please visit www.booginhead.com. You can also find them on Facebook and follow them on Twitter and Pinterest. Squeez'Ems are available at BabiesRUs stores.
About Squeez'Ems:
Booginhead is an innovator in developing solutions to address common everyday problems for parents and their tots. From crib to kitchen gear, Booginhead has solved a number of dilemmas with products such as Squeeze'Ems, SippiGrip, PaciGrip, SplatMat, PaciPouch and Create Your Own Pacifiers. All products comply with the CSPIA Guidelines and are thoroughly tested for your child's safety. The brand has earned a number of parenting awards including the iParenting Media Award and The Bump's Best of Baby award. Celebrity fans of the brand include Jessica Alba, Miranda Kerr, Alicia Keys and many more.