PLAID NATION will Instagram with #SMOKESSUMMERBVIBES to Win Weekly SMOKE-IFIED Summer Adventure Prize Packs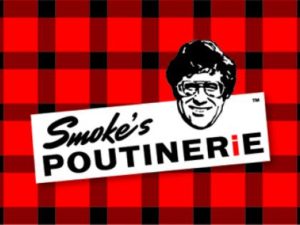 Smoke's Poutinerie, the World's Largest & Original Poutinerie, is kick-starting the summer with a GRILLS GONE WILD contest! The Summer of '18 will bring Plaid Nation Fans BOLD, BBQ flavors and a chance to WIN weekly SMOKE-IFIED Summer Adventure Prize Packs!
From June 18 to August 19, the grills will be FIRED UP at all Smoke's Poutinerie locations, offering Plaid Nation Fans THREE NEW Poutine with smoky, sweet, and savory flavors of Hickory Maple Chipotle Steak, Maple Bacon BBQ Chicken and Apple Butter Mesquite Boneless Rib. The flavours are Hickory Smoke Steak, Original BBQ Chicken and Classic Tangy Boneless Rib in the United States.
"Nothing says Summer like Adventure & BBQ, so we decided to fuse them together with Poutine," said Ryan Smolkin, CEO (Chief Entertainment Officer) of Smoke's Poutinerie. "Our Plaid Nation Fans will go WILD for our take on summertime flavors! It's all about fries, curd, gravy and….BBQ baby!!!"
Summer with Smoke's Poutinerie will get even HOTTER with the GRILLS GONE WILD Instagram Contest! Smoke's Poutinerie is asking Plaid Nation Fans to share their favorite SUMMER MOMENTS by posting WEIRD, WILD + WACKY photos of their BBQ Poutine Experience on Instagram with the hashtag #SMOKESSUMMERVIBES for a chance to WIN weekly SMOKE-IFIED Summer Adventure Prize Packs!
Smoke's Poutinerie is aiming to kick-start Plaid Nation Fan's summer adventures, whether they're headed to the cottage, taking a weekend road trip or chillin' with friends at a backyard party! The prize packs will be jam-packed with PLAID-IFIED, SMOKE-IFIED gear, including a Retro Picnic Cooler, Camping Chairs, Picnic Blanket, Backpack, Bluetooth Speaker (loaded with 1 Year Premium Spotify), and a Corn Hole Game. Fans might even get their hands on a wicked 10-foot SUP Paddle Board with a SMOKE-IFIED Paddle! All they need to do is ORDER UP, TAKE A PHOTO & TAG IT for a chance to WIN weekly prizes! Summer of '18 will be a WILD RIDE with 8 WEEKS OF SUMMER & 8 EPIC PRIZES!!!
About Smoke's Poutinerie
Founded in 2009 by creative genius Ryan Smolkin, Smoke's Poutinerie is the World's Largest and Original Poutinerie. Representing 80's Canadiana culture, known for the signature lumberjack plaid, and glam rock music, Smoke's Poutinerie serves over 30 varieties of its famous poutine. With 150-plus locations in Canada, and 50 more open and in development in the United States, the brand is on course for "GLOBAL DOMINATION!"
For more information about available franchise opportunities, contact Mike Graham, Vice President of Franchise Development, at mike@smokespoutinerie.com or call (905) 427-4444, ext. 205.