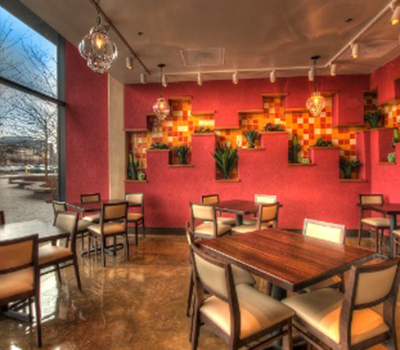 The modern Mexican eatery is the latest addition to the revitalized Navy Yard area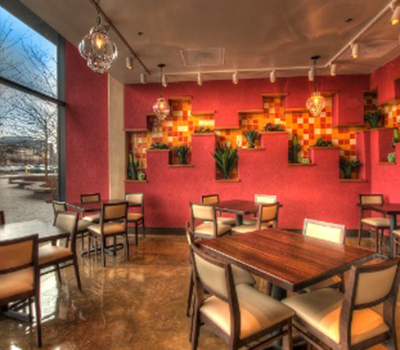 GrizForm Design Architects has just completed the design for Agua 301, a new Mexican restaurant opening on December 21st. The 4,000-square-foot waterfront restaurant is the latest addition to the historic Lumber Shed Building in Yards Park, part of an ongoing development that blends new construction with adaptive reuse of historical buildings. Helmed by Chef Antonio Burrell, Agua 301 is an intersection of Mexico's history, culture, and landscape – both old and new.
Working closely with owners David Bonior, Stephen and Amanda Briggs, and Chef Burrell, GrizForm used Mexican design, landscape, and ancient ruins as inspiration. The design team employed a color palette based on neutrals—sand, taupe, and rich brown—along with natural wood tones that represent the country's terrain. Other references to Mexico include custom-routed wall panels with a pattern inspired by the ancient city of Teotihuacan; a wood trellis wrapping columns mimics the steep steps of a Mayan or Aztec Pyramid; stucco forms inspired by Mexican architect Luis Barragan, and hues of pink that are reminiscent of the tones found in the sand and clay soil of the deserts.
Furnishings like barstools and dining chairs are set in dark wood frames with contrasting sand-colored fabric to complement the neutral color palette. Throughout, GrizForm employed a mix of traditional and contemporary lighting, from fixtures that resemble primitive sketches on stone to the modern 50-inch long arm sconces from Atelier de Troupe found in the dining area.
Agua 301 also offers a private dining option that evokes a hacienda courtyard where stucco and tile walls are filled with a mixture of succulents and cacti, glass-blown lanterns, and white louvered shutters at the entrance. A 44-seat patio will open up in the spring. Agua 301 will be open for dinner service on December 21st, and lunch service will begin on December 28th. Weekend brunch will commence on New Year's Day.
About GrizForm Design Architects
GrizForm is improving the built environment one project at a time. The firm, founded in 2003 by Griz Dwight AIA, LEED AP, is a leading hospitality design and architecture firm with award-winning work and a team that prides itself on its craftsmanship, strong attention to detail, awareness of historical context, and innovation. GrizForm produces creative solutions for clients, which include contemporary design concepts, cutting-edge ways to solve design and architectural problems, and approaches to help push the design envelope further through the incorporation of unique materials or subtle historical references. Along with its strong interior design and architectural capabilities, GrizForm Design Architects designs and builds custom pieces–from lighting to furniture–to bring the client's vision to life.
About Agua 301
AGUA 301 MODERN MEXICAN celebrates the culture and cuisine of Mexico taking contemporary Mexican cuisine and infusing it with modern flair. This is not Tex Mex! Chef Antonio Burrell tweaks traditional Mexican ingredients and flavor profiles through experimental ingredient combinations and serves it up waterside in Yards Park. The Yards is at the heart of all the excitement happening in the increasingly vibrant Capitol Riverfront district of Washington DC. Located on the riverfront, between Nationals Park and the Washington Navy Yard, The Yards is a unique urban waterfront neighborhood in which to live, work, shop and play.