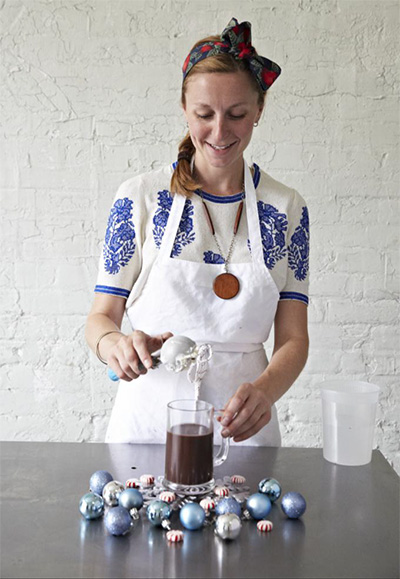 Christina's Inspiration: "I do NOT mess around with my hot chocolate. As a pastry chef, it's practically required to have a killer hot chocolate recipe at the ready when the cold months come knocking. (Mine includes my European ganache-like roots with my American instant hot chocolate memories.) I love temperature contrast in a good dessert, which is why Häagen-Dazs Peppermint Bark Ice Cream just screamed out 'dunk me in hot chocolate!' the first time I took a bite! I love that floats are usually only served in the warmer months with a fizzy soda, though with a warm, thick mug of hot chocolate, it's every bit as perfect."
Häagen-Dazs Peppermint Bark Ice Cream Float
Yield: makes 4-6 servings, depending on mug size
Ingredients:
½ cup cocoa powder (Dutch processed with alkali)
½ cup sugar, 4 oz dark chocolate
½ teaspoon kosher salt
2 cups whole milk
1 carton of Häagen-Dazs Peppermint Bark Ice Cream
Directions for Sundae:
In a medium mixing bowl, combine cocoa powder, sugar, chocolate and salt.
In a medium sized saucepan on medium heat, bring milk to a near scalding boil. Pour milk immediately over the bowl of cocoa, sugar, chocolate and salt. Allow it to sit for 1 minute. Whisk slowly to combine. Continue whisking until mixture is evenly combined and silky smooth. You can always pass it through a fine mesh strainer if you're worried there are lumps!
Pour hot chocolate evenly into mugs, scoop Häagen-Dazs Peppermint Bark Ice cream on top and garnish with a candy cane or peppermint stick if you're feeling fancy!
Tricks of the Trade:
Make the hot chocolate in a huge batch so all you have to do is heat and serve.
Invest in quality cocoa powder and chocolate if you can – it will make a world of difference in the taste and texture of your hot cocoa.
Use skim or 2 percent milk in place of whole milk if you prefer.
About Christina Tosi:
Christina Tosi is the chef, owner and founder of momofuku milk bar, called "one of the most exciting bakeries in the country" by bon appetit magazine. as founder of the dessert program at momofuku, christina helped momofuku ko earn two stars from the michelin guide and momofuku ssäm jump onto restaurant magazine's top 100 restaurants in the world list. she is the 2012 recipient of the james beard rising star chef award. christina lives in brooklyn, ny with her three dogs and eats an unconscionable amount of raw cookie dough every day.