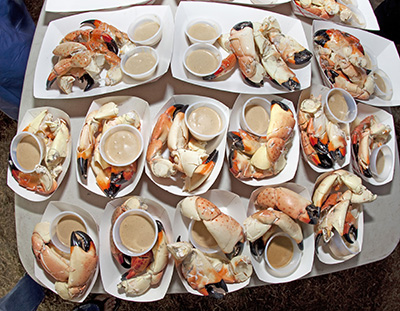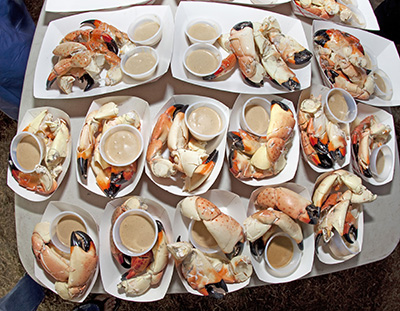 From waterfront docks to handheld forks, the Key Largo Stone Crab & Seafood Festival, set for Saturday and Sunday, Jan. 25-26, offers fresh local seafood, live musical entertainment, cooking demonstrations, contests and kids' fun.
Sponsored by the Key Largo Fisheries and Key Largo Merchants Association, the fifth annual event at Rowell's Marina, mile marker 104.5 bayside, is a delicious weekend of family fun, food and fish from local waters.
Attractions include artisan and amusement vendor booths, fireworks, a car show, live musical performances, face painting for kids, a magic show, a little mermaid contest, fishing workshops and the planned "return" of centuries-old pirate Black Caesar and his crew to give buccaneering demonstrations.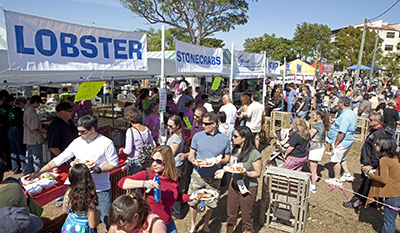 Each year rows of seafood booths serve up succulent stone crab claws, homemade smoked fish dip, conch fritters, chowders, tuna nachos, lobster and even landlubber favorites like chicken, sausage, burgers and hot dogs.
Local chefs take turns manning large cooking tents, offering attendees tips on how to devise and devour favorite Keys dishes, along with samples of items such as crab cakes, lobster and conch ceviche, grilled oysters and coconut mahi-mahi.
Festival goers also can compete in popular shrimp- or Key lime pie-eating contests.
Festival hours are 11 a.m. to 8 p.m. Saturday and 11 a.m. to 4 p.m. Sunday. Admission is $5 per adult and free for children age 12 and under. Pets and coolers are not allowed.
Event proceeds benefit Florida Keys charities. For more information about the Key Largo Stone Crab & Seafood Festival please visit them on the web, and find them on Facebook, Youtube, and Twitter.