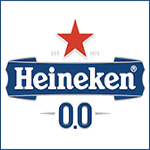 This season, Heineken® and Heineken® 0.0 will inspire beer drinkers to celebrate all their holiday moments –the good, the bad and the ugly–because even the troubles can lead to fun memories to share for a lifetime. From dealing with long lines during holiday shopping, to cooking mishaps, to missing out on the last gift on the shelf, every disastrous holiday moment becomes the year's funny story to share with friends and family at holiday celebrations. That's why this year Heineken is encouraging consumers to embrace these special moments.
"We've put together a festive holiday promotion this year that is sure to delight consumers and aid retailers in driving holiday sales and profits," says Meredith Kiss, Heineken Brand Manager, HEINEKEN USA. "Beer is a traffic-driver for parties and celebrations, beer shoppers are both hosts and guests for parties and imports are growing more than five times faster than the total beer category.[1] In addition, Heineken delivers a higher dollar lift when on display versus other leading European imports[2]," continues Kiss. "This means beer is a main holiday sales driver and Heineken drives incremental profits."
A comprehensive, integrated promotion is supported with a significant spend in broadcast and digital media, impactful in-store merchandising and savings on 6-packs and 5-liter draught kegs where legal. Special holiday packaging includes a unique code under every bottle cap for consumers to enter for a chance to win gift cards worth up to $200 instantly and be entered in the grand prize drawing for the ultimate catered at-home holiday party valued up to $10,000.
The holiday promotion continues into the New Year with a new twist on New Year's resolutions. Heineken 0.0, the no-alcohol brew with great beer taste encourages consumers to start Dry January with this refreshing beverage. At only 69 calories and zero alcohol, consumers can still enjoy January with an ice-cold brew.