Award Winning Heineken Light To Expand Reach
Through Summer Best Tasting Light Program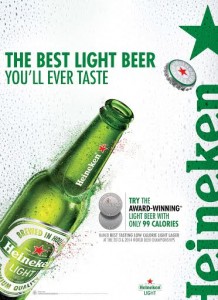 New York, NY (June 2, 2014) – Heineken Light, winner of the "Best Tasting Low Calorie Lager" for the second year in a row at the 2014 and 2013 World Beer Championships, is gearing up to spread the good word and share what makes this premium light beer stand apart from the rest. This summer, Heineken Light's Best Tasting Light 360 degree program will inspire LDA+ shoppers to set a new standard for their summer gatherings by choosing Heineken Light as their go-to light beer. National TV, digital and web activations, social support and retail and on-premise activation will help shift the light beer conversation back where it belongs – taste – to drive trial and incremental sales of superior tasting, higher margin Heineken Light.
"Today's consumers appreciate quality and great taste and know that ingredients matter," said Nipa Parekh, Senior Brand Director, HEINEKEN USA. "According to research, 40% of consumers age 21-27, desire light beer with a more full-flavored taste[1]. When it comes to quality and great-tasting light beer, Heineken Light has no rival. As one of the only light beers to be brewed with Cascade hops, a key ingredient used by the finest IPA brewers around the world, Heineken Light delivers the true lager flavor consumers seek, while remaining a lower calorie, accessible option."
To support the program, targeted Best Tasting Light TV along with digital activations with partners including Ibotta and Bazaarvoice will drive awareness, promote trial and provide shoppers with special offers and the incentive to consider Heineken Light pre-purchase. Heineken will also be teaming up with farcical digital media outlet, The Onion, to create a series of short videos to generate buzz on Heineken Light's Money Back Guarantee.
In store, high-impact signage at the shelf will help convert consideration to action driving incremental sales and profits at retail. In on- and off-premise accounts, including national grocery, liquor, mass and club locations (where legal), Heineken Light will be conducting consumer sampling events to garner interest, support trial and maximize consumer engagement.
Parekh concluded, "We are so confident in the superior quality and taste of Heineken Light that we are putting our money where our mouth is by offering a money back guarantee (where legal) to LDA+ consumers. Building off the success of our ad campaign featuring Neil Patrick Harris, this year's execution finds Harris once again mired in legal technicalities and regulations as he trumpets our assurance and money-back guarantee that Heineken Light is the best tasting light beer that delivers full-flavored lager taste."
Heineken Light's Best Tasting Light promotion runs April 1st through the end of August.
About HEINEKEN USA
HEINEKEN USA Inc., the nation's leading upscale beer importer, is a subsidiary of Heineken International BV, the world's most international brewer. European brands imported into the U.S. include Heineken, the world's most international beer brand, Strongbow Hard Apple Ciders, Desperados, Amstel Light, and Newcastle Brown Ale. HEINEKEN USA also imports the Dos Equis Franchise, Tecate Franchise, Sol, Indio, Carta Blanca and Bohemia brands from Mexico. For the latest information on our company and brands, follow us on Twitter @HeinekenUSACorp, or visit HEINEKENUSA.com