HEINEKEN® PROVES "SOCCER IS HERE" WITH U.S. CAMPAIGN FEATURING SOCCER STARS LANDON DONOVAN, CARLI LLOYD & DAVID VILLA
Heineken®'s annual soccer campaign celebrates the sports' rising U.S. fandom via new TV spots and partnerships with the UEFA Champions League & Major League Soccer
Heineken® launches "Never Miss a Minute" contest to reward fans every minute of every UCL and MLS match* with incredible prizes, including a trips to UCL or MLS matches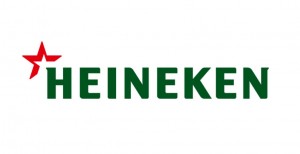 To showcase once again how Heineken® is pairing their decades of passion for soccer with the momentum the beautiful game has seen in the U.S., Heineken® has launched the "Soccer is Here" campaign, which debuts a hat trick of renowned players as spokespeople, including International Spanish star and New York City Football Club (NYCFC) captain, David Villa, U.S. Women's National team captain and summer games hero, Carli Lloyd and American soccer legend Landon Donovan. The year-long campaign which champions soccer's rich history in the U.S., while raising a Heineken® to its exciting future, features a series of new commercials that highlight the energy and passion surrounding the sport in America, as well as contests and interactive engagements for Heineken®'s partnership of the UEFA Champions League (UCL), and Major League Soccer (MLS).
The campaign, developed by Publicis New York, kick-offs in conjunction with MLS' opening day on March 6, 2016, with the launch of Villa and Donovan's 15 second spots, which showcases each journey to prominence in the U.S. The full 30 second campaign commercial, launching in mid-March, will help highlight soccer's rise and raise a glass to the supporters who helped lift the beautiful game.
Lloyd's 15 second hero spot will launch in late-April in advance of this summer's packed schedule of International and club team soccer tournaments. All commercials run through the duration of both the UCL & MLS seasons. More about each:
David Villa's TV spot shows soccer isn't just big in Europe. The filled stadiums and crowd involvement is just as big in the U.S., and marks his first time ever speaking on-camera in English (launching

3/6/16

).
Landon Donovan's spot provides his take on the current growth of the game in the U.S. versus what he experienced early on, and how that passion will only grow in years to come (launching

3/6/16

).
Carli Lloyd hits the airwaves as the first female athlete to ever be a spokesperson for a beer brand. Lloyd speaks to the support she's witnessed in just a few years to affirm that "Soccer is Here" (launching April 2016).
"It's been a long road for fans of soccer in America, and as a supporter of the game for decades abroad, Heineken toasts to fans old and new," said Ralph Rijks, Senior Vice President of Heineken. "As the world's most international beer, it's clear to see soccer's popularity is brewing in America. We are excited to be part of that momentum and heritage, and we'll be bringing fans closer to the game all year long."
Through key sponsorships and activities over the years, Heineken® has become a worldwide leader in soccer, both globally and in America. With "Soccer is Here," Heineken® is tapping into that passion to take the game to new heights.
"The U.S. has taken a liking to soccer. There are more games televised, and more people are watching. Everywhere I have travelled in the U.S., I see fans eager to get to know the game I love," said former World Cup and UCL champion, and current NYCFC captain, David Villa. "Heineken's support of soccer is known wherever you go around the world, and with their championing of the game in the U.S., myself and other players are excited to showcase the game we love to fans all across the country."
"As a recent import to America myself, it's clear that soccer has taken hold here in a huge way, more than ever before," said Andy Bird, CCO Publicis Worldwide North America, New York. "The campaign captures the excitement and visceral nature of the match day experience, and aims to harness the swell of pride and emotion that comes with soccer. And as a fan I can't think of a better suited match with the game in the U.S. than Heineken, as they already have a rich history with soccer around the world, and we're proud to be part of it."
Win incredible prizes with Heineken®'s "Never Miss A Minute" Contest:
To reward soccer enthusiasts with even more opportunities to get closer to the game, Heineken® will reward fans with prizes every minute of every MLS & UCL match with the "Never Miss a Minute" contest. To enter, fans 21+ can upload a photo of themselves watching any MLS or UCL match while enjoying a Heineken® responsibly to Heineken.com/soccer.
Ninety winners per match will win a variety of prizes, including top-quality soccer gear, subscriptions to MLS Live, as well as one of seven grand prize trips for two, to an MLS or UCL group match. For details and contest rules, check out Heineken.com/soccer.
Fans are encouraged to join the action all season long at major bars and restaurants like Buffalo Wild Wings and Hooters, where several Heineken® & Heineken® Light promotions will be offered to customers during all MLS and major UCL matches. For the most up to date details on promotions and specials, check with your local restaurant.
For news and updates on all things soccer through the lens of Heineken®, visit Heineken®'s dedicated soccer website, www.Heineken.com/Soccer, follow @HeinekenSoccer, visit https://www.facebook.com/HeinekenUSA ; or visit the Heineken® YouTube page at https://www.youtube.com/heineken.
About HEINEKEN USA
HEINEKEN USA Inc., the nation's leading upscale beer importer, is a subsidiary of HEINEKEN International NV, the world's most international brewer. European brands imported into the U.S. include Heineken®, the world's most international beer brand, Strongbow Hard Apple Ciders, Amstel Light, and Newcastle Brown Ale. HEINEKEN USA also imports the Dos Equis Franchise, Tecate Franchise, Sol, Indio, Carta Blanca and Bohemia brands from Mexico. For the latest information on our company and brands, follow us on Twitter @HeinekenUSACorp, or visit HEINEKENUSA.com.