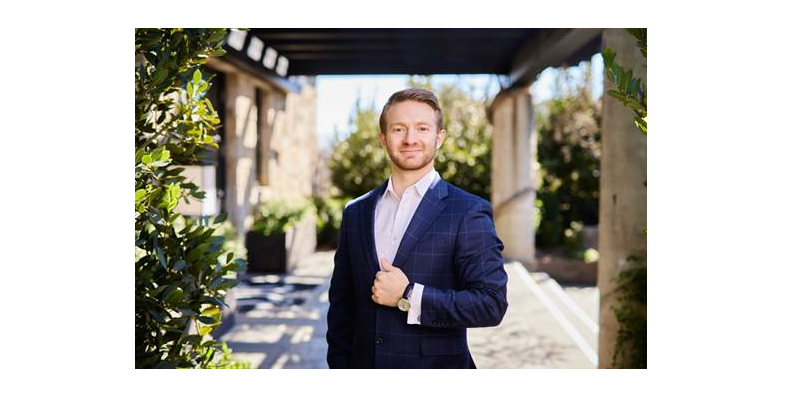 Demeine Estates is excited to announce that the Court of Master Sommeliers, Americas ™ has welcomed Heitz Cellar's Estate Director Erik Elliott to the organization. Erik is one of 10 individuals who successfully met the qualifications to be awarded the title of Master Sommelier. The results were announced at the Krug Reception on August 31, 2022, at the Royal Sonesta in Portland, Oregon.
"The study of wine has changed my life in so many ways and I feel so fortunate to have completed this part of the process," says Heitz Cellar Estate Director Erik Elliott. "While there were many challenges along the way, the relationships and support I received have made this the experience of a lifetime. I am eager to pay it forward and am excited for the next chapter."
The Master Sommelier Diploma is the highest distinction a professional can attain in the beverage service industry. The Master Sommelier Diploma Examination consists of three sections: a verbal theory examination, a wine assessment exercise using the Deductive Tasting Method, and a practical component that focuses on hospitality, beverage service, salesmanship, and overall business acumen. Candidates must receive passing scores in each section to earn the highly coveted Master Sommelier title. 
"I am so proud of Erik for putting in the hard work and achieving this special honor," says Lawrence Wine Estates Managing Partner Carlton McCoy, MS. "It is a joy to see my close friend and colleague join the Court of Master Sommeliers. I have watched him grow from a bartender to a sommelier, and eventually a hospitality director to Estate Director, all while demonstrating his tireless work ethic and deepening his knowledge of fine wine and hospitality."
Erik has further his career in wine, rooted in refined hospitality, from Philadelphia to the heart of the Napa Valley, focusing on creating wine programs that are both informative and elevated. After falling in love with hospitality and wine while working at Del Frisco's Double Eagle Steakhouse in Philadelphia, he sold everything he owned to move to Aspen, CO, to pursue his dream of becoming a Master Sommelier. Erik landed at The Little Nell, the world-renowned hotel and wine program at the base of Aspen Mountain. Erik spent six years in the James Beard-nominated wine program and worked his way up to become the Lead Sommelier. After his colleague Carlton McCoy Jr. accepted a position at Heitz Cellar following Gaylon Lawrence, Jr.'s acquisition, Erik felt that he still had more to learn and traded the mountains of Aspen for Napa Valley's vineyards. In 2019, he accepted a position as the Estate Director at Heitz Cellar. While overseeing the conception of Heitz's new Tasting Salon and Hospitality Center, which opened in February 2022, Erik continually aims to elevate the experience for guests.
"We are thrilled to see Erik join the Court of Master Sommeliers," says Demeine Estates President Philana Bouvier. "Erik continues to prove he is an accomplished and passionate fine wine professional who is leading Heitz Cellar in its new era. We cannot be more proud of his leadership and the inspiring example he is setting forth for the next generation of wine sommeliers."

ABOUT DEMEINE ESTATES
Based in the heart of Napa Valley, California Demeine Estates is a family-owned importer and marketer of the world's finest wines. A leader in luxury wines, Demeine Estates sets the standard in exceptional marketing, fine wine sales, and distribution services. Founded by The Lawrence family and Carlton McCoy Jr., MS, and led by President Philana Bouvier, Demeine Estates curated portfolio also consists of both family-owned domestic and international producers who represent exceptional wines anchored by quality viticulture. For more information visit www.demeineestates.com
ABOUT HEITZ CELLAR
Founded in 1961, Heitz Cellar is a true Napa Valley legend that has helped shape the history of Napa Valley winemaking. Pioneering vintner Joe Heitz ushered in Napa's modern era with his iconic, globally-celebrated wines—including Napa Valley's first vineyard-designated Cabernet Sauvignon, the renowned Heitz Cellar Martha's Vineyard. In 2018, the winery entered an exciting new chapter as the Heitz family passed this rich legacy into the hands of the Lawrence family, whose deep roots in agriculture and commitment to the same core values of fine winemaking made it a perfect match. With proprietors Gaylon M. Lawrence, Jr. and Master Sommelier Carlton McCoy, Jr. at the helm, the winery will continue to offer wines in the quintessential Heitz style. Made with an unwavering commitment to quality from organic and biodynamically farmed, 100% Napa Valley fruit, Heitz wines represent the Lawrences' agrarian roots and commitment to the stewardship of Napa Valley. For more information on Heitz Cellar, please visit www.heitzcellar.com