NEW HILTON WEST PALM BEACH ANNOUNCES MATTHEW BYRNE AS SIGNATURE CHEF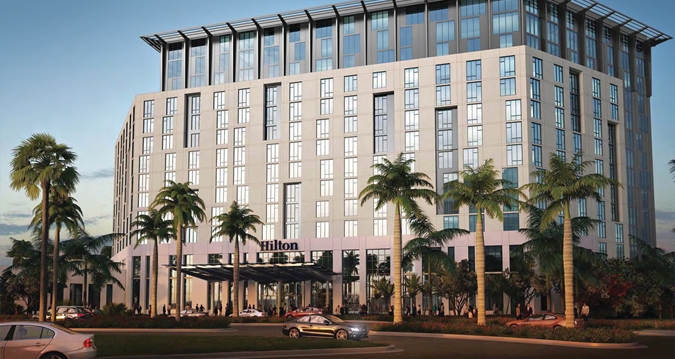 Palm Beach Culinary Star to Curate All Culinary Offerings at West Palm Beach's Newest Lifestyle Hotel; Chef Byrne to introduce Manor, an onsite Three-Meal Restaurant
WEST PALM BEACH, FL – Oct. 21, 2015 – The highly anticipated Hilton West Palm Beach today announced Chef Matthew Byrne as signature chef. Known locally for Kitchen, the contemporary American Brasserie located on Belvedere Road in West Palm Beach, Chef Byrne will curate all the signature food and beverage offerings on the property, scheduled to open in early 2016. Guests can enjoy his creative and fresh approach to cuisine at Manor, the three-meal signature restaurant, as well as in the hotel lobby, and at the poolside bar and marketplace. His culinary style will also be infused throughout catering menus for meetings, events and room service as well.
The Hilton West Palm Beach is being developed by Related Companies, the visionaries behind the adjacent CityPlace.
"Food and beverage is a very important part of the guest experience, and we pay particular attention to design and programming of these venues. The flow of the property and the flagship restaurant and lobby bar, both spilling out onto the lush pool deck, are sure to be an exciting treat for our guests. Matthew Byrne has established himself as a culinary innovator n Palm Beach and we are delighted to have him on board to help craft the culinary experience," says Gopal Rajegowda, a Vice President for Related Companies overseeing the project. Related has long been a pioneer of partnering with best-in-class chefs and restaurant operators as high traffic energy anchors for its iconic mixed-use projects including CityPlace and Time Warner Center in New York City as well as in its residential offerings throughout the nation.
"Chef Byrne's cuisine truly speaks to the Palm Beach lifestyle by highlighting only the finest and freshest, local ingredients," says Hilton West Palm Beach General Manager John L. Parkinson. "His signature dishes and ever-changing seasonal menu showcase the one-of-a-kind experience guests and the community can come to expect from the hotel."
Manor, located off the expansive lobby and flowing onto the poolside terrace, will serve Chef Byrne's notable contemporary American cuisine with a twist, featuring refined flavors that are passionately prepared with warm and welcoming service. With his philosophy of using only the highest quality seasonal ingredients, Chef Byrne will create an approachable yet sophisticated culinary experience including an exciting range of signature dishes. Highlights include seared scallops and porcini asparagus risotto with lobster broth, fresh caught seasonal wood-fired whole fish and Manor burger with Byrne's trademark LZB sauce, which was created by his son, with a side of rosemary fries.
For Manor's restaurant design, the hotel is focusing on understated elements of contemporary motifs, colors and textures. The restaurant will also feature large scale photographs by local Palm Beach photographer, Chris Leidy.
"We are handpicking an exceptional team to bring Manor to life while retaining authentic local taste profiles," says Chef Byrne. "The menu will cater to a variety of guests, whether it's closing a deal over a business lunch or unwinding on weekends with friends. It will be an experience unlike anything in Palm Beach."
Galley, the hotel's lobby bar with a nautical design theme, will inspire guests to indulge in handcrafted cocktails, light bites and shared tapas, while overlooking the outdoor oasis with indoor and outdoor seating. Guests can choose from custom wine blends and bourbon as well as local craft beers from South Florida's fast budding beer scene.
For those looking for food on the go, Provisions will provide a marketplace with locally-sourced goods, freshly prepared bites from Chef Byrne, as well as gifts from Palm Beach shops and artists.
Guests enjoying the outdoor, half an acre pool deck, Palm Deck, can order light fare, cocktails, custom juice blends and smoothies. Byrne will also create signature catering items for the hotel's 24,000 sq. ft. of indoor and outdoor meetings facilities, as well as develop custom menus for private dining and events.
For more information about Hilton West Palm Beach, visit http://bit.ly/HiltonWPB
About Hilton Hotels & Resorts
Founded in 1919 as the flagship brand of Hilton Worldwide, Hilton Hotels & Resorts continues to build upon its legacy of innovation by developing products and services to meet the needs of savvy global travelers at more than 550 hotels across six continents. Hilton is the stylish, forward-thinking global leader in hospitality with Team Members shaping experiences in which every guest feels cared for, valued and respected. Access the latest news at news.hilton.com and begin your journey at www.hilton.com or www.hilton.com/offers for the latest hotel specials. Hilton Hotels & Resorts is one of Hilton Worldwide's 12 brands.
About Related Companies
Related Companies is the most prominent privately owned real estate firm in the United States. Formed over 40 years ago, Related is a fully integrated, highly diversified industry leader with experience in virtually every aspect of development, acquisitions, management, finance, marketing and sales. Headquartered in New York City, Related has offices and major developments in Boston, Chicago, Los Angeles, San Francisco, South Florida, Washington, D.C., Abu Dhabi, London, São Paulo and Shanghai and boasts a team of approximately 3,000 professionals. The Company's existing portfolio of real estate assets, valued at over $20 billion, is made up of best-in-class mixed-use, residential, retail, office and affordable properties in premier high-barrier-to-entry markets. Related has developed preeminent mixed-use projects such as Time Warner Center in New York and CityPlace in West Palm Beach and is currently developing the 28-acre Hudson Yards project on Manhattan's West Side. Related also manages approximately $3 billion of equity capital on behalf of sovereign wealth funds, public pension plans, multi-managers, endowments, and family offices.
Related also owns Equinox® Fitness Clubs, further expanding the company's capabilities into the health and fitness arena and enhancing the value of its properties through an exclusive, branded amenity and lifestyle offering and a partnership interest in Union Square Events, the catering, culture, sports, and events business of Danny Meyer's Union Square Hospitality Group. For more information about Related Companies please visit www.related.com.