Houston Next On Tap for 'North America's Best Sports Bar'
Development agreement executed to bring Walk-On's Bistreaux & Bar to area by late 2016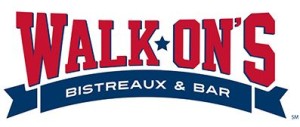 There is no shortage of sports bars in Houston. But not all sports bars are created equal.
In fact, only a select few have ever been voted "#1 Sports Bar in North America" by ESPN. And one of those – Walk-On's Bistreaux & Bar – is heading to Space City in late 2016. And it's bringing along its signature Louisiana-style menu, game-day atmosphere and America's Cheerleaders to make sure every guest feels welcome.
Walk-On's Enterprises co-founder and owner Brandon Landry announced today that the company has executed an Area Development Agreement (ADA) covering the Houston market with Brandon Hargrave, a successful restaurateur and franchise operator who is also introducing the brand to Covington, Louisiana, this year.
Hargrave plans to open ten Walk-On's locations throughout the Houston area over the next several years.
"I met Brandon early on in my career and I told him that if he ever decided to franchise the Walk-On's brand, I wanted to be a part of it," said Hargrave, a Lafayette native with ownership interests in CC's Coffee House, Rickey Meche's Donut King, Planet Fitness and City Bar in multiple Louisiana markets. "Houston has never seen a sports bar like Walk-On's, and I can't wait to find the perfect site to build and open our first one."
Baton Rouge-based Walk-On's now has eight locations throughout Louisiana – three in Baton Rouge and one each in New Orleans, Lafayette, Houma, Shreveport and Lake Charles. Other locations are under construction in Zachary, Covington and Alexandria, as well as Lubbock and Tyler, Texas. Several additional markets across the Southern United States are likewise on the drawing board.
Last May, New Orleans Saints superstar Drew Brees and his wife, Brittany, bought into Walk-On's Enterprises as co-owners. Drew pointed out that Walk-On's is "a great place to bring my family, teammates and business colleagues" and that they were excited to help "expand the brand across the nation."
"I've known Brandon for a long time and I know how passionate he is about our brand," said Landry. "Houston is a great sports town and Houstonians have always loved good Cajun food, so I have no doubt Walk-On's will be welcomed with open arms – and healthy appetites!"
To inquire about franchising opportunities, qualified applicants may contact Walk-On's Enterprises President & COO Scott Taylor at franchise@walk-ons.com.
For a complete menu and more information, visit WalkOnsEnterprises.com.
ABOUT WALK-ON'S ENTERPRISES
Walk-On's Enterprises is arguably the most distinctive restaurant company in America. Its concepts are fresh, fun and original, from Walk-On's Bistreaux & BarSM – voted ESPN's "#1 Sports Bar in North America" in 2012 – to Happy's Irish Pub and Walk-On's Catering. Additional growth lies ahead, as the company expands on its winning combination of delicious, affordable food and drinks presented in an uncommonly warm and friendly atmosphere. For more information, visit walkonsenterprises.com, or contact Ladd Biro at Champion Management at lbiro@championmgt.com or 972.930.9933.