Qdoba Introduces NEW Slow-Smoked Brisket
Qdoba heats up the menu with a new smoky, tender protein and a new Knockout Taco

With a legacy of offering bold and unexpected flavors, Qdoba Mexican Eats®, home of 3-Cheese Queso and free guacamole on entrées, is adding even more variety to its line-up with today's introduction of Smoked Brisket.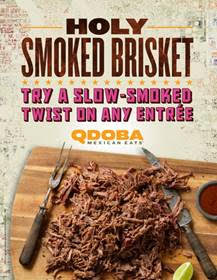 Available for a limited time, Qdoba's Smoked Brisket gets its bold flavor from being slow-smoked over real wood for four hours. The new Smoked Brisket can be enjoyed on any of Qdoba's favorite menu items, including burritos, burrito bowls, quesadillas, nachos, salads, and the new Outlaw Knockout Taco.
The Outlaw featuring Smoked Brisket is the newest addition to Qdoba's line of Knockout Tacos®. The Outlaw is loaded with tender Smoked Brisket, bold Ancho Chile BBQ sauce, zesty habanero salsa, and corn salsa, all topped with fresh cilantro and Cotija cheese, and served on a warm corn tortilla.
"With the introduction of Smoked Brisket, we're bringing even more versatility and flavorful options to our menu," said Keith Guilbault, President of Qdoba Mexican Eats. "Smoked Brisket and the new Outlaw Knockout Taco symbolize what Qdoba is all about – bold, differentiated combinations of ingredients that deliver adventurous flavors our guests crave."
In addition to Qdoba's new smoky offerings, guests can enjoy all their other favorite menu items, like the six original Knockout Tacos, packed with mouth-watering flavors that ignite your taste buds, as well as customizable burritos, bowls and tacos.
Guests looking to try the new Smoked Brisket can visit Qdoba.com/locations. Join the conversation on Facebook, Twitter, YouTube, and Instagram.
About Qdoba
At Qdoba, everyone is invited to live a more flavorful life. The Qdoba experience comes to life through its multi-dimensional approach to flavor that encompasses its people, places and food. Through the brand's vision of flavor, guests and team members alike are encouraged to celebrate individuality, break down the walls of convention, and boldly craft a meal that's packed full of flavors like 3-Cheese Queso and hand-smashed guacamole. Getting its start in 1995, Qdoba – a wholly owned subsidiary of Jack in the Box Inc. (NASDAQ: JACK) – now has more than 600 restaurants in 47 states, the District of Columbia and Canada. Discover more at www.qdoba.com and connect with Qdoba on Facebook, Twitter, Instagram, and YouTube.