Vancouver Gets Ready for Its First Taste of Zoup!
Popular fast-casual fresh soup restaurant set for March 24 grand opening in Columbia Tech Center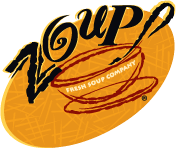 Fresh soup lovers have already made Zoup! a popular destination at two locations in the Portland area. On Thursday, March 24, Vancouver will get a Zoup! all its own as the fast-casual, fresh soup concept opens its first location in the Evergreen State. Zoup! Fresh Soup Company franchisee Michael Reid is putting the finishing touches on his new restaurant located at 1401 SE 164th Avenue, Suite 150, in the Columbia Tech Center in Vancouver, WA.
"I'm honored and excited to introduce the people of Washington to all the wonderful soups, freshly baked bread and other delicious items we offer," said Reid. "I truly believe our 'something for everyone' nutritional options will resonate with the Vancouver community. I think you'll agree you haven't had soup this good since your grandma made it. Maybe ever!"
Zoup! is carving out a unique niche in the rapidly growing fast casual dining segment. The new Vancouver location will be the chain's 88th restaurant in 19 states, plus Ontario, Canada.
Zoup! features hundreds of award-winning soup recipes with 12 rotating daily varieties, including low-fat, low-cal, vegetarian, dairy-free and gluten-free options, all served with a hunk of freshly baked bread. Customer favorites include Chicken Potpie, Lobster Bisque and Vegetarian Split Pea. The menu also features made-to-order salads and sandwiches, and all items are available in convenient catering sizes for groups of 10 or more.
In addition to its unique and diverse menu, Zoup! is built on a foundation of guiding principles called Zoup!isms.
"Our Zoup!isms provide a framework for decision-making and help create a strong culture and brand image," Ersher explained. "They also dictate the brand's uncompromisingly high standards and help guarantee the authenticity and quality of every pot, bowl and cup served."
Prior to its official grand opening, the new Vancouver store will hold a fundraiser on Wednesday, March 23, from 5 – 8 p.m. Guests may order a bowl of their favorite soup, a hunk of fresh-baked bread and a small drink for $5. All proceeds will be donated to the Band Boosters for Union High School and Mountain View High School, as directed by guests.
"We're really pleased to dedicate our pre-opening fundraiser to support the bands at these two great high schools," said Reid. "I hope lots of folks turn out to enjoy some delicious soup and help us make a meaningful difference in these outstanding music programs."
The new Vancouver restaurant will be open from 11 a.m. to 8 p.m. Monday through Saturday, and 11 a.m. to 7 p.m. Sunday.
About Zoup!
Founded in 1998, Zoup! is the leading fast-casual soup concept restaurant that is defining the category with its premium and proprietary soups and other recipes. A dining experience that features 12 always-rotating soup varieties each day in an environment that focuses on comfort, satisfaction and convenience, Zoup! has grown its network of franchises to nearly 90 restaurants throughout the District of Columbia, Colorado, Delaware, Illinois, Indiana, Iowa, Kentucky, Massachusetts, Michigan, Missouri, Nebraska, New York, Ohio, Oregon, Pennsylvania, South Dakota, Virginia, Washington, Wisconsin and Ontario, Canada. For more information, visit Zoup.com or Zoupfranchise.com.