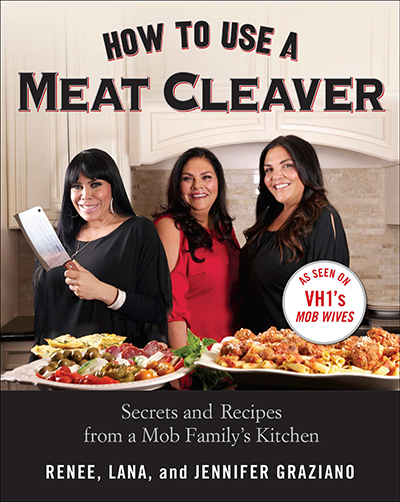 "Mob Wives," the reality TV series that follows the lives of four women affiliated with the Mob, has quickly risen to become the #1 show on VH1 and has inspired multiple spinoffs. The show's creator, Jennifer Graziano, one of its stars, Renee Graziano, and their restaurateur sister Lana Graziano, have joined together to create a stunning full color cookbook.
In How to Use a Meat Cleaver: Secrets and Recipes from a Mob Family's Kitchen (February 4, 2014) the Graziano sisters share 100 of their favorite and most coveted family recipes, including: Sicillian-style codfish; lobster aragiatta; parmigiano-baked rigatoni with cauliflower, peas and prosciutto; penne with fried eggplant; Sunday gravy; tripe alla Romania; chicken with sausage, peppers and onions; veal osso bucco; escarole and beans; caponata; Sicillian rice balls, and more.
They also share never-before-heard stories and anecdotes from inside the most famous mob family of our day (like how to sneak meatballs to family members in prison).
For these women, there is nothing more important than family. And at the heart of every family—especially every Italian family—is food.
Jennifer Graziano is the creator and Executive Producer of "Mob Wives," the #1 show on VH1 for two seasons running, with two more seasons on the way. She also produces "Big Ang", "Mob Wives Chicago" and "Mob Wives Miami" (coming soon), in partnership with Harvey Weinstein.
Renee Graziano is the star of "Mob Wives" and perhaps the show's most compelling character. She is divorced from Hector Pagan, Jr., who was exposed as an FBI informant, and with whom she has a son, A.J. She's been the subject of feature articles in People, US Weekly, and OK!, and appeared on The View, GMA, Extra, and many more.
Lana Graziano-Zancocchio is the oldest of the Graziano clan. She married John Zancocchio, brother in law to Hector "Junior" Pagan and member of the Bonanno crime family, in the 1980s. Now divorced, they still own and operate several restaurants. Lana's also a close friend of Big Ang of "Mob Wives."
Jennifer, Renee, and Lana are the daughters of Anthony "T.G." Graziano, the capo of the Bonanno crime family, currently serving a prison sentence on federal racketeering and extortion charges.