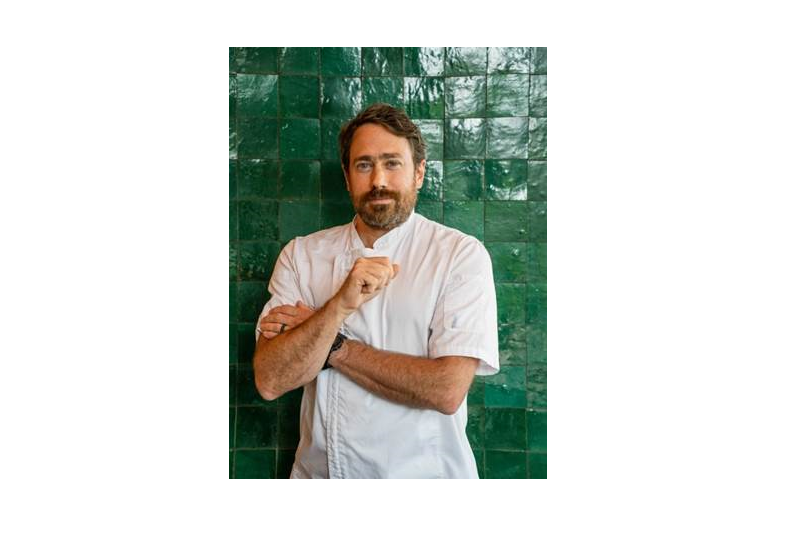 The new 218-room Hyatt Centric Buckhead Atlanta, a boutique hotel located steps from Lenox Square, has appointed Josh Hopkins as the hotel's executive chef. In this role, Hopkins will oversee the hotel's two food and beverage outlets including Spaceman, its popular rooftop bar and lounge.
Located on the 15th floor of the hotel, Spaceman offers 5,000 square feet of flexible indoor-outdoor event space, designed to accommodate events and social gatherings of up to 250 guests. The thoughtfully curated space features an expansive bar in front of floor-to-ceiling windows as well as two outdoor terraces complete with lounge seating, yard games, and stunning views of the Atlanta skyline.
"We could not be more thrilled to have Josh join our culinary leadership team," said Kristi Cotten-Morris, general manager of Hyatt Centric Buckhead Atlanta. "As an industry veteran, we are confident he will bring exciting new additions to both Spaceman and our first-floor restaurant, which will be relaunching in September with an entirely new concept."
A native Atlantan, Hopkins began his career under the apprenticeship of French Master Chef Christian Chemin, then moved to Charleston, South Carolina, where he spent eight years in the kitchen at Slightly North of Broad and High Cotton. Known to elevate every part of the animal utilized in his meat-centric cuisine, Hopkins demonstrates unique and exceptional methods of culinary skill to further excite the tasting experience for his guests.
"I am thrilled to be joining the Hyatt team and to oversee the relaunch of the hotels' first floor restaurant," said Josh Hopkins. "I'm looking forward to revealing new menu items and working on some exciting collaborations and partnerships to expand the hotel's offerings to locals and visitors alike."
With nearly 30 years of experience in hospitality, Hopkins joins the Hyatt Centric Buckhead Atlanta team from Thompson Hotels. Hopkin's past work experience in the area includes Anne Quatrano's Bacchanalia and Empire State South. He was also previously executive chef and co-owner of the critically acclaimed Abbatoir and has been named one of the four "Chefs to Watch" by Esquire in addition to being a Food & Wine "People's Best New Chef" nominee.
For more information on Hyatt Centric Buckhead Atlanta, please visit hyattcentricbuckheadatlanta.com. Follow @HyattCentricBuckheadATLon Facebook and Instagram, and tag photos with #HyattCentricBuckheadATL.
About Hyatt Centric Buckhead Atlanta
Hyatt Centric Buckhead Atlanta, opened December 2021, is an upscale, stylish boutique hotel located along the edge of Lenox Square Shopping Center in the heart of Atlanta's Buckhead neighborhood. The property was designed to reflect the history of its location, drawing inspiration from Georgia's ancient pottery heritage and Buckhead's evolution as a fashion destination. The 15-story hotel offers 218 guestrooms, 3,702 square feet of meeting and pre-function space, a fully equipped fitness center, an outdoor heated plunge pool, a 15th floor rooftop bar and lounge, Spaceman, which features 270-degree views of the Atlanta skyline, and a first-floor restaurant with indoor and outdoor seating. For more information on Hyatt Centric Buckhead Atlanta, visit hyattcentricbuckheadatlanta.com. Follow on social @HyattCentricBuckheadATL on Facebook and Instagram.
About Hyatt Centric
Hyatt Centric is a brand of full-service lifestyle hotels located in prime destinations. Created to connect guests to the heart of the action, Hyatt Centric hotels are thoughtfully designed to enable exploration and discovery so they never miss a moment of adventure. Each hotel offers social spaces to connect with others in the lobby, meanwhile the bar and restaurant are local hot spots where great conversations, locally inspired food and signature cocktails can be enjoyed. Streamlined modern rooms focus on delivering everything guests want and nothing they don't. A passionately engaged team is there to provide local expertise on the best food, nightlife and activities the destination has to offer. For more information, please visit hyattcentric.com. Follow @HyattCentric on Facebook and Instagram, and tag photos with #HyattCentric.