SCOTTISH BREWER INNIS & GUNN APPOINTS UNITED STATES BEVERAGE AS US IMPORTER FOR ITS PORTFOLIO OF BEERS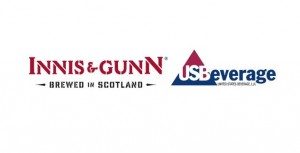 Edinburgh, Scotland: Innis & Gunn, the award winning independent Scottish brewer, has today (1st March 2016) announced a new partnership with United States Beverage to import their innovative portfolio of oak aged and craft beer brands to the USA. The move will support the brand's ambitious plans for long-term growth, expansion into new states and greater brand awareness within the US market. Sales and Marketing for the Innis & Gunn brands had previously been managed by the brewer's affiliate, Innis & Gunn USA and will transfer to US beverage on 1st April 2016.
Dougal Sharp, Founder & Master Brewer of Innis & Gunn commented "Following a thorough review of our own business within the US and the fast changing US beer market, we have taken the decision to partner with United States Beverage to accelerate the growth of our beers and further strengthen our position in the US. The team at US Beverage have an exceptional track record in building brands and we are thrilled to be working with them. Working together will help us better meet the demand for Innis & Gunn products from bars, restaurants and liquor stores and allow for increased promotional programming and consumer marketing on a greater scale. Our long-standing USA Managing Director, Dan Deluca, who has successfully established significant distribution for our brands, will continue in his role with Innis & Gunn and support the growth of our brands through the new partnership with United States Beverage."
Justin Fisch, VP/ General Manager of United States Beverage added, "We are honored to partner with the Innis & Gunn team as our companies share like aspirations. Innis & Gunn has built an innovative and exceptional craft beer brand that provides differentiation and excitement to the highly competitive U.S. beer market. We are fully committed to ensuring its future success in the US market".
About Innis & Gunn
Established in 2003, Innis & Gunn has won a multitude of awards for its unique range of oak-aged beers and its unoaked Scottish premium lager beer. With a turnover of £11.8 million in 2014 and 30% average annual growth over the last 2 years, the brewer has shown it has as good a nose for business as it does for beer. Available in over 20 countries, Innis & Gunn is the second-biggest supplier of specialty beer to the UK off-trade, the top imported Ale brand in Sweden and the best-selling British Bottled Beer brand in Canada
www.innisandgunn.com
About United States Beverage
United States Beverage (USB) is a premium imported and craft beer sales and marketing company located in Stamford, Connecticut. USB provides a national distribution network for a portfolio of premium brands including: Moosehead Lager and Radler from Canada; Murphy's Stout and Red Ale from Ireland, Tiger Beer from Singapore, the Damm portfolio of brands from Spain: Estrella Damm Lager, INEDIT, and DAURA; Czechvar and Czechvar Dark from the Czech Republic; Tona Cerveza from Nicaragua; Kalik from the Bahamas; and Spanish Peaks Brewing Co.'s Black Dog Ale portfolio of craft styles.