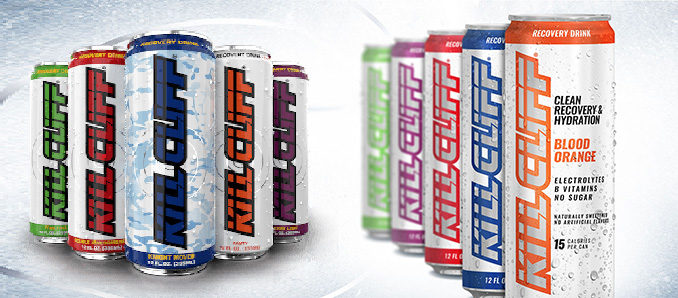 Motivational Campaign Timed for Memorial Day Weekend Release
To view and share the 'KILL THE QUIT' video, Click Here

Leading clean recovery and hydration sports drink, KILL CLIFF, is releasing a 'KILL THE QUIT' motivational video ahead of Memorial Day, honoring the Navy SEAL Foundation. The 60-second video, produced by a creative team made up of Navy and Army veterans display the determination and grit required to resist quitting during training – and in everyday life.
The 'KILL THE QUIT' motivational video is part of a larger campaign that plays on both the KILL CLIFF brand name and its focus to inspire and support not just our country's warriors but anyone with a warrior mindset to achieve their goals. Created by veteran U.S. Army paratrooper Con Williamson, now President and CCO at EP+Co, the 'KILL THE QUIT' video features CrossFit athlete and Navy SEAL veteran, Josh Bridges and music written by Navy SEAL veteran and KILL CLIFF president, Chris Irwin.
The video voiceover references the reality of Navy SEAL training, and the brass bell available as an option for those who choose to quit. The video itself was a physical endeavor, featuring Josh Bridges while he was in the middle of his training for the 2017 CrossFit Games. Bridges is one of the biggest names in CrossFit and is a fan favorite for both his incredible grit and memorable mustache.
"We met Josh during the middle of his CrossFit training. It was three of us and one camera running along the road and up mountain trails," said Con Williamson, 'KILL THE QUIT' video creator. "We wrapped the shoot, but then had an idea for the ending. So we come back at night and made Josh run all over again. The dude still trained for another hour after that."
KILL CLIFF is founded by veteran Navy SEAL, Todd Ehrlich, who is delivering on a plan bigger than CrossFit WODs and post-workout recovery. Ehrlich wanted to build a business that could give back and support the Navy SEAL Foundation, including his decision to hire Irwin as the company's president due to his experience in CrossFit and his military leadership. "The goal from day one was to become the biggest contributor to the Navy SEAL Foundation. Even when KILL CLIFF was three guys selling gym to gym and bar to bar, we were sending in checks to the foundation." Said Chris Irwin, President of KILL CLIFF. "We've held that commitment to this day as a portion of the proceeds from every KILL CLIFF can sold goes toward supporting the Navy SEAL Foundation."
"As a company founded by a Navy SEAL, KILL CLIFF is proud to support our country's warriors and their families during the Memorial Day holiday and every day," said Joe Driscoll, CEO of KILL CLIFF.
KILL CLIFF is a leading brand in CrossFit gyms, Vitamin Shoppe, GNC stores, and a favorite at stores on Naval and Marine bases. KILL CLIFF is also available at Whole Foods, Kroger, Hy-Vee, and other retailers. For a full list of KILL CLIFF availability, visit killcliff.com/store-locator.
About KILL CLIFF:
Founded and created by a Navy SEAL with the spirit of giving back to the community, KILL CLIFF® makes clean and tasty drinks. KILL CLIFF Recovery Drinks deliver clean recovery, providing the hydration and nutrients without all the junk so many beverages have today. Headquartered in Atlanta, the KILL CLIFF team includes civilians and accomplished military veterans, and is absolutely committed to serving and supporting the Navy SEAL community. KILL CLIFF honors the dedication and sacrifice made by these warriors and their families by donating a portion of the proceeds through their Official Partnership with the Navy SEAL Foundation. KILL THE QUIT™. Visit KillCliff.com and follow KILL CLIFF on Facebook, YouTube, and Instagram @killcliff.