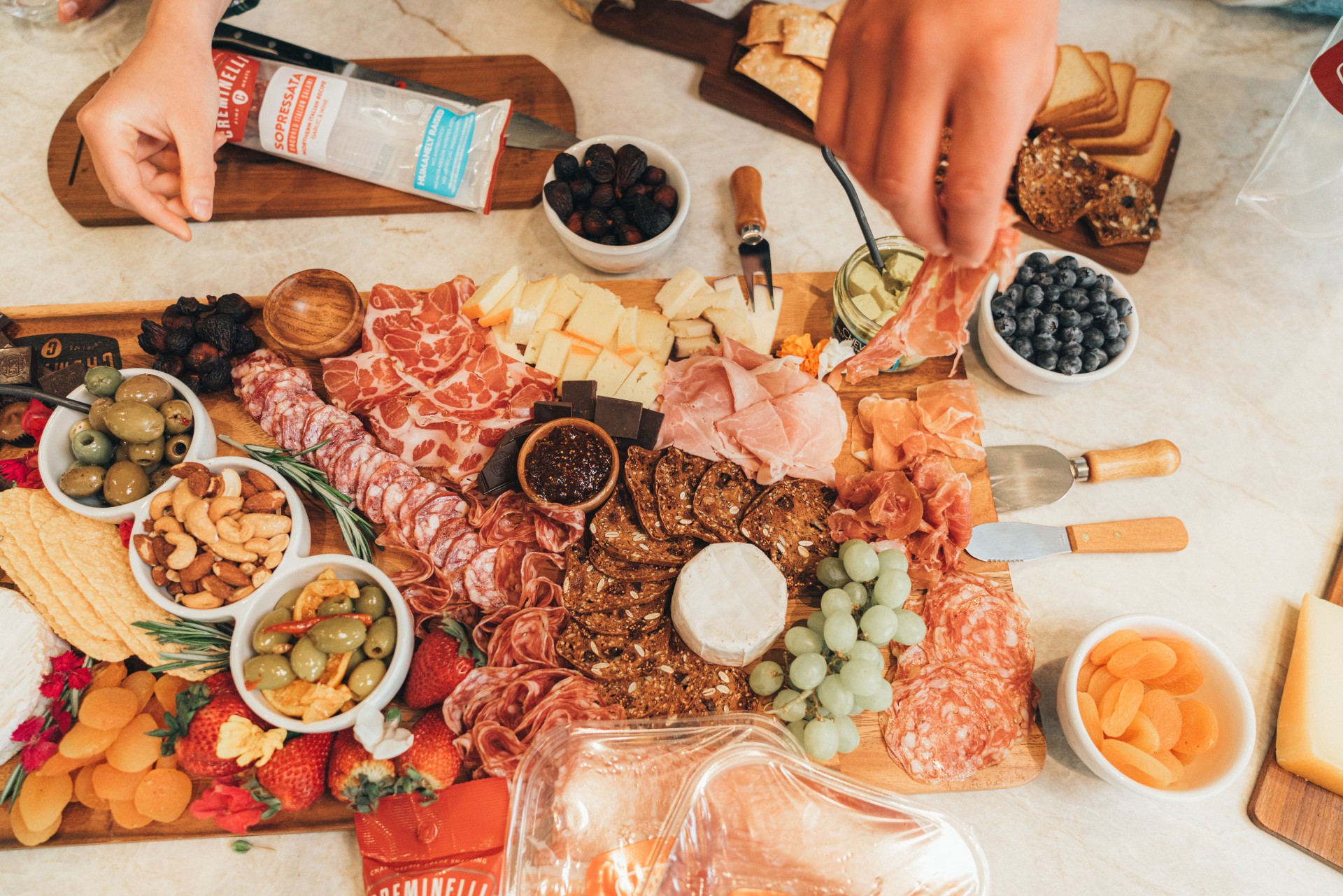 The holidays are here, which means hosting family and friends is here, too. But don't stress — artisan salami makers Creminelli Fine Meats have some food and drink pairing tips to make holiday entertaining a breeze. Between the generations of artisan salami-making in Creminelli's DNA and their trips around the world to find the most interesting flavors, restaurants, and cuisines, they've picked up a few ideas around which drinks taste best with salumi (that's the Italian word for cured meats). So when your house becomes a hot spot this holiday season, try pairing these Creminelli products with one of these perfect drink pairings. Cheers!
Pairing With Prosciutto
If you've ever had Creminelli's award-winning prosciutto, then you know it's like paper thin slices of salty goodness. And salty likes to be paired with sweet. It's why you see prosciutto so often paired with sweeter sidekicks like melon and figs. But why eat fruit when you can drink it? You can achieve the same effect with a wine that's on the sweeter side. In this case, Creminelli recommends a wine that Italians have paired with ham for ages: Lambrusco. Look for one that is frizzante (semi-sparkling) for a hint of freshness and semisecco (barely sweet) for that bit of sweetness. But make sure you go for an authentic Italian Lambrusco, as American versions can be oversweet.
Pairing With Sopressata
In general, sopressata can be tricky to recommend a specific pairing for because there are so many regional varieties throughout Italy, ranging from sweet to spicy. Because Creminelli's artisan-crafted Sopressata is made with organic garlic and Sangiovese red wine, they suggest a good Sangiovese. This fruit-forward, savory wine will allow you to taste the sopressata like you never have before. But if you don't have Sangiovese, a good Chianti will do the trick, too.
Pairing With a Savory & Sweet Charcuterie Board
When you are dealing with a charcuterie board that has a mix of spicy, savory, sweet and a bit of everything in between, Creminelli believes in switching things up and moving away from wine. They recommend a spin on the classic Manhattan: Maciello's Manhattan, or "The Butcher's Manhattan". The drink consists of a quality rye paired with the herbal and slightly bitter Italian liqueur, Amaro, and is topped off with the Maserati of maraschinos, Luxardo Italian cherries from Padova. You get a peppery kick from the rye, the bitter from the amaro and the sweet from the cherry on top.
Pairing With a Bloody Mary
If you haven't had a Bloody Mary that is stacked high with all the trappings of a charcuterie board, Creminelli may argue that you haven't truly had one. First, make a Bloody Mary how you prefer it — usually some mix of tomato juice, Worcestershire sauce, hot sauce, horseradish and vodka. Then grab a wooden skewer, a tray of Creminelli Felino & Manchego cheese, some calabrese olives and your favorite pickles, and start building. Layer on alternating pieces of Felino salami and manchego cheese, weaving in some olives and pickles as you go. When you're done, it should look something like the Leaning Tower of Pisa. Place it in your Bloody Mary. To top it off, drop in a Creminelli black pepper Mini salami stick and your drink just officially became your appetizer.
To explore these pairings and to take your holiday hosting to the next level, Creminelli can be found at retailers selling premium charcuterie or by going to creminelli.com/locate to find Creminelli near you.