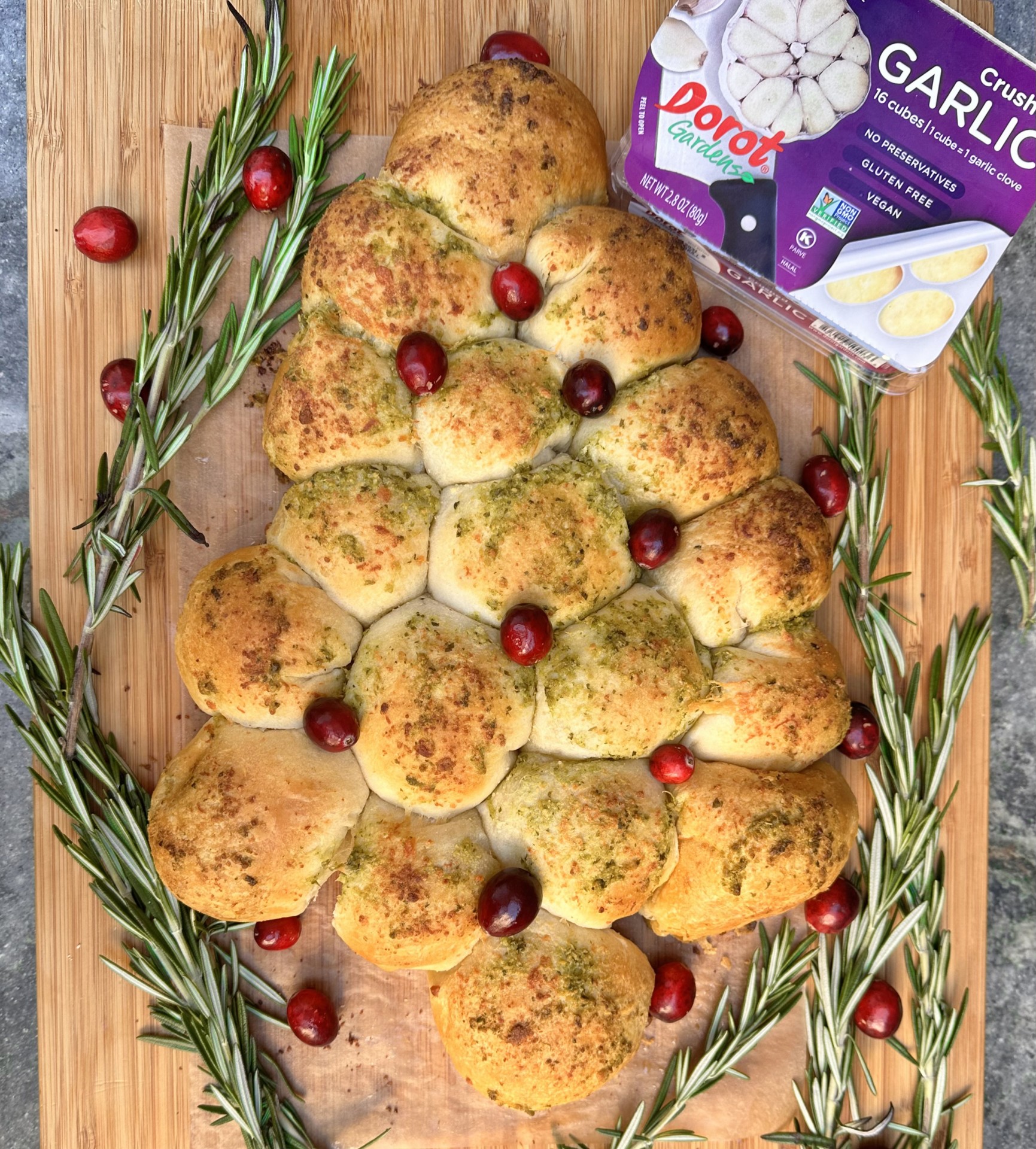 It's officially the holiday season, so it's time to deck the halls with tasty flavors. Celebrity Chef George Duran has created some delicious and festive recipes using the incredible and innovative brands Mighty Sesame Co.® and Dorot Gardens® for dishes bursting with flavor. So whether hosting or attending a holiday party or cooking at home, these recipes are perfect for the whole holiday season.
Mighty Sesame Co., the maker of all-natural, squeeze-and-serve tahini, is the most versatile new kitchen staple made from sustainably sourced sesame seeds. The popular superfood complements just about everything, from sandwiches to burgers, to dips and beyond. Add it to cheese and charcuterie boards or substitute a favorite hot sauce, ketchup, salad dressing, nut butter, or other spread with tahini. The Mighty Sesame Squeezable Tahini lineup includes Organic, Whole Seed, and the newest Harissa, each available for an SRP of $6.99 per 10.9-ounce bottle. Visit www.mightysesameco.com for nutritional information, recipe ideas, distribution locations, and more. Follow Mighty Sesame Co. on Instagram @MightySesameCo and Facebook @MightySesame.
Dorot Gardens features innovative flash-frozen packages of fresh, pre-portioned herbs that eliminate the process of peeling, chopping, and measuring. All it takes to season and flavor a dish is a cube of the right spice and a simple pop of the tray, and Dorot Gardens is there to make flavoring quick and easy. Flavors include garlic, ginger, basil, sautéed onions, cilantro, turmeric, parsley, and dill, all of which have a two-year shelf life for fresh herbs year-round. Dorot Gardens products can be found in the frozen veggie aisle of grocery stores, including Kroger, Walmart, Trader Joe's, Safeway, Albertsons, and Whole Foods. For recipes, nutritional information, and more, visit www.dorotgardens.com and follow Dorot Gardens on Facebook and Instagram @ DorotGardens.
Known for his Food Network show Ham on the Street and TLC's The Ultimate Cake Off, polylingual chef and comedian George Duran has hosted and contributed to Good Morning America. He has made appearances on Live with Kelly, NBC's Today Show, CBS This Morning, The Wendy Williams Show, The Dr. Oz Show, The Tamron Hall Show, and many others. Chef George is the author of the cookbook, Take This Dish and Twist It, which is packed with valuable tips, amusing anecdotes, and mouthwatering recipes. He knows how to create deliciously unexpected takes on comfort foods and snacks.
Everyone loves a good appetizer, sometimes even more than the actual entrée. Turn up the dial with George's fun, festive, and delectable Stuffed Cheesy Garlic Bread Holiday Tree. This savory delight is perfect for an afternoon bite or a knockout appetizer, and can be customized into a wreath, snowman, or other festive shape.
"These delectable biscuits really highlight the fresh flavors of Dorot Gardens and make your holiday appetizers as exciting as your parties," says Laura Morris, Associate Marketing Director of Kayco Beyond.
Stuffed Cheesy Garlic Bread Holiday Tree
by Chef George Duran
Ingredients:
4 frozen cubes Dorot Gardens Chopped Garlic
4 frozen cubes Dorot Gardens Parsley
1 stick butter
½ cup grated parmesan cheese, plus more for topping
2 cups grated mozzarella
1 tube large biscuit dough, 8 total
Instructions:
Preheat oven to 350°F.
Add Dorot Gardens garlic and parsley into a microwave safe bowl with butter. Cover bowl with a paper towel and microwave for 4 minutes on high. Be careful as bowl may be hot.
Divide butter mixture in half. Allow half of butter mixture to cool a bit before mixing in grated mozzarella and grated parmesan.
Use your fingers to carefully split each biscuit into two rounds, and then gently flatten out each biscuit dough until you have a circle. Fill the center of each dough with cheese mixture. Pinch outer dough together until you form a ball.
Place biscuits seam-side down onto a greased baking sheet to form a tree or holiday wreath. Brush the reserved garlic butter equally on the smooth top side of each ball and sprinkle with more parmesan cheese.
Bake for 16-20 minutes, until golden brown. Serve immediately.
Other recipes:
Tahini Shortbread Holiday Cookies
Herbed Matzo Ball Soup
Herbed Latkes
These wonderful winter recipes by Chef George are simple to make, delicious for everyone, and use kosher ingredients, making them great for all holidays. Follow Chef George on Instagram (@ChefGeorgeDuran) and Facebook (@GeorgeDuranEats) and at www.georgeduran.com for fun food photos and culinary inspiration.