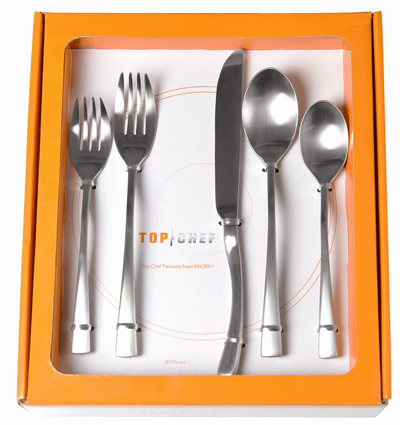 Modernize your dining experience with the revolutionary Knork! Flatware with an edge, Knork has teamed up with Bravo's Top Chef to bring a whole new design to the KNORK line! You can see them in action on the new season of Top Chef premiering Wednesday, Oct. 2 at 10/9c on BRAVO.
Be one of the first to set your table in style with Top Chef-branded Flatware from KNORK where ultra-modern style and functionality converge. Knork utensils have combined cutting and piercing capabilities into a modern, elegant package!
Knork's popularity in the elite culinary world stems from its simplicity-a redesigned, better version of the fork! This signature flatware offers superior functionality unlike any other utensils. Former contestants from Bravo's Top Chef and Top Chef Masters use it, Rachael Ray loves it, and Wolfgang Puck's Los Angeles Food and Wine event uses it exclusively.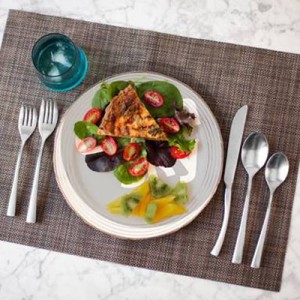 Knork Flatware has proven to be a dinner plate's best companion and ultimate game changer for the art of dining. Once you wrap your hand around a knork you'll wonder how you ever had dinner without one. Stainless steel flatware that is dishwasher safe, Bravo's Top Chef-branded KNORK Flatware will be available in a 20-piece set in two different finishes. Each Top Chef-branded Flatware from KNORK piece in this set features unique attributes and an ergonomic design to correctly fit the way you naturally eat.
The Knork Flatware set also features the finger platform and balanced design so that each piece in the setting is slightly heavier than your average flatware, creating a more stable, balanced utensil. Its smooth contoured handles are highlighted with a beautiful matte or glossy finish, adding a stylish addition to your table.
About Knork Flatware
Knork Flatware was founded by Michael D. Miller who sought to enhance the dining experience by integrating a fork with the functionality of a knife built in. Knork. Restaurants using Knork include Stefan Richter's Stefan's at LA Farm, Chris Cosentino's PIGG, Ricardo Zarate's Picca and Mochica in LA, Aaron Sanchez's Mestizo and Richard Blais' FLiP Burger, Homaro Cantu's iNG in Chicago, Chef Ludo's LudoBites, Adam Fleischam's Umami Burger restaurants, Kevin Gillespie's Gunshow, Bryan Caswell's Reef in Houston as well as many other acclaimed restaurants across the country.