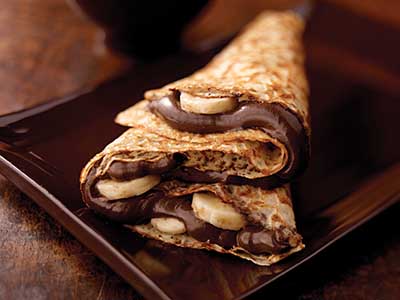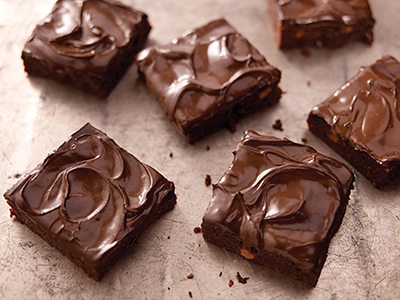 KRAFT Foodservice is excited to announce the launch of new PHILADELPHIA Delights Chocolate Spreads – a decadent blend of rich chocolate, fresh milk and real cream. Available in three delicious flavors – Dark Chocolate, Cinnamon and Caramel –PHILADELPHIA Delights provides operators with endless opportunities to easily upscale their dessert menu, as well as add excitement to breakfast items, snack treats, specialty beverages and more.
Operators can quickly enhance a variety of menu items with the convenient, ready-to-use PHILADELPHIA Delights pouch format. Simply top off, drizzle on, bake in, layer, mix, blend or use as a rich frosting or glaze right out of the package. Lower in calories and fat than nut-based chocolate spreads1, PHILADELPHIA Delights does not contain nuts and provides a delicious offering for those with nut allergies.
Whether showcased on its own or used as an ingredient to complement a dish, PHILADELPHIA Delights is a back-of-house essential that can effortlessly set menu items apart. Cinnamon flavor creates delicious cinnamon Delights and pecan oatmeal – a warm, creamy upgrade from the classic breakfast bowl. Caramel delights brownie push-pops are a luxurious dessert that layers creamy PHILADELPHIA Delights Caramel with brownie bites. Use Dark Chocolate Delights for a smooth and rich dark hot chocolate to enhance the classic cold weather beverage.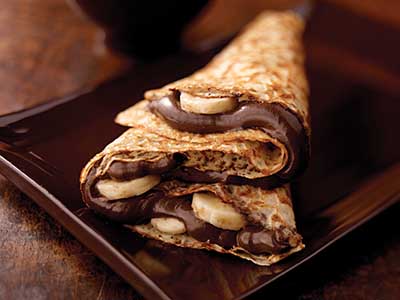 In addition to the convenient 2lb pouch format, KRAFT Foodservice also introduced PHILADELPHIA Snack Delights in October. Available in convenient 1.25oz portion control cups, PHILADELPHIA Snack Delights are the 100 calorie treat, available in Dark Chocolate, Milk Chocolate, Caramel and Cinnamon flavors for a quick snack or treat on the go. With the convenience of snack size portions, operators can quickly offer customers flavorful treats like crisp green apples with Cinnamon PHILADELPHIA Snack Delights or pretzels with Milk Chocolate PHILADELPHIA Snack Delights for a sweet and salty option. To create a sweeter take to the classic treat, turn Caramel PHILADELPHIA Snack Delights into a delicious cookie dip for a sweet new treat customers will love.
The sumptuous combination of rich chocolate, fresh milk and real cream makes PHILADEPHIA Delights Chocolate Spread a delicious ingredient to enhance any day part. With a wide range of versatile applications and delicious, enticing flavors, PHILADEPHIA Delights and Snack Delights are the perfect product to create signature sweets that will keep customers coming back for more.
ABOUT KRAFT FOODS GROUP
Kraft Foods Group, Inc. (NASDAQ: KRFT) is one of North America's largest consumer packaged food and beverage companies, with annual revenues of more than $18 billion. With the spirit of a startup and the soul of a powerhouse, Kraft has an unrivaled portfolio of products in the beverages, cheese, refrigerated meals and grocery categories. Its iconic brands include Kraft, Maxwell House, Oscar Mayer, Philadelphia, Planters, Velveeta, Capri Sun, JELL-O and Lunchables. Kraft's 23,000 employees in the U.S. and Canada have a passion for making the foods and beverages people love. Kraft Foods Group is a member of the Standard & Poor's 500 and the NASDAQ-100 indices. For more information, visit www.kraftfoodsgroup.com and www.facebook.com/kraft.
ABOUT KRAFT FOODSERVICE
Kraft Foodservice is a division of Kraft Foods Group, Inc. (NASDAQ: KRFT), one of North America's largest consumer packaged food and beverage companies. Kraft Foodservice provides a diverse portfolio of brands, marketing and sales expertise, and resources to the U.S. foodservice industry. Visit kraftfoodservice.com for more information.