Company targeting global counterfeit problem named one of world's most innovative will be honored at "Summer Davos"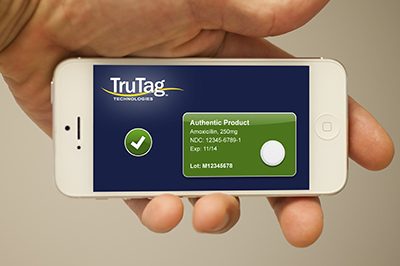 TruTag Technologies, Inc., Honolulu-based innovator of an edible security platform to address the trillion dollar global counterfeit problem and the issue of food and medicine safety, has been named a 2014 Technology Pioneer by the World Economic Forum.
This prestigious honor was awarded to 36 of the world's most innovative companies. Technology Pioneers are involved in the design, development and deployment of new technologies, and hold promise of significantly impacting the way business and society operates. Technology Pioneers must demonstrate visionary leadership and be recognized as long-standing market leaders.
TruTag microtags are inert, edible and can integrate into the very fabric of a product, independent of packaging and labels, much like fingerprints on a human being. Millions of optical patterns can be embedded into a 'TruTag', which is a dust sized particle less than the width of a human hair. TruTag can be used for the authentication of food, drugs, electronics, industrial components, and consumer products. The TruTag security platform will help prevent counterfeiting, enhance the safety and traceability of food and medicine, improve tracking and logistics, assure product quality, and enable the Internet of Things.
Technology Pioneers will be awarded for their achievements in a ceremony on September 12 at the Annual "Summer Davos" Meeting of the New Champions 2013 in Dalian, People's Republic of China. Past Technology Pioneer winners include Google and Twitter.
"With their ability to profoundly affect the world's current counterfeit crisis, TruTag Technologies is a great fit for the Technology Pioneer awards," said Tom Byers, professor and endowed chair of entrepreneurship at Stanford University, and a past judge for the World Economic Forum Technology Pioneer awards. "Technology Pioneer candidates are evaluated by the world's leading technology experts in a rigorous selection process. This selection distinguishes TruTag Technologies as a global innovator and disruptor."
"The impact of technology continues to increase in all aspects of society," said David Aikman, Managing Director, Head of New Champions at the World Economic Forum. "The diversity of the innovative thinking and possible solutions they offer are why leaders from all sectors of society are interested in interacting with the Technology Pioneers."
The Meeting is the foremost global business gathering in Asia, which brings together heads of state, and leaders from top-ranked multinationals and chief executive officers of dynamic and fast-growing companies.
TruTag Technologies Chairman, Dr. Hank C.K. Wuh, will be speaking at the closing plenary event titled "Innovating Into the Future."
"It is a great honor for TruTag to be selected as a Technology Pioneer by the World Economic Forum," said Dr. Wuh, "I am looking forward to discussing the role of innovation for the future of society, and sharing our vision for TruTag to impact the global counterfeit problem, especially in the area of safety and authenticity of food and medicine where the impact of counterfeits on human lives is beyond measure."
About TruTag Technologies:
TruTag Technologies has developed a covert, low–cost, heat–resistant, and edible silica microtag (called TruTag) that serves as an invisible "edible bar code" and can be incorporated into the very fabric of a product, including pharmaceuticals, food, electronics, industrial parts and consumer goods. This product authentication technology platform can be used to help prevent counterfeiting, improve tracking and authentication, add efficiency to clinical trial administration, provide product flow informatics, assure product quality, and enable the Internet of Things. The unique physical properties of TruTag microtags provide a vast library of available unique spectral codes, which allow for the authentication of high volume, high value items at the lot or batch levels. Learn more at: www.TruTags.com
About the World Economic Forum Technology Pioneers:
Each year the World Economic Forum chooses a select number of Technology Pioneers from hundreds of applicants around the world. Candidate companies are nominated by members, constituents and collaborators of the World Economic Forum, and by the public. A selection committee, comprised of top technology and innovation experts, academics and venture capitalists, reviews all applications before making its recommendation to the World Economic Forum. These companies are at the forefront of entrepreneurship and are set to have a significant impact on business and society.