Discounts offered on Beer and Pizza Purchases; Additionally, Visitors To Red Baron Pizza Facebook Page Can Enter to Win $10,000 Grand Prize as Well as Daily Prizes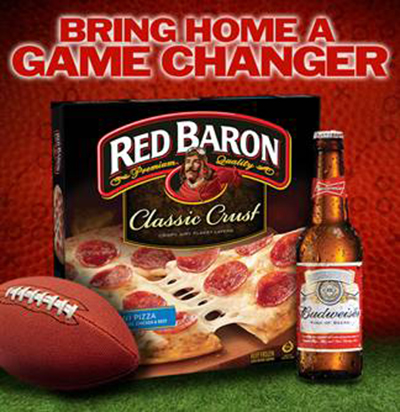 Thanks to Schwan's Consumer Brands, Inc. and Budweiser, football fans have even more reason to cheer!
In the runup to the Big Game on Feb. 2, 2014, Red Baron, Freschetta, and Tony's pizzas will partner with Budweiser to offer rebates and instant discounts on pizza and beer purchases. Additionally, visitors to the Red Baron pizza Facebook page can enter to win daily prizes, as well as the grand prize.
"Our pizza brands are proud to team up with Budweiser to offer consumers exciting tailgating inspired promotions," said Bob Waldron, president, Schwan's Consumer Brands. "With our partnership, and the Red Baron sweepstakes, it's never been easier or more fun for fans to plan the perfect party, complete with pizza and brews for the Big Game."
In addition to the Budweiser partnership, the Red Baron brand team will hold a sweepstakes through an app on its Facebook page. Visitors to the page can enter daily for a chance to win secondary prize packages as well as the grand prize: $10,000 to throw an outdoor watch party replicating the chilly New York City outdoors, an environment in which the Big Game will be played for the first time in years. The grand-prize package also includes Budweiser- and Red Baron -branded items, as well as Red Baron pizza coupons. Daily prize packages include Budweiser coolers, Budweiser- and Red Baron -branded items and Red Baron coupons.
For details on the discount offers, visit participating U.S. retailers or www.redbaron.com.
Lastly, in an effort to increase awareness of the Budweiser partnership and sweepstakes, Schwan's Consumer Brands reached out to bloggers nationwide. Select bloggers received coupons for free Red Baron pizza to give their families the opportunity for their very own pizza party during the Big Game! Bloggers will also be sent Red Baron branded pieces such as footballs, scarfs and pizza cutters to complete their pizza party.
About Schwan's Consumer Brands, Inc.:
Schwan's Consumer Brands, Inc., a subsidiary of The Schwan Food Company, offers trusted brands such as Red Baron, Freschetta and Tony's pizza, Mrs. Smith's and Edwards desserts, Larry's potatoes and Pagoda Express Asian-style foods. Its products can be found in grocery and club stores throughout the United States. www.TheSchwanFoodCompany.com.