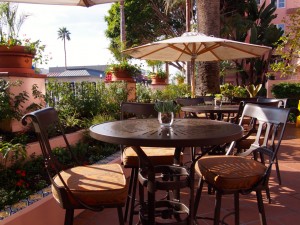 Have a hankerin' for some European fare but can't fit a trip across the pond into your schedule? No problem. A visit to the recently re-launched Café la Rue, nestled in the heart of San Diego's La Jolla Cove, will give you a satisfying taste of Europe, and then some. What's become a signature eatery at the famed La Valencia Hotel, the advent of the new-and-improved Café la Rue marks the first restaurant concept change at "La V," as locals call it, in nearly 50 years.
The hotel's Managing Director, Mark Dibella, recently commented on the re-imagination of this long-standing restaurant, noting, "Our goal with the new Café la Rue is to delight and surprise our patrons with both the space and the menu. We've worked hard to create an intimate bistro and bar for today's diners and travelers that embodies a decidedly more casual and sassy La Jolla social ambiance of easy comfort."
I spoke with Michael Hutchison, Director of Restaurants & Lounges, regarding what inspired Café la Rue's new direction. He revealed that, in its former incarnation, Café La Rue occupied about a third of the total space and that a wall separated it from The Whaling Bar, which was in need of renovation. Given the extent of the overhaul The Whaling Bar required, management decided on an entire concept change with Café La Rue to occupy the entire space. Even amid the fresh and fab facelift, the new interior design embraces the rich history of the location as the walls remain adorned with the art of Wing Howard whose works have graced the space for decades.
Situated at 1132 Prospect Street with an exterior dining space right on La Jolla Cove's "main drag," this bistro and bar has it all—great food, cocktails, live entertainment, ambiance, and indoor and outdoor seating that's ideal for people watching while soaking up the SoCal sun.
Café La Rue features imaginative European-inspired cuisine prepared by Executive Chef James Montejano and his crew. "Chef James," as he is known at the Café, graduated from the California Culinary Academy and proceeded to work with some of the best West Coast chefs in the business before taking his position as award-winning executive chef at Café la Rue.
I've been to the newly inspired iteration of Café La Rue for dinner and loved every moment of it. There is ample patio seating with space heaters available, as needed. The live music creates a comfortable and relaxed atmosphere that prompts you to decompress from the day's stresses and, instead, turn attentions to social and sustenance matters. Of the many dishes I sampled during my visit, there are a few standouts that are an absolute must-order. Paramount among these is the Choux de Bruxelles de la rue ($10)—Brussels sprouts roasted to perfection with Kalamata olives, pepperoncini, parmesan and extra virgin olive oil. This appetizer alone will have me heading west to Café La Rue often. The Moules ($12) mussels with a fragrant broth of butter, sherry, garlic, tomato and parsley with a crostini was also extremely satisfying.
For the main I opted for the "chef favorite" Crevettes et Provencal" ($22), with large spiced grilled prawns and a sundried tomato, garlic and Brussels sprouts, mascarpone and fennel ragout all skillet-served atop baguette bread with a side of fresh leafy greens. I also sampled another crowd favorite, the Loup de Mer ($23)—richly seasoned baked sea bass with sweet peppers, olives, gorgeous whole-roasted cipollini onions, and grilled artichoke with a garbanzo puree. For dessert, all roads led to the Crème Brûlée Lavand ($10), a creamy lavender-scented delight topped with extraordinarily fresh berries and a thin and crispy tuile. In all it was a meal aptly representing the restaurant's reformation.
It's not only world-class cuisine that keeps patrons coming back but also the live music on Wednesday through Saturday evenings, which has made happy hour at the bistro extremely popular. Also favored during happy hour, which is playfully coined "The Appointment," is Café La Rue's "1132" wine program (an homage to La V's address) that gives local and hotel guests, alike, a unique opportunity to enjoy a bottle of one of eleven carefully selected wines from the restaurant's signature cellar for just $32.00. Café La Rue's happy hour runs daily from 4pm–7pm and features half-priced appetizers, beer, wines by-the-glass, $5 house cocktails and $7 martinis.
Any mention of Café la Rue would be remiss without paying respects to the Pink Lady of La Jolla herself: the Hotel La Valencia. Established in 1926, La V has been known for lavish openings and glamorous settings ever since. Throughout its history, La V has been a popular hideaway for the Hollywood glitterati. The Pink Lady still glows with timeless elegance, and is a luxury hotel unlike any other. A few cool factoids courtesy of Hutchinson include: Eddie Vedder of Pearl Jam fame once worked at La V as an overnight security guard. And, Dr. Seuss had a booth all his own, complete with plaque embossed into booth, and at least in part wrote some of his many works in the restaurant.
As I often do, I asked Hutchinson about his personal favorite aspect of the eatery. "I'm a huge fan of world-class live music of all genres which we have in spades," he gushed. "Additionally, we have the freedom to change really just about anything we think will best suit our guests' wants and needs. We are not handcuffed by red tape or corporate policies. Our only guidelines are to make smart, thoughtful decisions that align with the best interests of both our guests and ownership."
Hutchinson goes on to commend the team members who give their best effort each and every day to take such great care of restaurant guests. "Our team as a whole realizes that there simply is no finish line in what we do," he says. "We must embrace the notion that what we do well, we can do even better tomorrow and, conversely, where we have opportunities, we MUST do better tomorrow."
Lofty aspirations I've no doubt Café la Rue will continue to realize.
~~~
"The Luxe List" Executive Editor Merilee Kern scours the luxury marketplace for exemplary travel experiences, extraordinary events, and notable products and services. Submissions are accepted at www.TheLuxeList.com. Follow her on Twitter here: www.Twitter.com/LuxeListEditor and Facebook here: www.Facebook.com/TheLuxeList.
Some or all of the accommodations(s), experience(s), item(s) and/or service(s) detailed above were provided at no cost to accommodate this review, but all opinions expressed are entirely those of Merilee Kern and have not been influenced in any way.