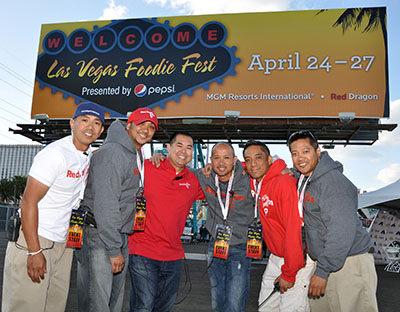 Las Vegas Foodie Fest, a Red Dragon event, celebrated a successful weekend at The Lot across from Luxor Hotel and Casino on the Las Vegas Strip. The event was presented by MGM Resorts International and PepsiCo. More than 45,000 attendees passed through the gates over the weekend to enjoy an excess of 50 food trucks and specialty vendors from across the country.
Foodies clamored to Las Vegas Foodie Fest to enjoy The Maine Lobster Lady, Fukuburger, Jogasaki Sushi Burrito, Hummus Factory and Island Time Floats, among others. MGM Resorts International also featured some of its top restaurants from various world-class properties. White Castle, America's first hamburger chain and home to the Original Slider, proved once again as the biggest draw serving an average of 20,000 sliders per day.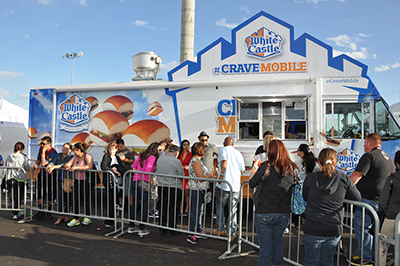 In addition to a seemingly endless array of food and drink options, Las Vegas Foodie Fest also offered fun for the whole family with a Ferris wheel, carnival rides, games, contests and special live entertainment throughout the weekend. Headliners included Beacher's Madhouse on Thursday and Saturday, FANTASY and Tournament of Kings on Saturday and an energized performance by world-renowned dance crew, Jabbawockeez, on Sunday afternoon, which drew the largest crowd to the main stage.
A portion of proceeds from Las Vegas Foodie Fest benefitted the Injured Police Officer's Fund (IPOF), a local nonprofit organization dedicated to reducing the financial burden suffered by police officers and their families in the event of a line-of-duty injury or death. The Red Dragon VIP Tent, complete with sponsored cocktails, gourmet appetizers, plush seating and a photo booth, was presented by Lee's Discount Liquor with a portion of proceeds benefitting the Lee's Helping Hands Foundation.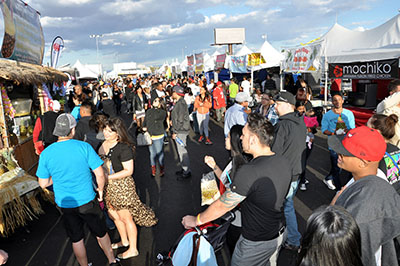 Las Vegas Foodie Fest is a bi-annual event that has occurred five times within the last three years and was awarded 'Best of Las Vegas' by the Las Vegas Review-Journal in 2014 and 2013. Clark County celebrated the opening day of Las Vegas Foodie Fest by officially declaring Thursday, April 24, as 'Las Vegas Foodie Fest Day' during a proclamation ceremony hosted by Commission Chairman Steve Sisolak at the iconic "Welcome to Fabulous Las Vegas" sign.
About Red Dragon, LLC.
Red Dragon, LLC. was founded in September 2011 by Noel Casimiro, Ranier Galgana, Art Casimiro, Oliver Tolentino and Marc Tolentino. Their mission is to create events for Las Vegas residents for the whole family to enjoy. For more information about the Las Vegas Foodie Fest and Red Dragon, visit their website at www.reddragonllc.com, or on Facebook and Twitter.