Nathan Greene
Lead Bartender, RM Seafood & Rx Boiler Room
Las Vegas USBG Treasurer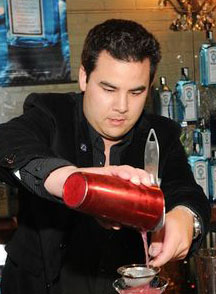 A relative newcomer, Nathan Greene has only been working the stick since 2010. But in just a few short years, he has made his mark on the mixology world with his rising talent. After graduating from the Crescent School of Gaming and Bartending's beverage management program, Greene has devoted all of his time to the cocktail industry, studying and honing his skills while competing in cocktail competitions.
Despite being a newcomer to the cocktail scene, Greene supported the opening of Downtown Las Vegas' Vanguard Lounge in September 2010. After eight months, he was promoted to bar manager and put in charge of creating cocktail menus, purchasing product and staff training, including participating in cocktail competitions. He also was instrumental in helping the lounge be named "2011 Las Vegas Cocktail Bar of the Year" by National Public Radio. Additionally, Greene won the National Restaurant Association's "2010 Star of the Bar" competition, and since then has made 10 U.S. Finals with three top-5 finishes, including at St. Germain Can-Can Classic Runner Up, a 1st in the Encanto Pisco Distillers' Apprentce competition, and 2nd place in the U.S. in the Drambuie "Tales-On-Tap" competition at "Tales of the Cocktail" in July 2012. Greene was also named "May 2012 U.S. Bartender of the Month" by Bar & Nightclub, an esteemed honor he received in less than two years behind the bar.
Most recently, Greene started his own bartending consultancy, Libation Restoration, with partners Roger Gross from Vesper Bar at The Cosmopolitan and Stan Stilwell, also a bartender at rm seafood in Las Vegas. In addition to consulting, Libation Restoration focuses on a line of bitters, tinctures, cordials and shrubs as well as affordable bar gear for the competition bartender, mobile bartending, party planning and cocktail competition ideas. The company's fresh and unpretentious approach to cocktail creation has helped the men do well in competitions thus far. "Our motto is restoring faith in humanity, one cocktail at a time," Greene says. "I'm extremely excited for what the future holds."
Greene's style behind the bar is a little more formal; being half-Japanese and studying the Japanese style of bartending and customer service, he focuses more on technique, consistency and a sense of Zen in what he presents. His favorite saying is, "don't mistake my look of concentration for consternation!" Cocktail-wise, his style is that he has no style; one never knows. Greene attempts to utilize as many culinary techniques as possible such as foams, smoked cocktails, carbonation, infusions, homemade shrubs, gastriques, cordials and bitters, beer and wine cocktails, draft cocktails, barrel-aged cocktails and much, much more!
Nathan is now the lead barman for Rick Moonen's rm seafood bar program, as well as Rx Boiler Room, set to open in late June of this year, a cocktail bar dedicated to the craft also serving modern, progressive takes on comfort food in small plate fashion.