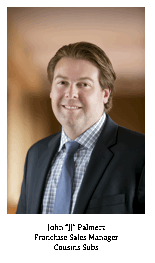 Cousins Subs® has hired John "JJ" Palmert as franchise sales manager. In his new role, Palmert will market new Cousins Subs store franchises to single- and multi-unit franchise operators. He will also recruit area developers, who will in turn recruit multiple franchise operators for new Cousins Subs markets.
"We are aggressively pursuing expansion," said Joe Furguson, vice president of development for Cousins Subs. "We're excited to have JJ help us pursue this objective." Cousins Subs currently operates more than 140 franchised and corporate-owned stores in Wisconsin, Arizona, Illinois, Michigan, Minnesota, and North Dakota. Palmert previously operated JJ Palmert Outfitters, a hunting guide service that operates in south Texas. Before that, he worked in sales at Eyesthere, a digital video security firm.
Palmert was born in Green River, Wyoming and raised in Brookfield, Wisconsin. He resides in Brookfield with his wife and newborn son.
Cousins Subs® and its franchisees operate more than 140 sub sandwich shops in six states, with bold expansion plans. The first Cousins Subs was established in Milwaukee in 1972 by Bill Specht and his cousin. Their dream was to bring East Coast-style sub sandwiches to Milwaukee – with their own handcrafted touch. They started with their bread, developing a secret recipe with the perfect taste and crunch. That bread is the cornerstone of the Cousins Subs slogan, "Better Bread. Better Subs. Better Day." The original recipe is still closely followed at every Cousins Subs store, where each sandwich is made to order using freshly sliced deli meats, cheeses, and vegetables – and the bread is baked fresh each day. Forty-one years later and still family owned, Cousins Subs employees and franchisees are driven by their mission to "Make it a Better Day" in all they do. In 2013, the brand proudly announced the establishment of the Make it Better Foundation, dedicated to funding causes that address health and wellness, hunger and youth education in the communities that Cousins Subs serves. For more information, visit www.cousinssubs.com <http://www.cousinssubs.com> . You can also find Cousins Subs on Facebook <http://www.facebook.com/cousinssubs> and Twitter <http://www.twitter.com/cousinssubs>