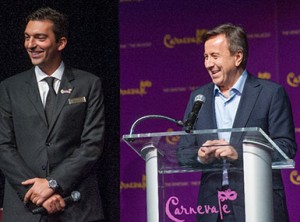 Renowned Chef Daniel Boulud has announced that The Venetian® Las Vegas will be the next home for his popular New York City restaurant DBGB Kitchen & Bar, described as "French Brasserie meets American Tavern."
The opening of DBGB Kitchen & Bar, slated for later this year, will mark the highly anticipated return to Las Vegas for Boulud.
"Staying in Vegas has always been my goal," said Boulud. "I am thrilled to be returning with the Venetian and Palazzo, part of the Las Vegas Sands family with whom we already have a successful partnership with in Singapore."
The Vegas venue is the second [Chef Daniel Boulud] restaurant to be located at a Las Vegas Sands (NYSE: LVS) resort. At Marina Bay Sands in Singapore, the chef opened db Bistro Moderne in 2011, a re-interpretation of the classic Parisian bistro, to much acclaim.
The Venetian and The Palazzo are already known as a culinary capital of Las Vegas, featuring the nation's largest collection of fine-dining restaurants under one roof. The addition of DBGB will provide yet another option for diners and culinary travelers. According to Boulud, the DBGB concept is perfect for Las Vegas, giving a casual and affordable option with a lively atmosphere for the local dining scene. "While keeping the roots of my French Bistro cuisine, we fuse rock n' roll, burgers, bangers and beer—not to mention a big bar with an outstanding cocktail and wine program," he said.
John Caparella, president and chief operating officer of The Venetian, The Palazzo, and Sands Expo, shares his enthusiasm. "I can't begin to explain how pleased we are to be the Las Vegas home to such an acclaimed world-class chef as Daniel Boulud," he said. "We've always strived to offer amazing dining experiences by the world's greatest chefs and Daniel Boulud's DBGB Kitchen & Bar will absolutely continue this tradition!"
The original DBGB Kitchen & Bar, which opened in 2009, is situated on a historic corner of New York at the intersection of Soho, the East Village and the Lower East Side. The venue features over 20 craft beers on tap, 75 beers in bottles, and great value table wine. The beverage selections complement a menu that is local and international, specifically French and American. More than just mouthwatering burgers, the bistro has gotten much attention over its numerous varieties of house-made sausages and towering shellfish platters, and full menu of market-inspired, seasonal Lyonnais cooking.
The New York City venue was awarded two stars by The New York Times, named "Inspector's favorite for good value" by the prestigious Michelin Guide, a Zagat 'Top Rated Hot Spot' and 'Best Buy for Lunch',.and Time Out New York called it the city's newest "Instant Classic."
About DBGB Kitchen & Bar:
DBGB Kitchen and Bar is Chef Daniel Boulud's original New York City downtown concept where the French brasserie meets the American tavern. Guests enjoy over a dozen varieties of house-made sausage, mouthwatering burgers and towering shellfish platters, in addition to seasonal Lyonnais-inspired bistro cooking. For beer lovers, there are extensive drafts and unique by-the bottle options, plus a full wine list. At dessert, dig into the classics like baked Alaska, soufflés and ice cream sundaes. Interiors take their cue from the Bowery's history as New York's industrial restaurant supply neighborhood and home of the some of the most original punk and rock bands of a generation.
About The Venetian Las Vegas®
The Venetian Resort-Hotel-Casino, the largest property in the country to receive AAA's Five Diamond and the coveted Forbes Travel Guide Four Star awards, is one of the world's most luxurious resort and convention destinations. Recreating Venice's legendary landmarks, the LEED® EB Gold (Leadership in Energy and Environmental Design)-certified resort offers unmatched service and quality for leisure and corporate guests. With suites ranging from a standard 650-square-foot Luxury Suite to the luxurious 10,000-square-foot Chairman Suite, the all-suite resort boasts more than 4,000 of Las Vegas' most lavish suite accommodations. Located in the heart of the Las Vegas Strip, The Venetian features The Grand Canal Shoppes®, an indoor streetscape complete with gondolas and singing gondoliers, the Canyon Ranch SpaClub®, world-class gaming, exquisite restaurants, a wide variety of entertainment such as the party musical "ROCK OF AGES," the word-of-mouth sensation HUMAN NATURE – THE MOTOWN SHOW, showroom headliners including David Spade, Rita Rudner, Tim Allen and Joan Rivers and extensive convention and corporate services. Guests can earn points while they eat, sleep, shop and play with Grazie, the premiere loyalty program. The Venetian and its sister resort, The Palazzo Las Vegas, are the first ever Alliance Resorts in the InterContinental Hotel Group® global portfolio. For additional information, visit venetian.com, follow on Twitter @venetianvegas and interact on Facebook at facebook.com/venetianlasvegas.