CHEF JARED TEES OF L'AUBERGE BRINGS A TASTE OF LOUISIANA TO THE LOWCOUNTRY
Local Chef Selected for Culinary Event Fusing Louisiana Flavors with South Carolina Culture

Chef Jared Tees is one of eight premiere Louisiana chefs heading to the Lowcountry of Charleston, South Carolina, to feature the state's world-class cuisine in several of the area's favorite restaurants. Visit Baton Rouge, the Louisiana Office of Tourism, and the Louisiana Travel Promotion Association have partnered with Garden & Gun magazine to present "Louisiana in the Lowcountry Restaurant Night." This extraordinary event combines the culinary expertise of chefs in Louisiana and Charleston to spice things up in the kitchen. And for one night, people can experience special menus featuring Louisiana seafood with a distinct flavor found only in the Bayou State. To be a part of this culinary indulgence, dinner reservations can be made by contacting any of the eight participating restaurants.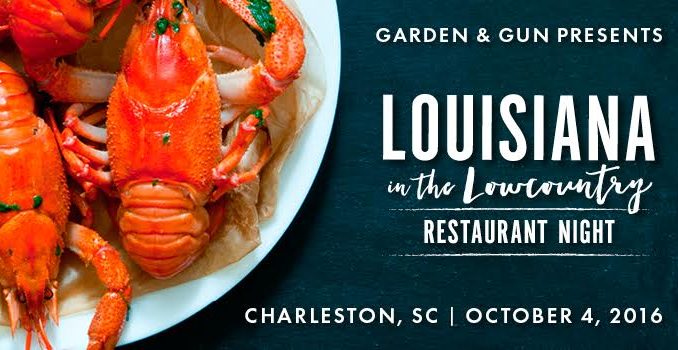 With more than twenty years of kitchen and management experience, Chef Jared Tees was featured as a "Chef to Watch" by Louisiana Cookin' magazine in 2004. And now he continues his tradition of delicious, Southern-inspired meals at L'Auberge Casino & Hotel's 18 STEAK in Baton Rouge. Chef Shawn Kelly will host Chef Tees at High Cotton, located at 199 East Bay Street.
"In Louisiana, good food is just part of what connects us to our diverse heritage, and we want to bring this experience to the people of Charleston," said Louisiana Lieutenant Governor Billy Nungesser. "Just like here in Louisiana, people in Charleston have a passion for food. While we are cooking up a bit of Louisiana to the Lowcountry, the best way to experience Louisiana seafood is to come down and enjoy it in its natural setting."
"We are excited to showcase what chefs from destinations throughout Louisiana are doing," said Kyle Edmiston, Assistant Secretary for the Louisiana Office of Tourism. "From New Orleans Creole cooking to Bayou seafood, you cannot eat wrong in Louisiana. This event is a way to share our passion for distinct flavor and cuisine and bring a Louisiana twist to the best of Charleston."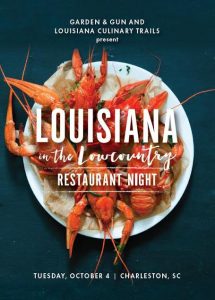 Other participating chefs include:
Chef Kevin Thompson, Favorites Southern Kitchen, Lake Charles
After graduating from the Culinary Institute of America, Chef Kevin Thompson began his cooking career in the army and later served his signature cuisine at Harrah's Casino and Paragon Casino. Now he brings his flair for American fare to Favorites Southern Kitchen at the luxury L'Auberge Casino Resort in Baton Rouge. Chef Jamie Lynch will host Chef Thompson at 5Church, located at 32 North Market Street.
Chef John Valenzuela, Quebedeaux's Boudin & Cracklins, Alexandria
Inspired by his great grandmother to bring authentic food into a commercial setting, Chef John Valenzuela combines Cajun cooking techniques with his Marine Corps discipline experience and created Quebedeaux's Boudin & Cracklins, voted as one of the "Best 11 Restaurants in Louisiana." Chef Chris Stewart will host Chef Valenzuela at The Glass Onion, located at 1219 Savannah Highway.
Chef Blake Phillips, Restaurant Sage, Monroe
Recently crowned Louisiana's Seafood King at the 2016 New Orleans Wine and Food Experience's Grand Tasting, Chef Blake Phillips worked his way up in Colorado resorts before making his way back home. He now offers a fresh and seasonal menu that delight's Monroe's palate as the executive chef at Restaurant Sage. Chef Joe Dimaio will host Chef Phillips at The Darling Oyster Bar, located at 513 King Street.
Chef Jared Rising, Golden Nugget, Lake Charles
Growing up, Chef Jared Rising found his passion in the kitchen while hosting family cook-outs in his hometown, St. Rose, Louisiana. Chef Rising now serves as culinarian of the Golden Nugget Lake Charles, managing the catering and banquets culinary team. Chef Rising was named one of the American Culinary Federation's 2014 Best Chefs of Louisiana. Chef Greg Garrison will host Chef Rising at Prohibition, located at 547 King Street.
Chef Alex Harrell, Angeline, New Orleans
Inspired by the Northern Mediterranean style of cooking, Chef Alex Harrell brings a simple, clean take on southern cuisine to Angeline, located in the Hotel Provincial in the New Orleans French Quarter. Chef Kevin Johnson will host Chef Harrell at The Grocery, located at 4 Cannon Street.
Chef Marc Krampe, Social Southern Table & Bar, Lafayette
An award-winning, progressive culinary professional with more than 15 years of experience in the kitchen, Chef Marc Krampe brings his creativity and skills from several high-end restaurants specializing in French, Japanese, New American, and Thai cuisine to Social Southern Table & Bar. Chef Jeremiah Bacon will host Chef Krampe at The Macintosh, located at 479 King Street.
Chef Jeffery Hansell, Oxlot 9, Covington
Chef Jeffery Hansell brings upscale, gulf-inspired, southern fare to quaint downtown Covington at Oxlot 9, located inside the restored Southern Hotel. Showcased by USAToday.com, Chef Hansell was ranked as one of Louisiana Cookin' magazines Chefs to Watch in 2015. Chef Forrest Parker will host Chef Hansell at Drawing Room, located 19 Vendue Range.
For more information, or to reserve your table at one of the eight participating restaurants, please visit www.louisianaxlowcountry.com or call one of the eight participating restaurants. Once you have reserved your table, you can share your meal and experience on social media by following @LA_Culinary using #LouisianaxLowcountry.
And don't forget, to truly explore and experience Louisiana's unique, flavorful cuisine, you can check out the Louisiana Culinary Trails www.louisianatravel.com/culinary or on Facebook at www.facebook.com/LouisianaCulinaryTrails. The Louisiana Culinary Trails is an online, self-guided road trip around Louisiana's eight distinct regions with suggestions to take your next trip to Louisiana to new culinary heights.