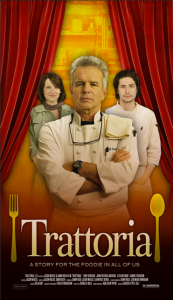 Award winning actor Tony Denison joined the cast of The Closer starring Kyra Sedgwick, as Det. Andy Flynn in 2005, which quickly became TNT's # 1 Drama. The spin-off series Major Crimes, broke into the Top Ten Most Wanted shows over the winter and Season 3 is receiving high ratings and high praise. This new season we expect to see a new relationship developing between Mary McDonnell (Capt. Sharon Raydor) Tony's character Lt. Andy Flynn. Major Crimes airs on TNT on Mondays at 9/8c.
Tony, a culinary aficionado himself, has appeared on CBS, KTLA and Fox serving up some of his famous Italian dishes ( French Toast Italia Style with Ricotta Cheese) and a Sun Dried Eggplant Parmesan, and has joined with the the cast of Major Crimes to create a cast and crew cookbook benefitting his co-star and counterpart GW Bailey's Sunshine Kids Organization, dedicated to helping kids with cancer. www.sunshinekids.org/cookbook. Tony two recipes appear in the cookbook.
.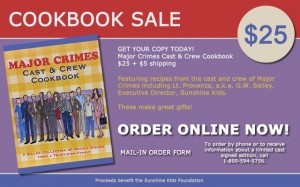 He's really engaging and definitely brings value with his strong fan following.
Tony on Twitter: https://twitter.com/RealTonyDenison
Tony on Facebook: Facebook.com/pages/Tony-Denison
His starring role as a San Francisco Chef, in the feature-film Trattoria, (now on DVD) co-stars Gossip Girl's John Amedori and also features celebrity chefs Elizabeth Falkner (The Next Iron Chef) and Traci Des Jardins (Top Chef Masters).
He has received a Prism Award by the Entertainment Industry Council for Outstanding Performance in a Drama Series and five SAG nominations for Outstanding Performance by an Ensemble in a Drama Series.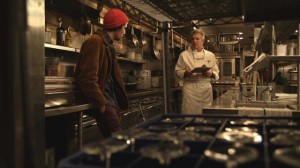 Denison was in demand and busy during the off-season with four upcoming films, including the final chapter based off Ayn Rand's popular series, Atlas Shrugged: Who is John Galt?, where he stars alongside Kristoffer Polaha (Ringer). He also completed the modern-day thriller, Dirty, alongside Chaz Bono and Alexandra Paul and recently filmed Clarity alongside Major Crimes co-star Nadine Velazquez and another film called Dementia.
Denison made his momentous television debut starring in Michael Mann's critically acclaimed drama Crime Story as Ray Luca. He received a fistful of kudos, including TIME Magazine's recognition as "Televisions Best Villain of the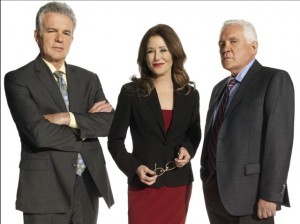 Decade," and applause for his portrayal of the infamous John Gotti.
He has appeared in more than two-dozen motion pictures, with Columbia Tri Star's Art of Revenge and Joel Bender's Independent feature Deadly, Little Vegas. Following Crime Story is an impressive list of dozens of television appearances that include notable guest-starring roles on such shows as CSI, Criminal Minds, Boston Legal, Prison Break, The District, J.A.G., Cold Case, The O.C., ER, NYPD Blue and Charmed and formed a production company with friend and partner, Joel Bess called Jucilian Productions.
Denison's personal mission is to maintain his blue-collar values in a gold collar profession. He is dedicated to helping others whenever possible and donates his spare time to The Sunshine Kids Foundation, which makes dreams come true for chronically ill and physically challenged youths, and is headed up by his co-star, GW Bailey. He is a sought out motivational speaker and frequent guest on talk shows Entertainment Tonight, The Insider, KTLA Morning Show, USA Today, LA Times, TV Guide, LIFE, TNT News, and more.