Twelve of the country's best bartenders won a trip to Miami to battle it out in the finals round of the Mandarine Napoléon Emperor's Challenge for a chance to win a trip to Belgium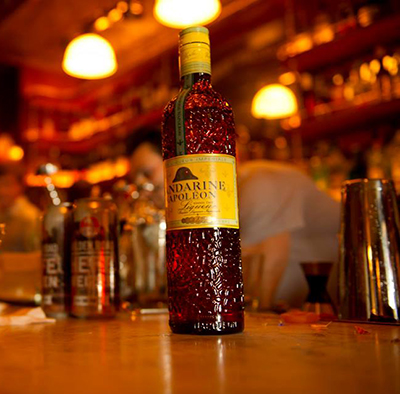 Mandarine Napoléon, the 19th century citrus liqueur created for Napoléon Bonaparte, will host 12 of the country's top bartenders as they go head-to-head in the finals round of the first annual Mandarine Napoléon Emperor's Challenge in Miami in April. The Challenge traveled to five markets – Miami, Chicago, Los Angeles, San Francisco and New York – throughout 2013 to hold semifinals events, where two bartenders (four in Los Angeles due to a tie) rose victorious among a pool of 20 per market.
The five-market battle series brought together 20-30 bartenders of varying experience levels from a selection of the best bars in each market. Prior to each semifinals event, the bartenders were not provided any instructions or insight into the challenges they faced in the competition. They were simply asked to bring their favorite bar tools and come prepared for anything. Once they arrived at their market's chosen venue they were paired up into two-person teams, comprised of one bartender with limited experience and one with extensive experience just to level the playing field. The semi-finals were held at the Aviary in Chicago; Trick Dog in San Francisco; Pour Vous in Los Angeles; Radio Bar in Miami; and Employees Only in New York.
Once the teams were formed, the games began. Two teams went head-to-head in a 5-round preliminary challenge in which they were given three minutes to select from a table full of both traditional and unusual ingredients. All chosen ingredients had to be used in the cocktail. Once the teams chose their ingredients and positioned themselves behind the bar, which were always stocked with Mandarine Napoléon, simple syrup, eggs, and fresh juice, they were tasked with a unique challenge and given just six minutes to craft, create and conquer. Challenges ranged from creating a beer-forward cocktail to complete throw-offs like swapping all of your chosen ingredients with the other team and making your cocktail while handcuffed to your partner.
As the rounds progressed and teams were eliminated, the challenges became more demanding and even baffling for some; but in the end, the strongest team conquered the Challenge and was chosen to advance to the finals in Miami. At each semifinals event, the bartenders' cocktail creations were tasted and judged by brand owner Marc de Kuyper and a select group of industry judges including Charles Joly, beverage director at the Aviary in Chicago; Dev Johnson, principal bartender at Employees Only in New York; New York bartender Dominic Venegas; and Josh Harris, Alex Strauss and Mathias Simonis of The Bon Vivants in San Francisco and Los Angeles.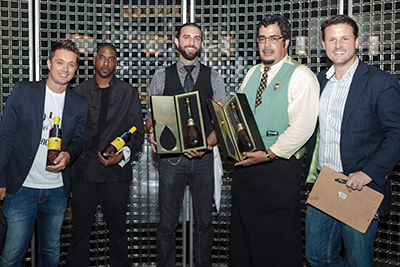 The finalists from each market moving on to the finals in Miami are: John Lermayer (The Regent Cocktail Club) and Vanessa Leon (Flagship Lounge at American Airlines Arena) from Miami; Carlos Cuarta (High Proof Chicago) and Dante LoPresti (The James Chicago & Virtú) from Chicago; Jon Kraus (Louis 648) and Enzo Cangemi (Ovest Pizzoteca & Bar) from New York; Nathaniel Oliver (No Vacancy at Hotel Juniper), Ken Barranda (Hakkasan Beverly Hills), Zach Patterson (Melrose Umbrella Co.), and BC Hoffman (Old Field Liquor Room) from Los Angeles; Summer Jane Bell (The New Easy) and Daniel Godinez (15 Romolo) from San Francisco.
The prevailing teams from each market will be flown to Miami in April to battle it out in a 2-day national finals round that is part celebration, part competition. The conquering team will be awarded with a trip to Beerse, Belgium to tour the Mandarine Napoléon distillery.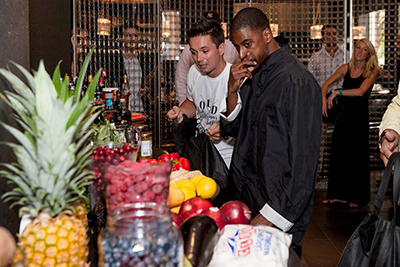 About Mandarine Napoléon
Mandarine Napoléon (SRP $37.50) is an exquisite, well-balanced blend of mandarins and refined 10-year-old aged cognac. Dating back to the early 1800s and its roots stemming from the hands of Napoléon Bonaparte, the liqueur's history is as rich as its distinctive flavor. The drink was custom made for Napoléon Bonaparte after the emperor came across the chemist Antoine-François de Fourcroy, known for his extraordinary skill of distilling. It was not until 1892, after the two had died, that the liqueur was introduced to the public. Mandarine Napoléon is currently found in well over 100 countries and relaunched in United States in 2011. Mandarine Napoléon is the first liqueur composed of mandarins and cognac, permitting a smooth taste, as opposed to the sour flavor encountered in other citrus-based liqueurs. The drink is composed of only natural ingredients.
Mandarine Napoléon has earned numerous rewards and praise, including a 5-star-rating by Simon Difford of Class Magazine, 94 points from Wine Enthusiast's February 2012 Buying Guide, a Spirits Gold Medal at WSWA Tasting Competition 2013, an International Craft Awards 2013 Gold Medal, a Gold Medal at the 2013 Spirits International Prestige (SIP) Awards in the Fruit Liqueur category, and a Gold Medal and Best in Category Award for Liqueurs at the 2013 San Diego Spirits Festival International Spirits Competition.
For more information please visit www.mandarinenapoleon.com and find them on Facebook, Twitter, and Instagram.